Full disclosure: I was offered a free week-long stay at Rythmia in exchange for writing up a review of my experience. Since this is the first retreat center review we're writing, it is important to communicate where the burden of our responsibility lies: to the larger Third Wave community in offering an objective, thorough review of my experience.
In November 2017, I attended a week-long plant medicine retreat at Rythmia, an all-inclusive spiritual transformation center in Guanacaste, Costa Rica. Having never attended a retreat like this, and considering my position as the founder at a growing psychedelic business venture, my choice to attend Rythmia provided an opportunity to both reflect on my personal path and ask some important questions around the ethics of sustainable business practice within the nascent above-ground psychedelic space.
What is Rythmia?
According to its website, the Rythmia Way is a program fusing ancient wisdom and modern techniques for healing and creating a life you love. Rythmia provides an all-inclusive resort model to help individuals reach their highest potential within the span of one week. At Rythmia, there is a strong emphasis on getting one's "Miracle" with much of the language on the website and at the resort center focused on the likelihood of attaining said "Miracle."
Rythmia is also the first medically licensed plant medicine center in the world. There is a medical doctor on site for all the psychedelic ceremonies.
Rythmia was founded by Gerard Powell, a warm-hearted, gregarious serial entrepreneur who, at the age of 41, sold his plastic surgery company for $94 million dollars. He owned six houses, two airplanes, 27 cars, and a boat – yet, he was completely miserable and unhappy.
After experiencing a life-changing "miracle" as a result of plant medicine, Gerard decided to purchase property in Guanacaste, Costa Rica and open a spiritual transformation center to make this same transformation available to a widespread audience.
Thus, Rythmia was born.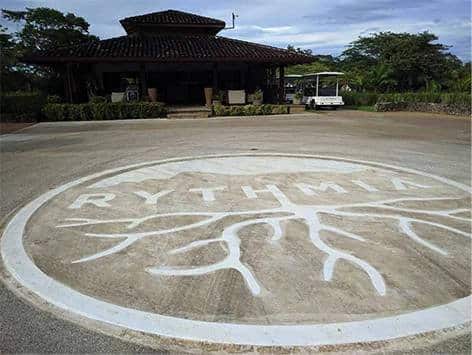 Curating a psychedelic retreat
In September 2017, Rythmia reached out to Third Wave to see if I would be interested in coming down to the retreat center and writing up an overview of my experience while there. Although hesitant at first, I eventually agreed, booking a slot in November, when spiritual leader Panache Desai was leading workshops.
Because of our community's growing interest in plant medicine retreats, we wanted to have a thorough understanding of the various options available when community members asked us about potential psychedelic retreats. Having heard of Rythmia's largely positive reputation, we thought it would be an excellent opportunity to get an on-the-ground look at the actual operation. As the only medically licensed plant medicine retreat in the world with, and considering its well-curated approach, we knew it would be at the top of the list for many of our community members who have a high level of disposable income.
Although experienced with LSD and psilocybin mushrooms, I had only drunk this particular plant medicine one previous time, in Rio Branco, Brazil. I drank in a circle of 70+ people in an outdoor amphitheater. I experienced nothing of significance, thus, chalking off my first experience as a microdose.
However, because of my involvement with the larger psychedelic community, I had heard dozens of intense stories about this plant medicine. The majority of them sounded somewhat harrowing: extensive purging, re-living of horrific traumas, and bone-shattering visions. Very few spoke of the actual experience in a positive light, which made going down to Rythmia all the more intimidating to me.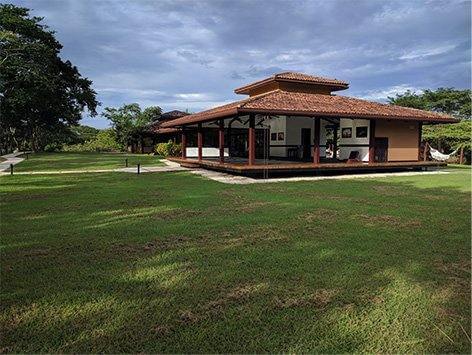 My experiences at Rythmia
Considering my role as a public figure in the psychedelic space, and the growing popularity of plant medicines, I want to share aspects of my own experience with Third Wave community to provide an additional layer of insight into what is, oftentimes, an intimidating experience for many first-timers.
We drank the medicine four straight nights: Monday, Tuesday, Wednesday, and Thursday. The first three evenings were led by Western shamans, all of whom had trained in the Amazon before landing their gig at Rythmia. The fourth night was led by Mitra, a shaman from Colombia, who had worked with plant medicines for eight years previously.
My experience over all four nights was, more or less, the same. I had no purging on any of the nights, drinking two cups on the first and fourth night and three cups on the second and third night.
After drinking the initial cup, I spent 1.5 hours or so lying on my mattress in the main ceremonial hall, waiting to see if the effect kicked in in any sort of significant way. Every night I returned to the shaman for a second – and sometimes third – cup, nearly begging to have my world split apart and opened up.
It was not to be. As was emphasized throughout the week at Rythmia, this plant medicine gives you what you need, not what you want. And, surprisingly to me, she delivered in every way.
Over the past three years, I've run myself ragged trying to "do" as much as possible. In September 2014, I began my first business, an online English teaching school called TOEFL Speaking Teacher. I spent about a year on that business, getting it up to speed, before beginning Third Wave in September 2015. My modus operandi has been hustle, hustle, hustle. I consistently worked 60-70 hour weeks to keep my projects afloat and profitable, doing everything I could to manifest my own dream and desire about becoming a public figure in one of the most exciting conversations today: the intersection of psychedelics, self-optimization, and consciousness research.
Besides working on building a remote business, I also traveled extensively, visiting more than 50 countries within a three-year time span.
All of this came to a head in March 2017, when I began my speaking tour, traveling to 12 cities, and giving microdosing seminars. Further, I landed a couple speaking gigs about microdosing at tech conferences, all while running two businesses and attempting to juggle a burgeoning intimate relationship.
By time I moved to New York in August 2017, I was on my last legs.
That is why I chose to go to Rythmia. I needed rejuvenation and restoration from a lifestyle that was slowly burning me out. And through my experiences with at Rythmia, I received one firm message:
To take care of what I have and to stop the incessant striving for more. By recognizing the beauty life has provided for me, I could slow down and actually take care of it, rather than try to outpace it. Many men in our culture are now becoming attuned to a similar message: less building, more nurturing.
By the end of my experience at Rythmia, I felt ready to dive back into my professional pursuits. The plant medicine provided a much-needed reminder of why I chose to get involved in this work in the first place, and what had first inspired me to pursue an unconventional path seven years ago when I first did psychedelics. In short, my initial inspiration came from a desire to experience as much as possible, aiming to create a life of beauty, aesthetic, and adventure, while utilizing my privilege to contribute in making the world a tangibly better place.  
But enough about me. What was my general impression of Rythmia?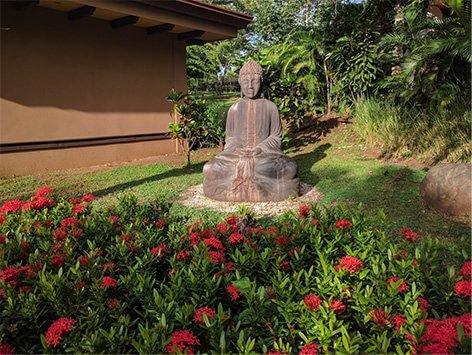 What I liked about Rythmia
Rythmia is an absolute top-tier resort, psychedelic or otherwise. Because of Gerry's previous experience running a large timeshare operation, he applied his knowledge in curating phenomenal experiences for clients and integrated it into Rythmia's approach.
For me, it all started with food. At Rythmia, every meal is served buffet style at the Roots restaurant on-site. Meghan Pearson, a passionate plant-pusher and conscious chef, sources Rythmia's food, all of which is local and organic, ensuring only the highest-quality produce reaches your plate. Highlights included the Rythmia 'Yum' sauce, green smoothies for breakfast, and chia seeds in coconut yogurt. Staples included fresh salad, locally sourced fish, and the typical 'dieta' of rice and beans.
But the quality went well beyond the food. All of Rythmia's staff knew my name and addressed me by it in passing. Every aspect of the greenery was manicured to breathe beauty, peace, and intention. As part of my stay, I had a one-hour Swedish massage, working the last bits of NYC stress out of my body, and lulling me into a place of deep relaxation.
This, however, wouldn't be a review for our psychedelic community if we didn't speak about the actual ceremonies.
As mentioned before, if you go to Rythmia you will drink plant medicine on four consecutive nights. For the first three nights, the ceremonies were led by Western shamans, all of whom I trusted deeply. They did an excellent job facilitating the experience. Keep in mind, when drinking you will be with upward of 50-60 other people. Holding space in a situation such as this requires extensive experience, and Rythmia's staff and shamans proved just why they've created such a top-tier resort.
Although the ceremonial chamber often rang with sounds of purging, the transformations went beyond drinking the plant medicine.
Even if one attends and does not have a breakthrough in ceremony, Rythmia has curated the week-long retreat so that it is still possible to have a life-changing experience. Other modalities used to engender deep reflection and transformation are breathwork, daily yoga practice, and transformational workshops.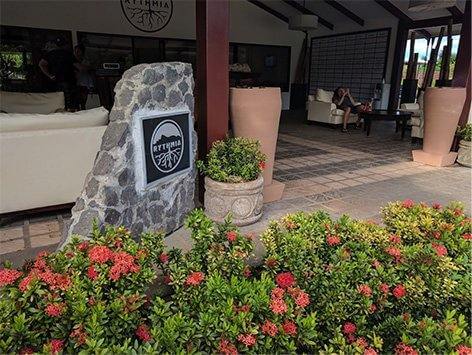 My critiques of Rythmia
To be clear, my experience at Rythmia was overwhelmingly positive. However, since I represent our community's interests at Third Wave, it is important I give an objective perspective of what could be improved with Rythmia's approach.
Because Rythmia's approach to developing a profitable high-end psychedelic retreat model is the first of its kind, the way in which this happens brings up one huge question: what are the ethics around upselling people when they are in a vulnerable psychological position after drinking a psychedelic brew for four straight nights?
As we know from research at Johns Hopkins in 2011, psychedelics leave people feeling more "vulnerable" and "open" in the days after their psychedelic experiences. In fact, most integration specialists recommend not making any major life decisions for at least one month after drinking this plant medicine.
One of my personal hesitations with Rythmia's approach was the utilization the upsell tactics in the last couple days that, in my opinion, psychedelic retreat centers must be very careful about using.
This came about in typical affiliate marketing form. In short, Rythmia has a catchy slogan to encourage affiliate marketing of their retreats: "Refer 3, get 1 free." Basically, if an attendee registers for another plant medicine retreat at Rythmia before the end of their week, they qualify to take part in Rythmia's affiliate marketing program. This approach encourages rushed decision making when in a suggestible mental state.
While I believe the quality of Rythmia's approach is worth investing in, particularly for those who have a high level of disposable income, I also think it is worth generating discussion around the ethics of selling an individual on a $3-5K+ investment immediately after drinking a psychedelic brew for four straight nights. When putting people into a permeable and suggestible mental state through psychedelics, business initiatives must be extremely careful about how they utilize this increased level of power and influence.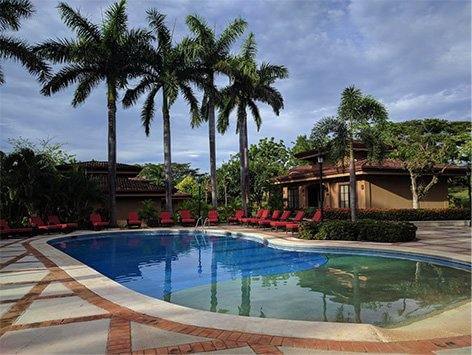 My overall impression
Rythmia is an excellent fit for those who have a high-level of disposable income, and want to experience the best of the best for a plant medicine retreat. Because it is the first medically licensed plant medicine retreat in the world, those who are new to psychedelics may feel an extra sense of reassurance in knowing there is medical staff on hand.
Further, spiritual advancement and transformation isn't explicitly linked to working with plant medicine, and this is where Rythmia delivers in almost every way. By the end of the week, your soul will feel rejuvenated and re-inspired to face the inevitable obstacles of existing in this realm of space and time.
Despite some minor hesitations about business practices employed to increase profitability, Rythmia remains an excellent choice for a psychedelic retreat.
However, as with any new initiative, there is certainly room for improvement. Their scholarship program for those who are in need but might not be able to afford the retreat—like veterans who suffer from PTSD—is a good start, although it currently relies on donations and hasn't progressed far. Rythmia could potentially expend more effort into spreading the abundance Gerry has come into in helping those who are less fortunate.
Because of its market position, Rythmia has an excellent opportunity to facilitate healing for important cultural figures that will, ideally, inspire them to give back in a way that helps to heal the intergenerational trauma that industrialization and late-stage capitalism has wrought on our ecological and social ecosystems.
By toning down the exaggeration in its sales and marketing materials, and taking a slower and more sustainable approach to building out its business model by eliminating questionable upsell practices, I believe Rythmia could also set the gold standard for a luxury psychedelic business.
Interested in going to Rythmia yourself? Click this link to get $150 off when you book a retreat!

For a complete list of trusted psychedelic retreat centers worldwide, visit Third Wave's Psychedelic Directory.