Disclaimer: Psychedelics are largely illegal substances, and we do not encourage or condone their use where it is against the law. However, we accept that illicit drug use occurs and believe that offering responsible harm reduction information is imperative to keeping people safe. For that reason, this document is designed to enhance the safety of those who decide to use these substances.
This article has been medically reviewed by Katrina Oliveros, MSN-ED, BSN
---
From ancient civilizations to modern explorers, in this article we'll uncover Psilocybe mexicana, a particular psilocybin mushroom species that has captivated minds for centuries.
We'll also unravel the mystical psychoactive effects, foraging insights, legality, and expert tips for those curious about growing and experiencing the magic of Psilocybe mexicana firsthand.
---
Psilocybe mexicana Timeline – Historical & Cultural Significance
Psilocybe mexicana (P. Mexicana) – or "Mexican mushrooms" – have a long and storied history, deeply rooted in ancient Mesoamerican cultures. Psilocybe mexicana was the first mushroom species from which psilocybin was extracted by scientists, lending the mushrooms remarkable cultural significance in today's psychedelic renaissance.  
It's believed hallucinogens played an essential role in traditional Mesoamerican spiritual belief systems. Ancient civilizations, such as the Olmec, Zapotec, Maya, and Aztecs, all believed in spiritual dimensions beyond the physical realm. Consuming psychoactive plants and fungi such as P. Mexicana may have facilitated visionary and mystical experiences that acted as portals between the physical and these spiritual worlds.
Ancient mushroom stones in Guatemala 
Dating back 3,000 years, the Guatemalan mushroom stones depict God-shaped figures with mushroom caps on their head. Scholars have suggested these artifacts denote the religious use of native Central American mushrooms, such as Psilocybe mexicana.
They've also proposed that the nine identified stone figures could represent the nine lords of the night and gods of the underworld from ancient Mayan beliefs.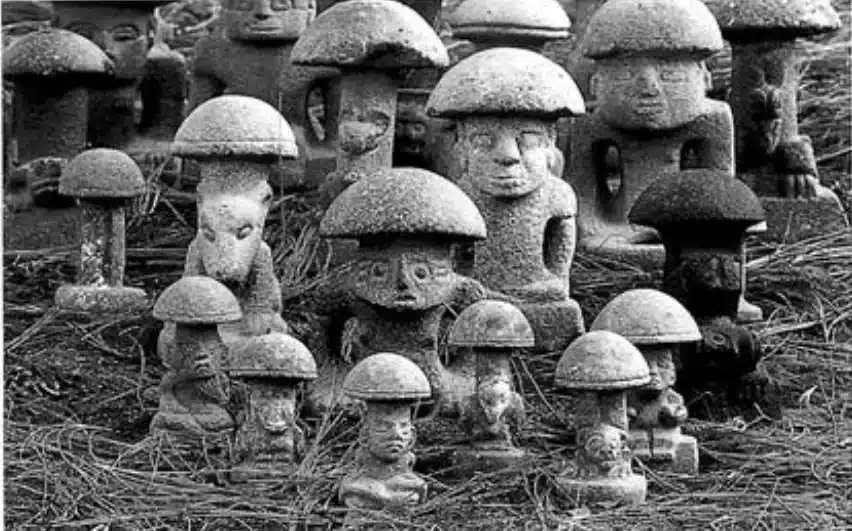 Identifying the mysterious Teonanácatl (aka "sacred mushroom")
Teonanácatl translates as "sacred mushroom" or "flesh of the Gods" in Nahuatl, the language of the Aztecs. In the 16th century, Spanish conquistadors documented the ceremonial use of Teonanácatl in social and festival occasions.
The famous chronicle "Historia General de las Cosas de Nueva España," written by missionary Bernardino de Sahagún, describes intoxicating mushroom ceremonies and Aztec witch doctors and fortune tellers using the mushrooms as a tool to identify and treat disease. 
R. Gordon Wasson, an ethnomycologist studying the role of fungi in human cultures, sought to confirm the existence of Teonanácatl in the 1950s. In 1953, he traveled to the Mexican town Huautla de Jiménez, in Northern Oaxaca, along with his wife, Valentina Pavlovna Wasson, and anthropologist Robert Weitlaner. Here, they collected psychoactive mushroom specimens used in a divination ceremony amongst the Mazatec people in a Catholic-based religious group native to Huautla.
The samples corresponded to four different mushroom species:
Mycologist Roger Heim received these samples at the Musée National d'Histoire Naturelle in Paris and cultivated the first Western growth of Psilocybe mexicana in 1954.
Seeking the Magic Mushroom
Wasson returned to Huautla and participated in a secret mushroom ceremony facilitated by the healer Maria Sabina in 1955. He published his experience two years later in Life Magazine, titled "Seeking the Magic Mushroom," spurring a wave of foreign tourists arriving in Huautla seeking to experience the effects of psilocybin mushrooms for themselves. 
Mushroom tourism in the town stimulated a new mushroom trade in the region and growing use of non-traditional use among tourists. Sabina was ousted from Huautla by her local community as a result. 
Synthesizing psilocybin from P. mexicana
From Heim's sample of P. mexicana, the Swiss Chemist Albert Hoffman isolated and named the active psychedelic compounds psilocybin and psilocin in 1958. Hoffman had discovered the psychedelic properties of LSD fifteen years earlier, and his laboratories at Sandoz had been researching the effects and clinical potential of psychedelic experiences since. 
Psilocybin pills, under the name Indocybin, were produced by Hoffman's laboratory during the 1960s and used by iconic psychedelic researchers, such as Timothy Leary, in various experiments.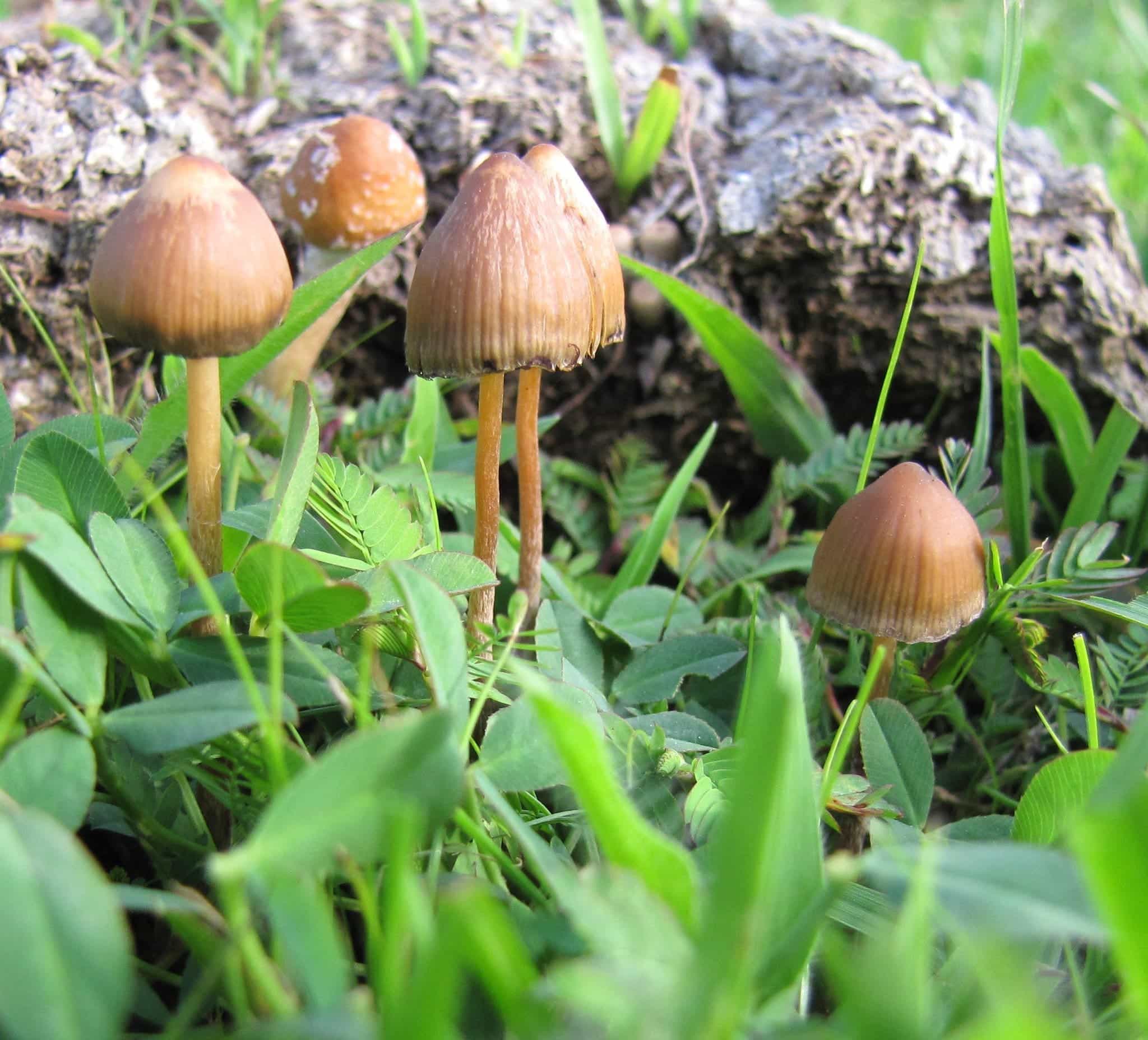 ---
Foraging Psilocybe mexicana
In certain countries at high altitudes in Central America, Psilocybe mexicana grows naturally in abundance. If you live locally or are ever visiting this area of the globe, and you're curious about foraging your sample,here's some advice about identifying the species.
Be sure first to visit our general foraging and identifying mushroom guide for comprehensive oversight to safely sourcing mushrooms in the wild. 
Where to Find Psilocybe mexicana
According to Wikipedia, Psilocybe mexicana grows natively only in Mexico, Costa Rica, and Guatemala. 
The mushrooms may be found growing alone or in small clusters, often along roadsides and trails in meadows, cornfields, and deciduous forests. P. mexicana rarely grows at ground level and is common in mountainous regions between 300-550 meters in elevation.  
The mushrooms appear from May to October, when seasonal fruiting takes place. 
Psilocybe mexicana Descriptive features 
Cap
Psilocybe mexicana has a sandy brown cap, which becomes bluish when bruised, and is 0.5-3 cm in diameter.
When young, the cap is cone-shaped but becomes more convex at maturity. A small raised area, known as an umbo, may be found in the middle. 
Gills
Psilocybe mexicana's gills (the thin papery structures under the cap) may be narrowly or broadly attached to the stem and are grey to purple-brown with whitish edges.
Stipe (stem)
Psilocybe mexicana's stem is around 10 cm tall and 1-2 mm thick. The stem is hollow and straw-coloured to reddish-brown. 
Sclerotia
Psilocybe mexicana is one of the few magic mushroom species which produce sclerotia, otherwise known as "truffles." Sclerotia appear as a compact mass of mycelium found growing under the mushrooms, which protect the mushrooms from environmental extremes and act as a food reserve.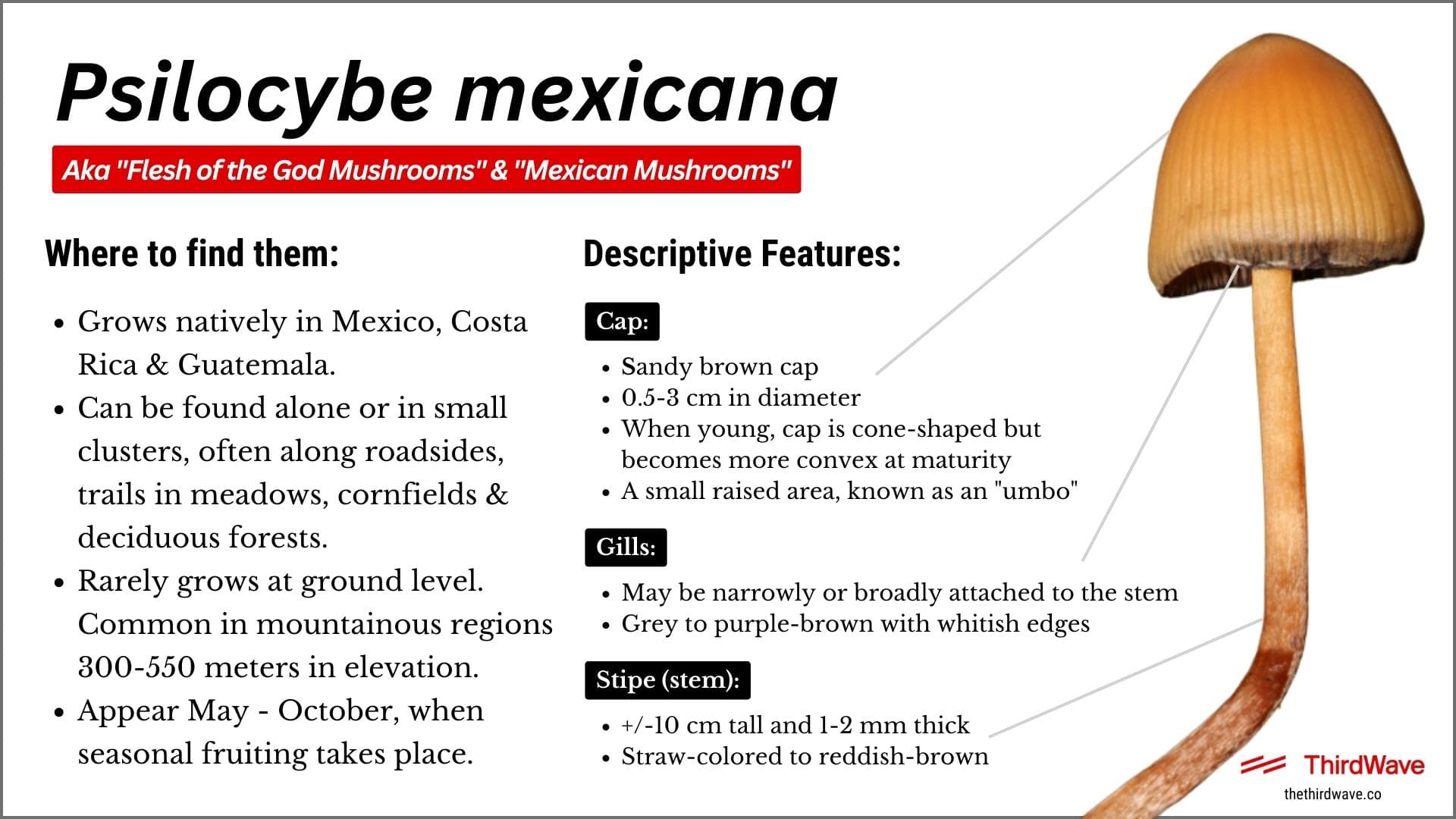 ---
Look-alike species
Psilocybe mexicana may be mistaken for other species in the genus Psilocybe, such as Psilocybe cubensis (P. cubensis), which is also endemic to Central America. You can tell these species apart by P. mexicana's characteristic sandy-brown colors and the presence of sclerotia. 
Creating a spore print can also help you distinguish P. mexicana from other species. A spore print is made by removing the mushroom cap and placing it on a piece of paper with a wet tissue over it to prevent it from drying out. The print formed on the paper for P. mexicana should be purplish-black.
You can use forum websites, such as Inaturalist, to help identify Psilocybe mexicana by visually comparing your sample with images uploaded by other foragers.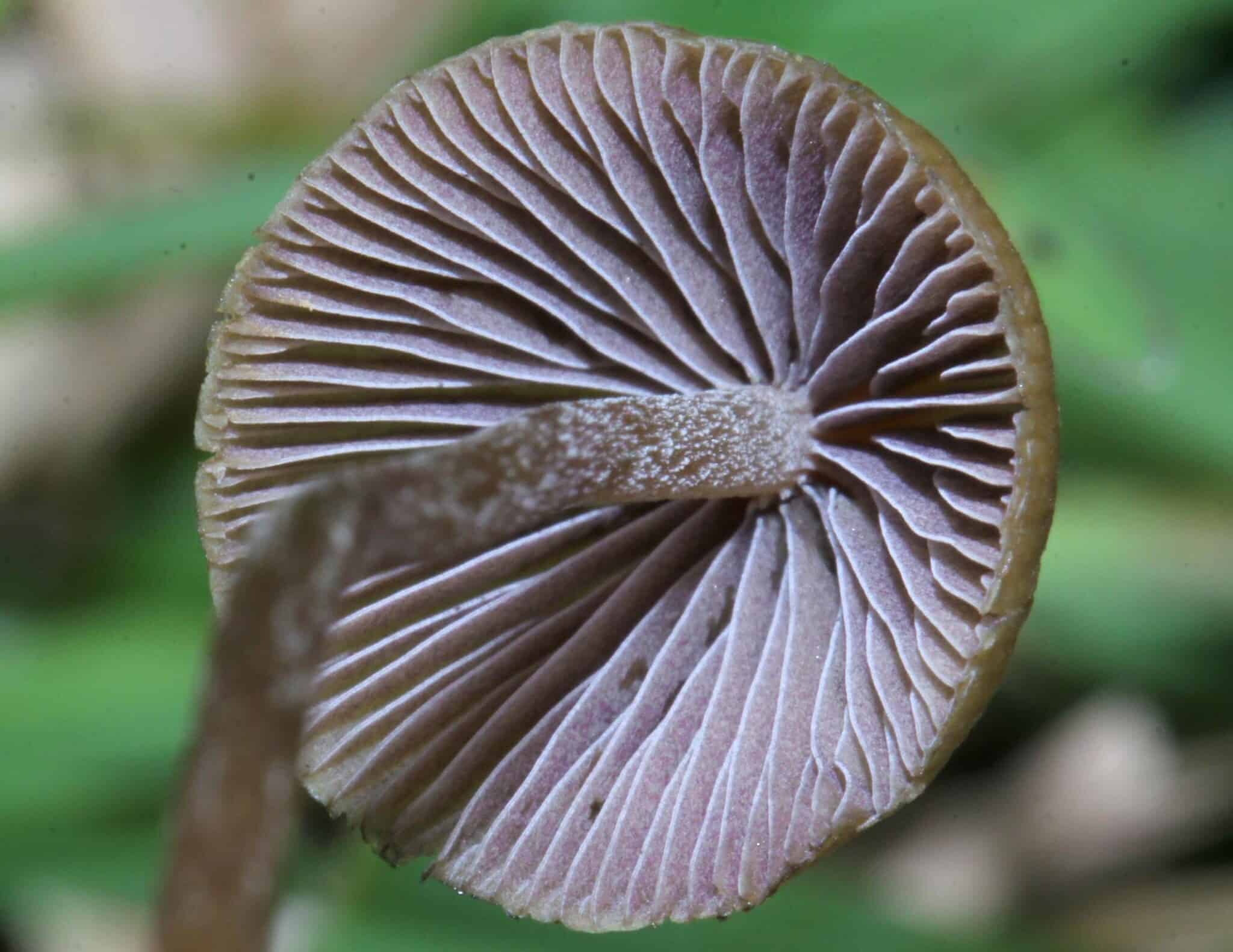 ---
Psychedelic Effects of Psilocybe mexicana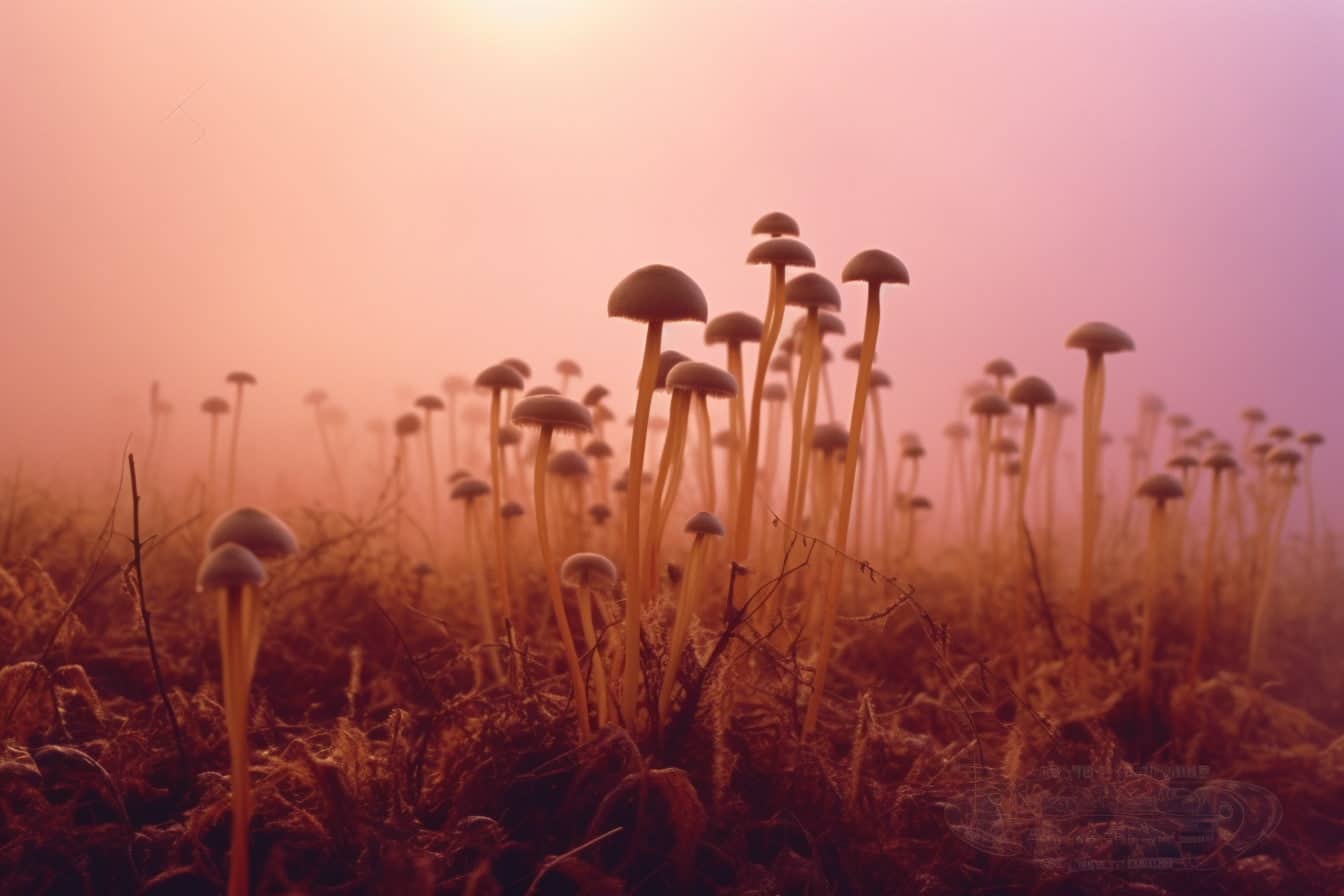 What does the Psilocybe mexicana experience feel like?
P. mexicana belongs to the Psilocybe genus of mushrooms, meaning it naturally produces the psychoactive alkaloids psilocybin and psilocin. Taxonomically, Psilocybe mushrooms belong to the Hymenograstraceae family, Agaricales order, Agaricomycetes class, and Basidiomycota division of fungi. 
Psilocybin is broken down into psilocin inside the body, which then interacts with the brain's serotonin system and alters communication among different brain regions.
Though psilocybin's experience is highly unique from person to person and trip to trip, there are some common effects you may expect when using P. mexicana. 
These include:
Altered sensory perception

Visual distortions and hallucinations

Enhanced emotions, such as euphoria 

Increased introspection

Heightened sense of connection to nature

Potential anxiety and fear

Spiritual and mystical experiences

Increased "fluidity" of thinking – increased creativity and ability to generate new ideas

Different perceptions of time
Very few online resources describe effects specific to the Psilocybe mexicana species. However, one shroomery forum user described the P. mexicana experience as more similar to cannabis, compared to P. cubensis mushrooms. One user wrote,
You'll still recognize it as psilocybin, but there is a very noticeable difference. Mexicana sclerotica produce a hangover quite unlike cubes and much more of a stoned feeling.

On Reddit, users also describe P. mexicana as a highly visual and spiritual experience. One user wrote:
The strongest trips of my life were with Psilocybe mexicana. Both were mystical/spiritual type trips.

Another user shared: 
Very strong spiritual visuals.
Regarding Psilocybe mexicana sclerotia, online headshops describe psilocybin truffles derived from Psilocybe mexicana that give rise to a happy, energetic, and relatively mild trip. 
Psilocybe mexicana potency
Hoffman and Heim reportedly found 0.25% and 0.15% of the active psychedelic compounds psilocybin and psilocin, respectively, in their original analysis of Psilocybe mexicana.
Analyses have since found varied psilocybin content from 0.11% up to 0.38% meaning they are relatively weak compared with other psilocybin-containing mushrooms. For instance, Psilocybe semilanceata, or "liberty caps," contain 1% psilocybin content on average.  
According to one analysis, Psilocybe mexicana may also contain the β-carbolines harman, harmol, and harmine, key ingredients in the shamanic brew ayahuasca. Though their exact properties are unclear, β-carbolines are thought to be mildly psychoactive, which may contribute to P. mexicana's psychedelic effects.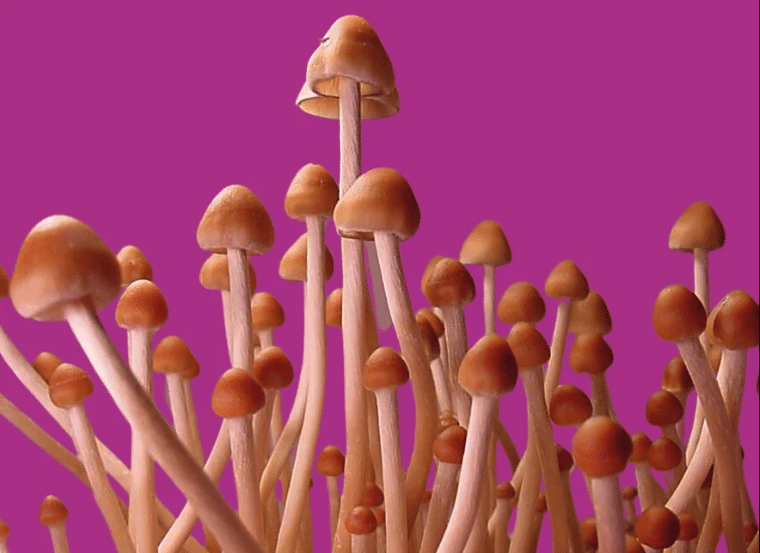 ---
How to Consume Psilocybe mexicana 
The most straightforward way to consume P. mexicana is to eat fresh or dried mushrooms or sclerotia (truffles) directly. Dried mushrooms and sclerotia may be preferred, as they have a longer shelf life, and dosages are easier to control.
It's important to remember that mushrooms are much more potent than scleoritia, and so doses should be calculated accordingly. 
Other methods include brewing chopped or crushed mushrooms in tea, which can be flavored to improve the taste, or adding chopped or powdered mushrooms to foodstuffs such as chocolate and honey.
To give more intense effects that come on faster, you can also soak dried mushrooms in lemon juice before consuming, known as lemon tekking.
Learn more about the various ways to consume psilocybin mushrooms in the infographic below: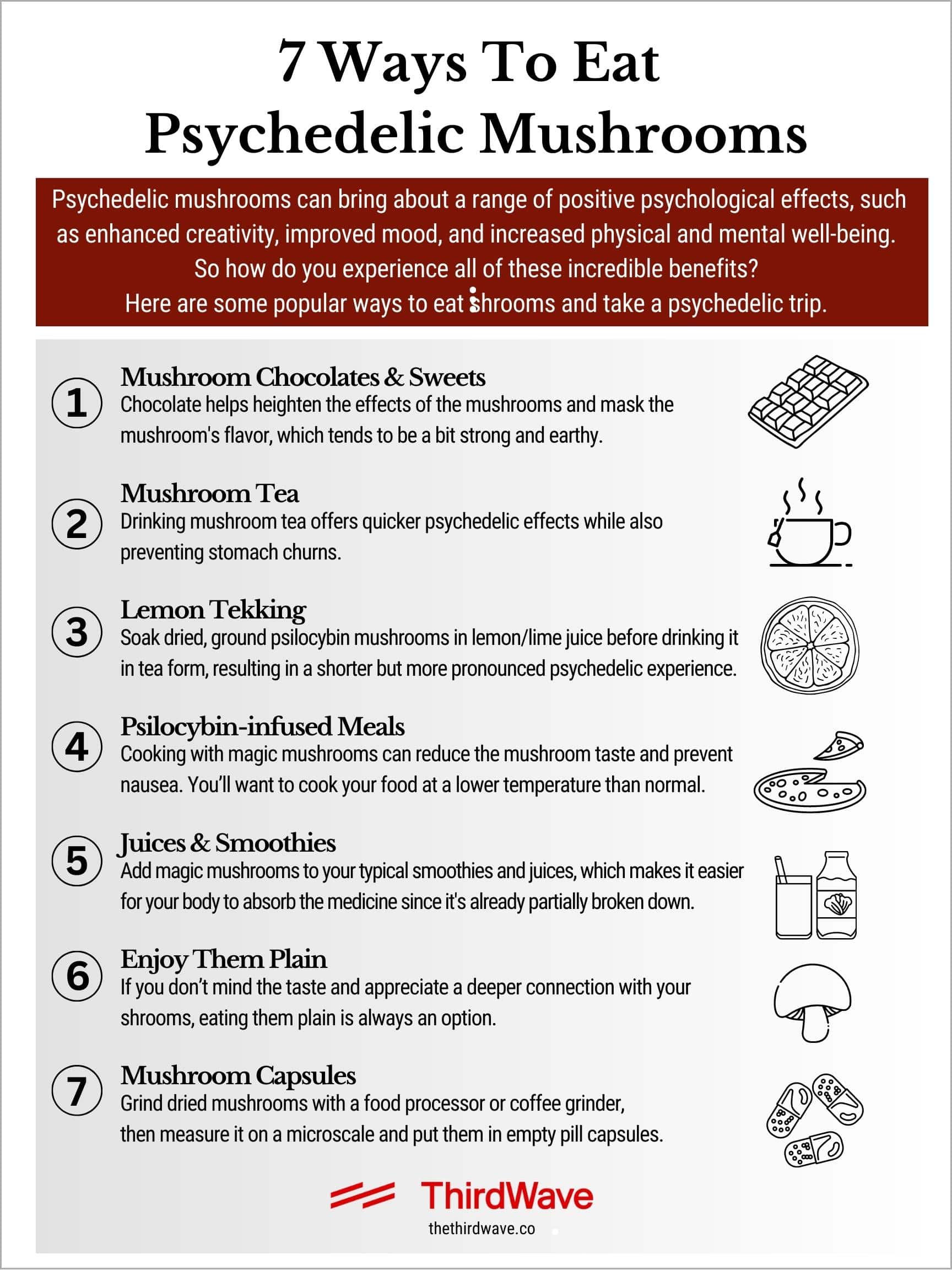 Psilocybe Mexicana Dosages
NOTE: These dosages are for dried weight. If the mushrooms are fresh, then multiply the dosage by a factor of 10x. 
Microdose: 0.15-0.25 g
Light: 0.3-1.25 g
Medium: 1.25-2.75 g
Strong: 2.75-5 g
Watch the below video for more information on psilocybin mushroom dosage:
---
Benefits of Psilocybin 
Though communities such as the Mazatec may have long-recognized psilocybin's benefits, it's only within the past two decades this compound has begun appearing in mainstream medical literature. 
Psychologically, psilocybin can foster greater self-awareness through helping people gain insights about their life during experiences. By understanding the root of one's behavior, these insights can increase someone's motivation to make positive lifestyle changes. 
Several neurological mechanisms also explain psilocybin's therapeutic effects. For instance, psilocybin decreases activity in the default mode network (DMN) – a brain network associated with future worrying and self-obsessive thought.
Psilocybin may also increase the brain's capacity to form new connections, translating to an increased ability to change thought and behaviors.
Such effects, when accompanied with therapy, can have significant clinical benefits for patients with mental health disorders.
To date, research trials have successfully used psilocybin to treat:
Microdosing Psilocybe mexicana
People microdose mushrooms such as P. mexicana for a variety of reasons, such as:
Improving focus

Improved cognitive performance 

Decreased depression and anxiety 

Increased energy

Increased sociability 
If you're interested in microdosing  P. mexicana, check out the Third Wave's comprehensive microdosing course. Our proven science-based process is designed to help enhance your emotional balance, holistic wellness, and peak performance.
Using Psilocybe mexicana for Spiritual Growth
When used intentionally, P. mexicana can offer profound and mystical experiences.
Some users report a temporary dissolution of the ego, their sense of self, and identity during these experiences, which can lead to a profound feeling of connectedness with the universe at large.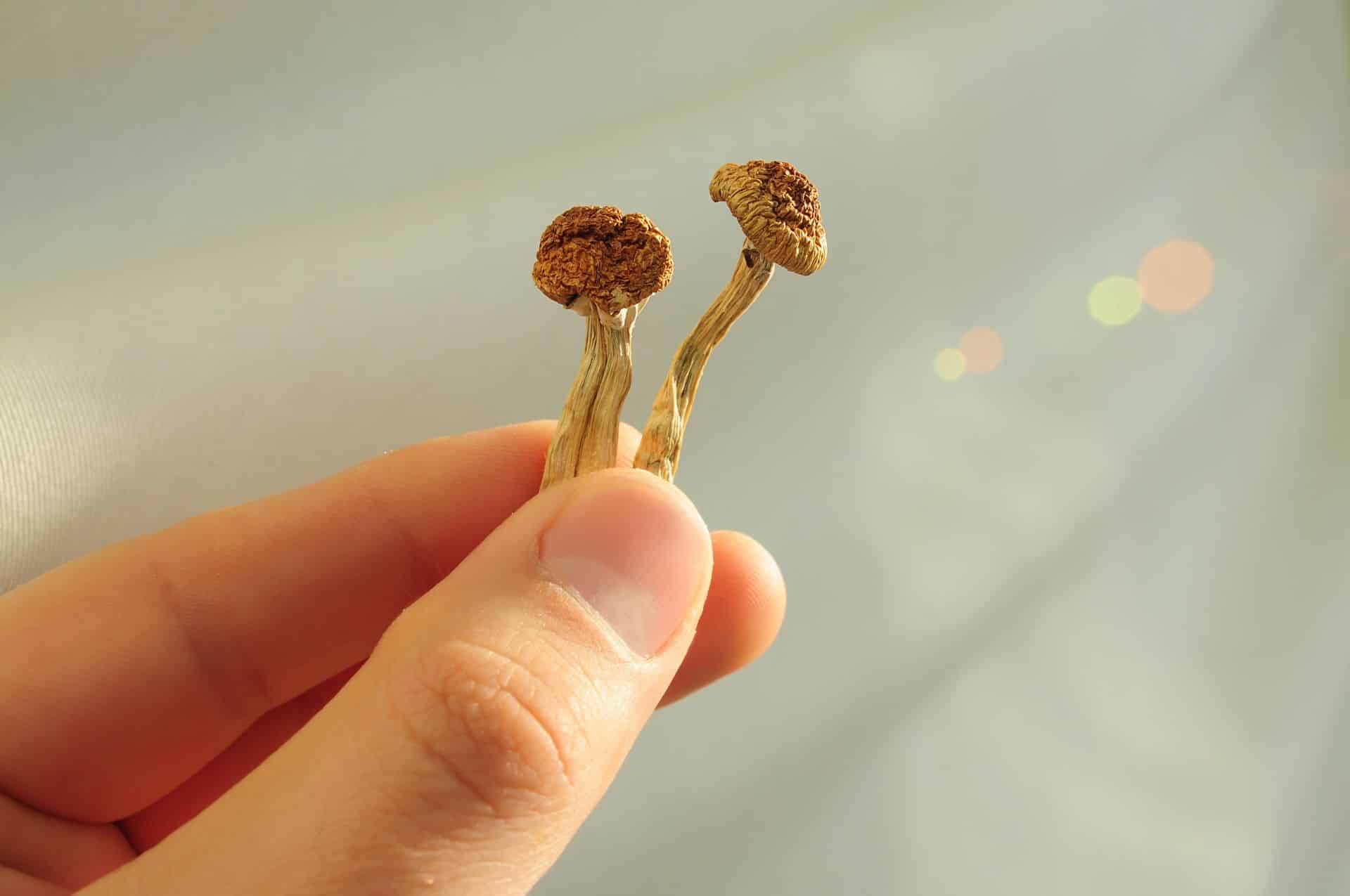 ---
Psilocybe Mexicana side effects and safety
In general, psilocybin mushrooms are considered non-toxic and unlikely to cause physical harm.
However, P. mexicana users may experience mild physical side effects such as:
Nausea

Headaches

Stomach cramps

Physical fatigue

Elevated heart rate

Increased blood pressure
P. mexicana may cause adverse psychological side effects associated with psychedelics. Psychedelic-related psychological challenges are often limited to the experience but can also be long-lasting.
They may include:
Anxiety

Paranoia

Fear

The feeling of losing one's mind or sanity

Surfacing of unwanted memories

Unpleasant and disturbing hallucinations
Careful preparation, intentional and respectful use, and a supportive environment will decrease the risk of adverse Psilocybe mexicana psychedelic effects.
You can learn more about best preparing your mindset and physical environment in our set and setting guide.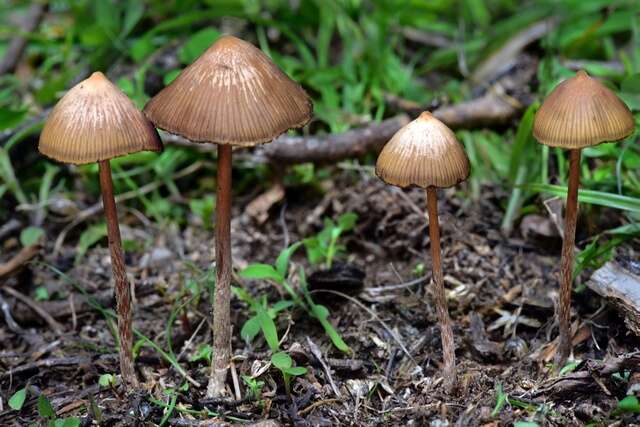 ---
Are Psilocybe mexicana legal?
For a complete global overview of where you can legally obtain and use Psilocybe mexicana, be sure to visit our "where are magic mushrooms legal" article. For now, here are a few places that may be most relevant:
Europe and the UK
In the UK and most of Europe, countries categorize psilocybin and magic mushrooms as Schedule 1-equivalent compounds, making them illegal to sell, cultivate, manufacture, and possess.
However, mushrooms are decriminalized in certain countries, such as Portugal, meaning you're unlikely to be punished for their possession or use if caught.
In Holland, though Psilocybe mexicana mushrooms may be illegal, Psilocybe mexicana sclerotia (truffles) can be legally sold and purchased in headshops as "magic truffles."
The USA
Like much of Europe, the federal US government categorizes psilocybin and magic mushrooms as Schedule 1 equivalents. However, in recent years, many states have decriminalized psilocybin and psilocybin mushrooms.
Last year, Oregon became the first state to legally allow for adult use of psilocybin mushrooms under the guidance of a licensed facilitator. Colorado is to soon follow Oregon, with the government to begin accepting licenses for psilocybin "healing centers" as of 2024. 
Central America – countries where Psilocybe mexicana grows natively
In Mexico, all psychedelic mushrooms, including Psilocybe mexicana, are illegal. However, according to Article 195 of the Federal Penal Code, Mexican authorities can't prosecute you if you use psilocybin mushrooms for traditional spiritual practice or ceremonies. 
Because of this law, many retreat centers providing intentional and therapeutic psilocybin experiences with spiritual elements have opened up in Mexico in recent years. You can check out some of Mexico's best-vetted psilocybin retreat centers using our psilocybin provider directory. 
Magic mushrooms are listed as banned in Costa Rica. However, since the Costa Rican government is very relaxed in enforcing this law, the country is also home to many retreat centers offering the medicine for wellbeing and spiritual development. 
In Guatemala, psilocybin-containing and magic mushrooms aren't explicitly addressed in Guatemalan law, although psilocybin itself is a controlled substance. This lack of clarity makes shrooms a legal gray area in the country. 
The Caribbean
While psilocybin mushrooms are not explicitly legalized or decriminalized, Jamaica's Dangerous Drugs Act allows for the traditional and religious use of various entheogens, including psilocybin mushrooms. Jamaica is also home to several legally operating magic mushroom retreat centers.
Use our Psilocybin Retreats and Providers Directory to learn about where you could experience a transformative mushroom journey of your own in a highly recommended, legal setting.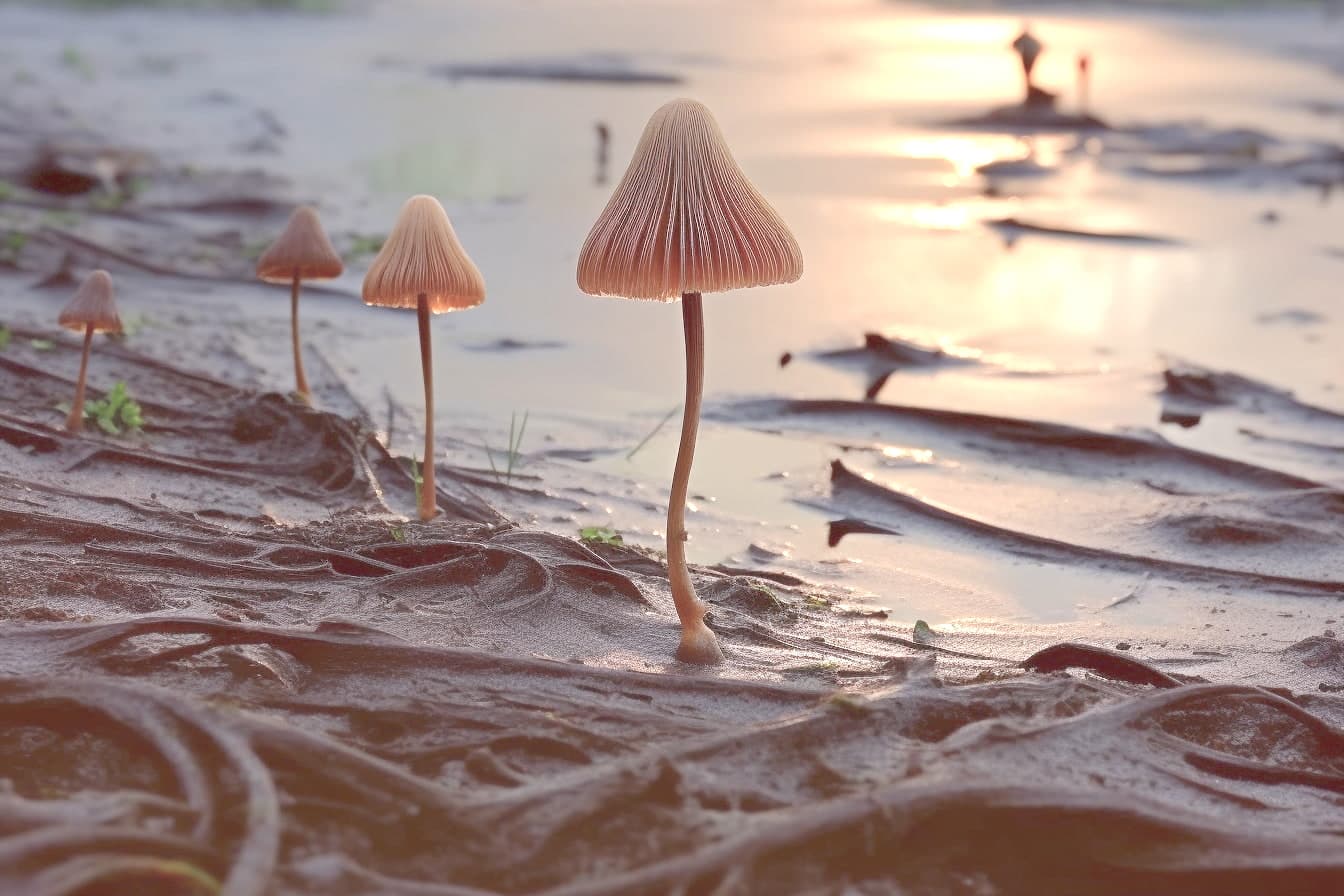 ---
Guide to Growing Psilocybe mexicana
If you're interested in cultivating Psilocybe mexicana mushrooms, rather than the sclerotia, you may choose standard substrates to colonize the mycelium, such as mixtures of coir and vermiculite. Exposing the mycelium to significant amounts of daylight during its colonization is important. 
If you want to harvest Psilocybe mexicana sclerotia, rather than the mushrooms, you should choose a more nutrient-dense substrate. According to a guide on shroomery, the best substrates for sclerotia are rye berries, rye grass seed, wild bird feed, and brown rice flour. Sclerotia are also best grown in the dark. 
To learn more about the basics of growing Psilocybe mexicana indoors visit our magic mushroom cultivation guide. 
And if you want high-quality growing equipment and detailed step-by-step instructions for abundant Psilocybe Mexicana mushroom flushes, be sure to check out our grow kit and course.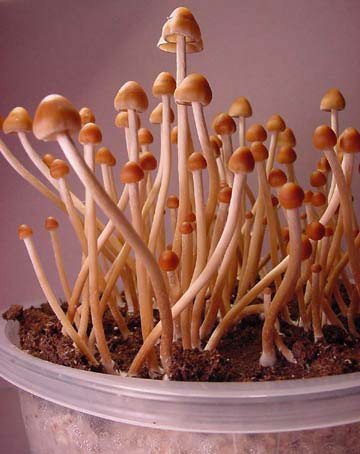 ---
Psilocybe mexicana Final Thoughts
The historical journey of Psilocybe mexicana, from ancient rituals to contemporary research, demonstrates the timeless human quest for exploring consciousness through psychedelics.
As agents of spiritual and personal growth, journeying with Psilocybe mexicana could have profound therapeutic benefits when used with intention. Yet, it's crucial those interested pay close caution to set and setting due to the potential for unknown and unexpected psychedelic side effects.
If reading this article has sparked your curiosity to grow Psilocybe mexicana, make sure your country's local laws allow you to do so. Using our Third Wave Mushroom Grow Kit, you will be provided with all the high-quality growing equipment you need for a successful flush, aside from the spores.