Psilocybin
How to Find Psychedelic Mushrooms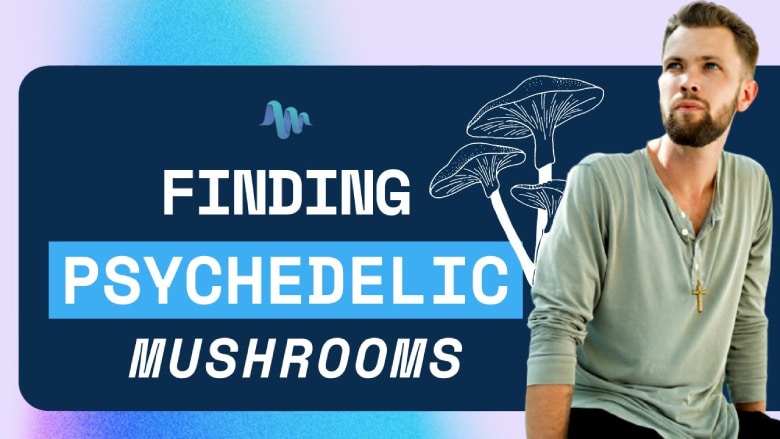 Psilocybin mushrooms are an all-time psychonaut favorite, and rightfully so. They are "entheogens," a term that means "manifesting the divine," which was coined to describe their spiritual properties.
Evidence suggests the Aztecs, Mayas, and other ancient Mesoamerican cultures consumed psychedelic mushrooms many centuries ago.  Thousands of years earlier, aboriginal Saharan tribes in North Africa were one of the first cultures to use them. According to Terence McKenna, psilocybin might even be responsible for the evolution of human creativity, beginning hundreds of thousands of years ago.
Humans have been connecting with the divine via magic mushrooms for centuries. Unfortunately, however, most modern governments ban their use. That legal hurdle begs the question of how to find psychedelic mushrooms today.Here we review how to find these mushrooms in the wild and where to get them legally worldwide.
We've written about psilocybin mushrooms here, in our Essential Guide.
Pick Them: The Benefits of Finding Your Own Magic Mushrooms
Learning how to find psychedelic mushrooms in the wild might not be as tricky as you think. If you live in the right place, you might find them in your backyard. Consuming wild magic mushrooms brings unique benefits:
Picking magic mushrooms is free.
You don't need to rely on external sources for your supply.
Foraging mushrooms strengthens your connection with nature and the medicine itself.
You can benefit from "mushroom intelligence."
Sourcing your own mushrooms develops a sense of personal empowerment.
Foraging is one of the best ways to find and consume psychedelic mushrooms. However, before you begin, you must learn how to identify mushroom species. That's because some varieties are mildly poisonous and even deadly. And unfortunately, many toxic strains have shapes, sizes, and colors similar to the trippy ones.
We recommend Paul Stamets's book, Psilocybin Mushrooms of the World: An Identification Guide, to learn about non-toxic psilocybin shrooms in your region. Erowid is another valuable resource for identifying trippy mushroom species that are safe to ingest. Finally, Mycotopia is an online community where you can consult with fellow psychonauts about any questions you may have.
Where can I find shrooms near me?
Fortunately, mushrooms grow naturally in most areas of the world. If you live in North America, you can find magic mushrooms in the Pacific Northwest, Northeast, and around the Gulf of Mexico. Hawaii also seems to be a paradise for world-class strains.
Mexico, Central America, and South America are also brimming with wild magic mushrooms. Specifically, Ecuador, Colombia, Brazil, Venezuela, and Argentina have large mycelial networks.
Other locations with ample shroom varieties include South Africa, the east coast of Australia, South India, the Philippines, and the coastal region of Southeast Asia.
Oh, and you can find them growing all over Europe, too.
Shroomery has a thorough list of psilocybin shroom species worldwide and throughout the U.S.
Where do wild psilocybin mushrooms like to grow in nature?
Wild shrooms could absolutely appear in terrains near you. But the environment has to meet a few fungi-friendly conditions first:
Magic mushrooms need moisture for optimal growth. Dry air and wind can easily kill them. So you're more likely to find mushrooms in shaded areas because the absence of light helps the air retain moisture.
Magic mushrooms also require specific temperatures, which vary based on the species.
Finally, to grow, psilocybin mushrooms need fertile soil rich in nutrients like sugar, starch, lignin, fats, protein, and nitrogen. Tree bark, fallen leaves, animal dung, mulch, or compost can sprout mushrooms if they contain these nutrients.
Magic mushrooms' growth requirements are why you're more likely to find them in densely forested areas and close to bodies of water. However, psilocybin mushrooms appear in fields as well.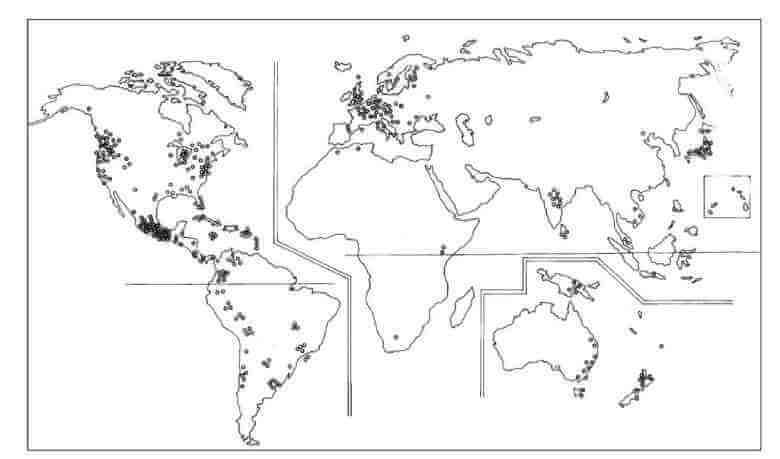 How to identify magic mushrooms in the wild
There is an incredible variety of mushroom species, and the same goes for the psilocybin-containing ones. So far, there are some 227 accepted and classified psilocybin mushroom species. Some are endemic to certain areas, while others grow in multiple regions. Fifty-three grow in Mexico, 22 in the USA and Canada, 19 in Australasia (Australia, New Zealand, and relatively nearby islands), 16 in Europe, and 15 in Asia.
No single feature sets psilocybin species apart from medicinal or poisonous varieties. The only way to find magic mushrooms is to study their characteristics and get experience in mushroom hunting.
Here are the top five psilocybin species to get you started:
1) Psilocybe cubensis and Psilocybe subcubensis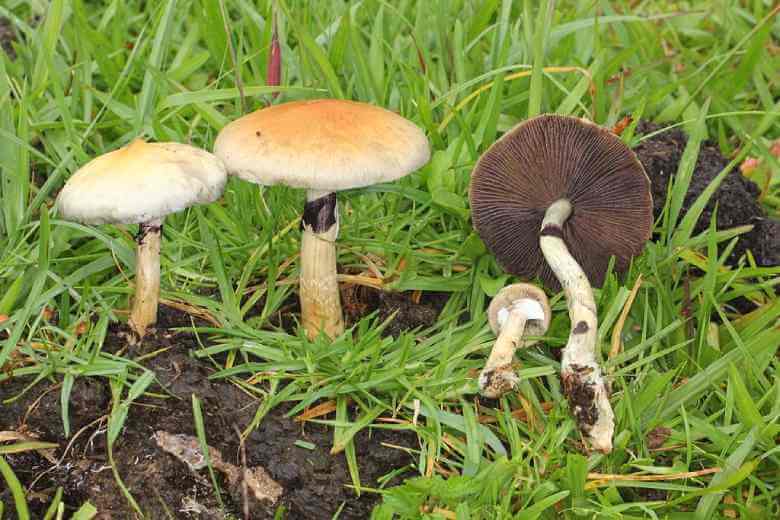 Psilocybe cubensis (P. cubensis) and Psilocybe subcubensis are the most common magic mushroom species. They grow mainly on bovine dung, popping up a few days after heavy rain. They fruit worldwide year round, particularly in tropics and subtropical environments.
Shroomery contributors have spotted Psilocybe cubensis in various states across the U.S., including:
Alabama
Arkansas
Florida
Georgia
Hawaii
Louisiana
Mississippi
Missouri
North Carolina
Oklahoma
South Carolina
Tennessee
Texas
Virginia
West Virginia
Tropical North American sightings include: 
Cuba, Dominican Republic, Jamaica, Puerto Rico, Trinidad, and Mexico.
African sightings include: 
Kenya, the Republic of Congo, South Africa, Uganda, and Zimbabwe.
Asian sightings include:
Cambodia, China, India, Indonesia, Japan, Laos, Nepal, Philippines, Sri Lanka, Thailand, and Vietnam.
Australasian sightings include:
New South Wales, Northern Territory, and Queensland (Australia), and the island of Vanuatu.
South American sightings include:
Belize, Argentia, Bolivia, Brazil, Colombia, Costa Rica, El Salvador, French Guiana, Guatemala, Guyana, Honduras, Nicaragua, Panama, Paraguay, Peru, Suriname, Uruguay, and Venezuela.
Psilocybe cubensis are more abundant than Psilocybe subcubensis, but you can find them growing in the same areas. Their appearance is also very similar: classic stubby-stemmed, parasol-shaped mushrooms with predominantly light-to-golden-brownish caps that are bulbous before fruiting and flat and wide in diameter when fully mature. One of the most popular P. cubensis varieties worldwide is "Golden Teachers."
2) Psilocybe semilanceata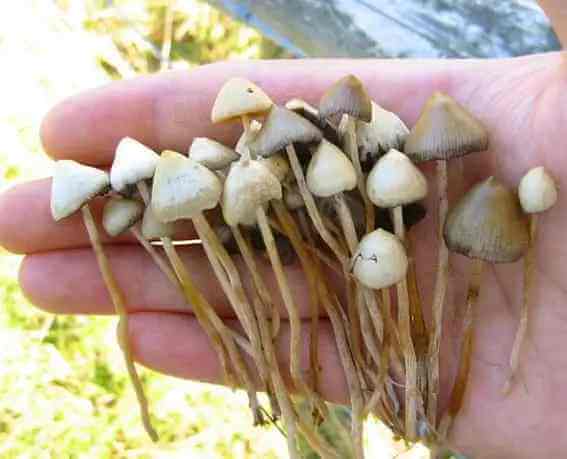 Psilocybe semilanceata is another widely available psychedelic shroom. You can find this magic mushroom species throughout Europe, North and South America, Asia, Australia, and New Zealand.
In the US, the Shroomery network reports finding Psilocybe semilanceata in Pacific Northwest states, including California, Oregon, and Washington.
Canadian sightings include:
British Columbia, New Brunswick, Newfoundland, Nova Scotia, Prince Edward Island, and Quebec.
Asian sightings include:
India, Russia, and Turkey.
Australasian sightings include:
Tasmania and Victoria (Australia), New Zealand.
European sightings include
Austria, Belgium, Bulgaria, Croatia, Czech Republic, Denmark, England, Estonia, Fores Islands, Finland, France, Germany, Greece, Netherlands, Iceland, Italy, Ireland, Kosovo, Latvia, Lithuania, Norway, Poland, Portugal, Macedonia, Romania, Scotland, Serbia, Slovakia, Slovenia, Spain, Sweden, and Switzerland.
South American sightings include:
Chile
Psilocybe semilanceata also goes by "Liberty Caps" because of their dark bell-shaped tops. Their stems are slim and can be wavy. You can find these shrooms growing in grasslands, meadows, and lawns. Autumn and early winter are the best times to find fully fruited Psilocybe semilanceata.
3) Psilocybe cyanescens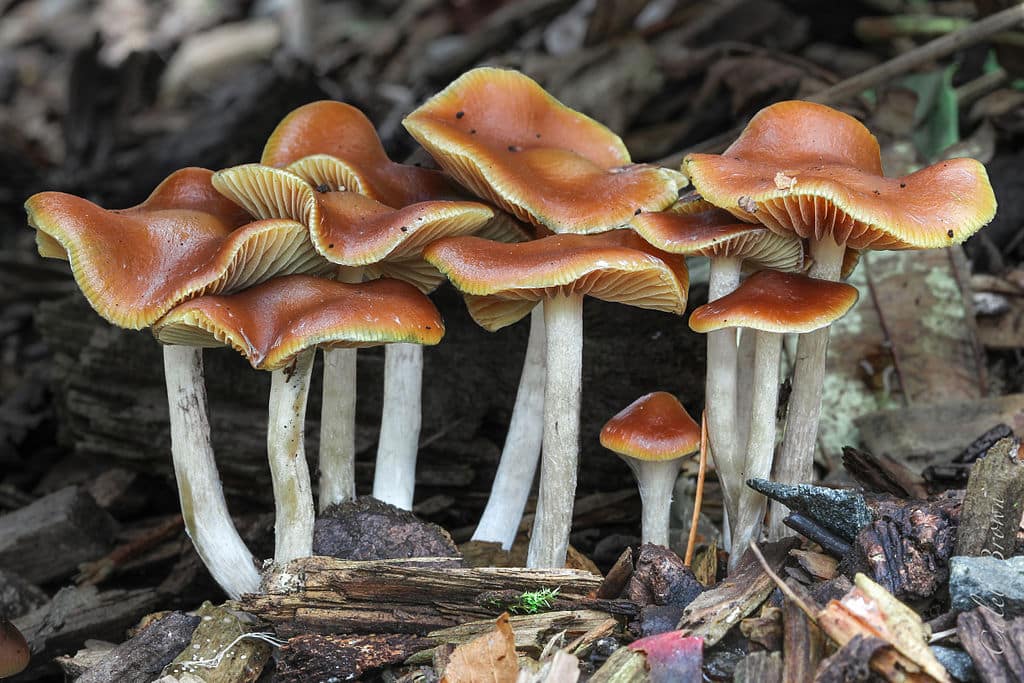 Psilocybe cyanescens are known for their distinctive undulating tops. For this reason, they are called "Wavy Caps." The species name cyanescens comes from the fact that this variety turns blue when bruised.
Psilocybe cyanescens are among the most potent magic mushrooms, reaching a whopping 1.96 percent of active compound content by dry weight in North America. You can find this magic mushroom variety on the East and West Coast of the USA, south of the Bay Area, Central and Western Europe, New Zealand, and parts of Western Asia.
In the US, the Shroomery network reports finding Psilocybe cyanescens in several states, including Alaska, California, Massachusetts, New York, Oregon, and Washington. This species typically fruits between late October and February in Western states.
Canadian Psilocybe cyanescens sightings include:
British Columbia.
African sightings include:
South Africa.
Australasian sightings include:
New Zealand.
European sightings include:
Austria, Belgium, Bulgaria, Czech Republic, England, France, Germany, Netherlands, Italy, Ireland, Poland, Serbia, and Switzerland,
4) Panaeolus or Copelandia cyanescens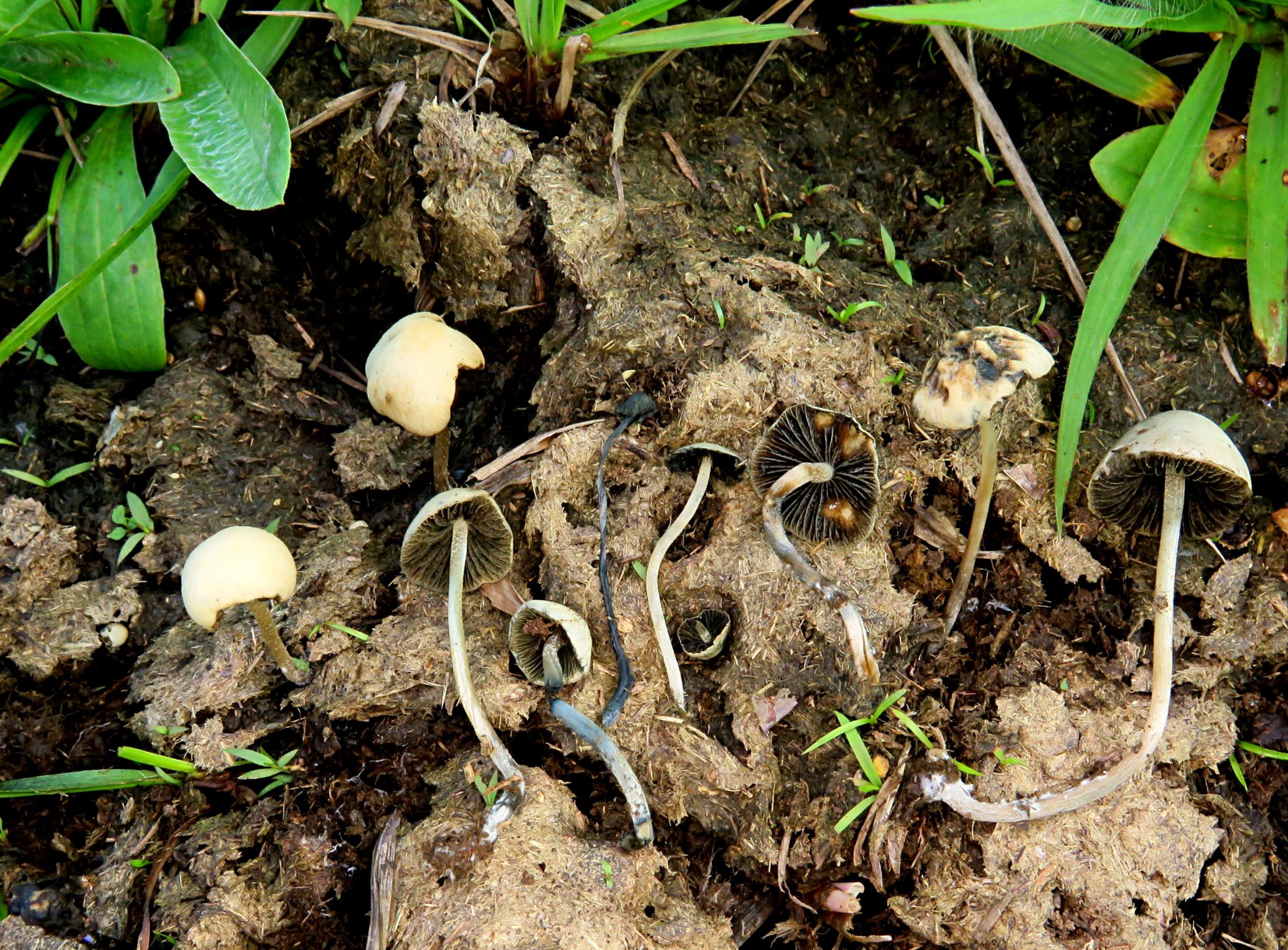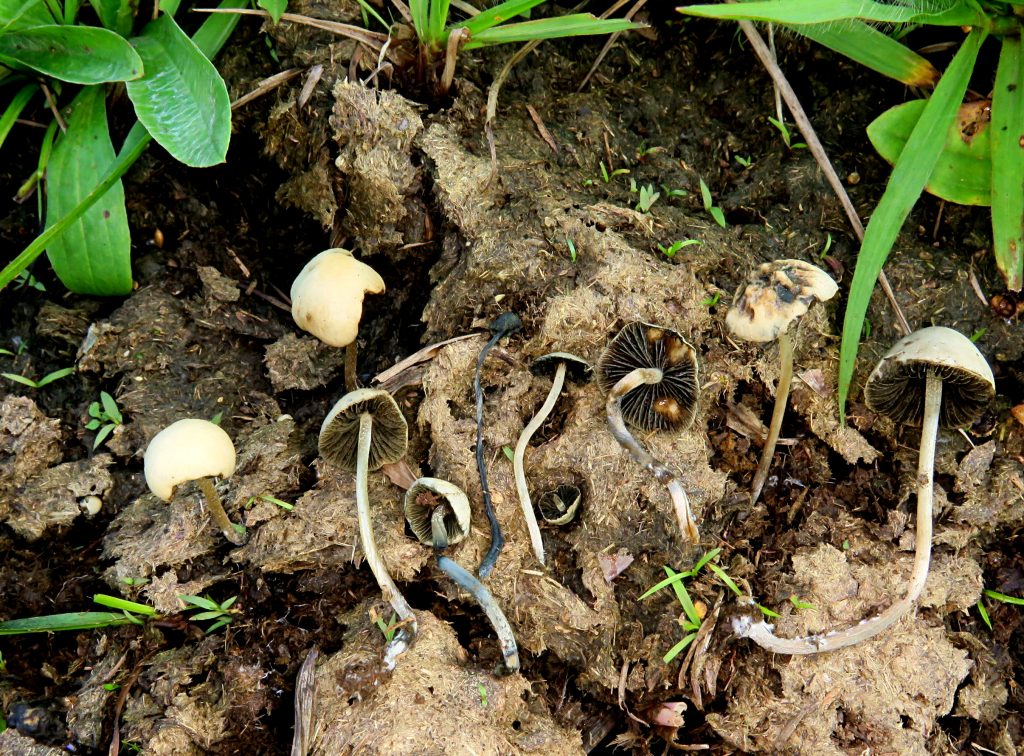 Panaeolus cyanescens (previously known as Copelandia cyanescens) are called "Blue Meanies." That's because this long-stemmed and light brown variety packs an intense punch and turns dark blue when you pick them. Blue Meanies grow worldwide in South America, Western Europe, Central Africa, South and Southeast Asia, and Oceania. They can grow year-round but typically fruit from late spring to autumn in subtropical climates.
Panaeolus cyanescens sightings in the U.S. include
Alabama, North Carolina, Florida, Georgia, Hawaii, Louisiana, Mississippi, South Carolina, Tennessee, Texas, and Virginia.
Latin American sightings include
Granada, Haiti, Jamaica, Mexico, Puerto Rico, and Trinidad.
African sightings include
Kenya, Madagascar, Mauritius, South Africa, and Uganda.
Asian sightings include
Cambodia, China, India, Indonesia, Japan, Korea, Laos, the Philippines, Thailand, and Vietnam.
Australian sightings include
New South Wales, Northern Territory, and Queensland.
Australasian and Pacific sightings include
Vanuatu and Fiji.
European sightings include
Austria, France, Italy, Spain, and Switzerland.
South American sightings include
Bermuda, Belize, Bolivia, Brazil, Colombia, Costa Rica, French Guayana, Guyana, Honduras, Panama, Paraguay, Suriname, and Venezuela.
5) Psilocybe azurescens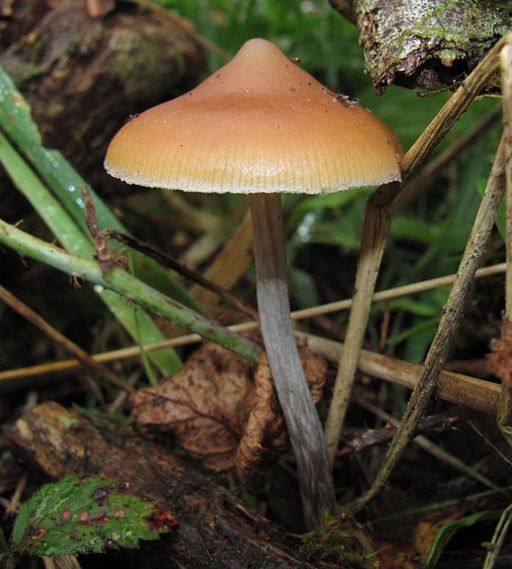 Psilocybe azurescens are endemic to the West Coast of the USA. You can find these shrooms growing primarily in sandy soil near dunes among tall coastal grasses in Oregon and Washington, fruiting between late September and early January.
This species, known as Flying Saucer Mushrooms and Blue Angels, earns a spot in the top five for its potent psilocybin concentration–up to 1.80 percent.. In addition, Psilocybe azurescens mushrooms have an incredible amount of baeocystin, a chemical analog of psilocybin. Compared to P. cubensis, Psilocybe azurescens can contain up to ten times more of this psychoactive compound by dry weight, putting them among the most potent magic mushrooms.
They are also beautiful shrooms, sporting a slim white stem and a convex caramel-colored cap with a conical top three to ten centimeters wide. The cap's surface is smooth, with a dense look when wet. When it dries, the color changes to a dirty brown.
Top Magic Mushroom Identification Apps
Understanding these top five psilocybin species is a great start. But If you want to truly identify psilocybin mushroom species in the wild, you'll have to go deeper. Here is a list of vetted apps to help you easily distinguish magic mushrooms from toxic varieties worldwide.
Growing magic mushrooms
If a foraging quest that may result in accidental poisoning does not entice you, or if you live in an area where magic mushrooms don't grow, you'll be happy to know that cultivating shrooms on your own is relatively easy. For example, Third Wave's Mushroom Grow Kit & Course includes step-by-step instructions and everything you need (except for the spores) to grow mushrooms at home.
One of the greatest benefits of home growing is trying strains from around the world and cultivating a year-long supply without going anywhere. Additionally, if you live in the US (except California, Georgia, or Idaho), you can legally buy mushroom spores because they don't yet contain psilocybin or psilocin, the active psychedelic elements. If you live in New Mexico, even growing mushrooms is legal. Look into our detailed guide on the legality of mushrooms worldwide for more information.
To get started, you can order a grow kit and spores online or make your own substrate from scratch. The first option is more manageable. Just make sure your material comes from a reputable vendor and is 100 percent sterile, as contamination will destroy the yield.  However, if you prefer to go the DIY route, Third Wave has prepared a thorough and easy-to-follow guide on how to do just that.
Buy them in countries where they're legal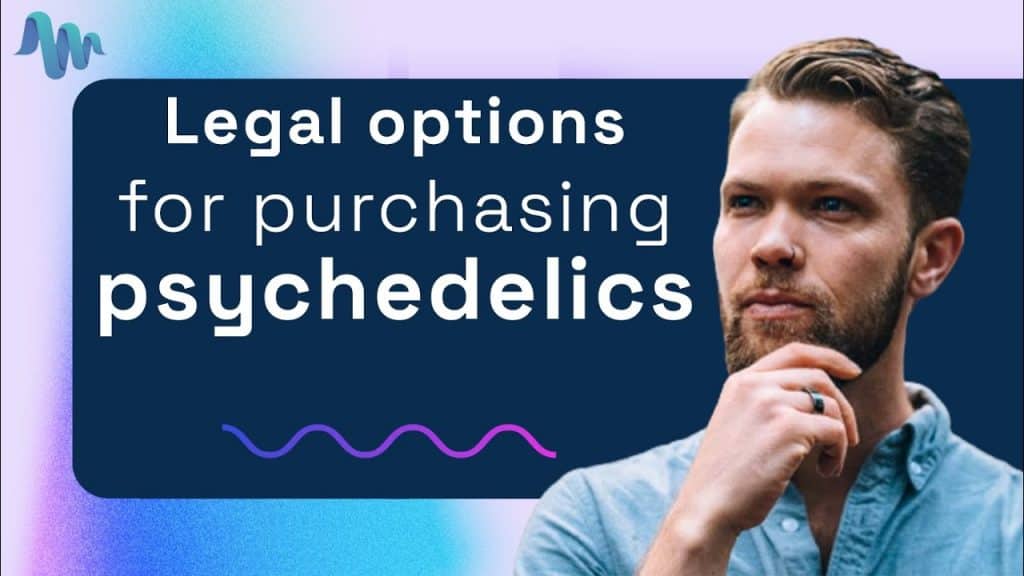 A third option would be to consult our psychedelic sourcing video and guide on the international legality of psilocybin. These resources can help you find somewhere to safely and legally buy or otherwise procure, and consume them. Third Wave's Ultimate Guide to Sourcing Psychedelic Medicines provides tips and resources to source psilocybin in most countries from trusted sellers legally.
If you're in Europe, you have quite a few choices: the Netherlands, Austria, Czech Republic, Spain, and Portugal. The Netherlands, of course, outlawed psilocybin mushrooms back in 2008, but magic truffles are perfectly legal to purchase and consume. If this piques your interest, be sure to check out our guide to the differences between magic mushrooms and magic truffles. As for the rest of the countries, psilocybin has undergone decriminalization, which means that it's either alright to possess small amounts for personal use.
If you're looking to try mushrooms in a structured, legal setting, consider a guided psilocybin retreat in the Netherlands with our trusted partner, Synthesis, or visit our Psychedelic Directory for a complete list of vetted psilocybin retreats worldwide
If you'd prefer to grow mushrooms at home, check out Third Wave's Mushroom Grow Kit and Course for guidance.
That's all there is to it. This article should contain enough info to get you started on your mushroom-sourcing venture. Make sure to obey the law and stay safe in your search, and, as always, in your psychonautical endeavors.