Disclaimer: Foraging for wild mushrooms can be dangerous since many poisonous varieties look similar to their edible counterparts. Eating wild mushrooms should only be done by experts who are knowledgeable about mushroom identification. This article is for informational purposes only and does not encourage or endorse the consumption of illegal substances.
This article has been medically reviewed by Katrina Oliveros, MSN-ED, BSN
In George Lucas' epic saga Star Wars, the Jedi are universal peacekeepers, capable of hijacking thoughts using a mystical energy known as "the force" or "Jedi mind tricks."
In the universe of magic mushrooms, the "Jedi Mind Fuck" strain suggests it possesses similar mind-bending powers. However, with relatively low psilocybin levels, JMF speculators wonder whether the strain lives up to the name.
This article explores everything you need to know about the JMF psilocybin mushroom strain, including origins, psychoactive effects, and cultivation tips.
Jedi Mind Fuck Taxonomy
Understanding Magic Mushroom Species vs. Strains
Jedi Mind Fuck Mushrooms isn't exactly a scientific term. So, where does this magical variety fall within the mushroom kingdom?
All mushrooms (and living organisms) are classified into hierarchical groups based on shared characteristics and evolutionary relationships. The science of classifying and naming organisms is called taxonomy, and the order of this hierarchy is as follows:
Kingdom
Phylum
Class
Order
Family
Genus
Species
Most magic mushrooms belong to the genus Psilocybe. However, exceptions, such as the Panaeolus Cyanesens, or "Blue Meanies," are part of the Panaeolus genus.
Within the Psilocybe and Panaeolus genus, several magic mushroom species exist.
A species can be defined as a group of biological organisms with similar genetics and characteristics that can reproduce. Psilocybe mexicana, Psilocybe semilanceata, and Psilocybe cubensis are different species belonging to the Psilocybe genus.
A mushroom's taxonomy can be even further specified by identifying its strain. Strains are subtypes of magic mushroom species. Unlike a species, strains are genetically identical, so they can't provide fertile offspring.
Jedi Mind Fuck is a Psilocybe cubensis strain.
Other popular P. cubensis strains include:
Strains like JMF, Penis Envy, and Golden Teacher have distinct genetic profiles and chemical make-ups. This variation gives rise to divergences in psychoactive effects, growing abilities, and physical appearance.
Like cannabis breeding, mycologists cultivate mushroom strains to enhance desirable characteristics, such as a high psilocybin content. Strains can also evolve over time through natural selection and adaptation to different environments.
To distinguish between strains, mushroom enthusiasts sometimes use spore prints to find identifying clues. Generally, a spore print is made by placing the cap of a mature mushroom, gills down, on a piece of paper or glass, allowing spores (microscopic reproductive fungi units) to drop and form a pattern.
Microscopy can also reveal physical differences between strains that can't be seen with the naked eye. Mycologists examine the mushroom at a cellular level, scrutinizing the size, shape, and structure of both spores and mycelium. Specific microscopic characteristics, like spore ornamentation or the presence of specific cellular structures, can be key in distinguishing one strain from another.
Origins of Jedi Mind Fuck Mushrooms
The origin of the JMF strain needs to be clarified, with no reliable evidence to determine its source.
However, some suggest JMF could be a genetic off-shoot from the Z-strain, another popular P. cubensis variety. A popular story is that the strain was cultivated by a well-known mycologist, "Myco Joe," or "Agar Joe," in the early 2000s. Joe allegedly bred JMF from a P. cubensis sample growing in the wild in Georgia, USA.
"It's our understanding that [Myco Joe] isolated this wild P. cubensis until it was stable, keeping it uncontaminated by other pathogens or strains. Joe then began sharing these cosmic cubes with other mycologists," wrote one user on Reddit.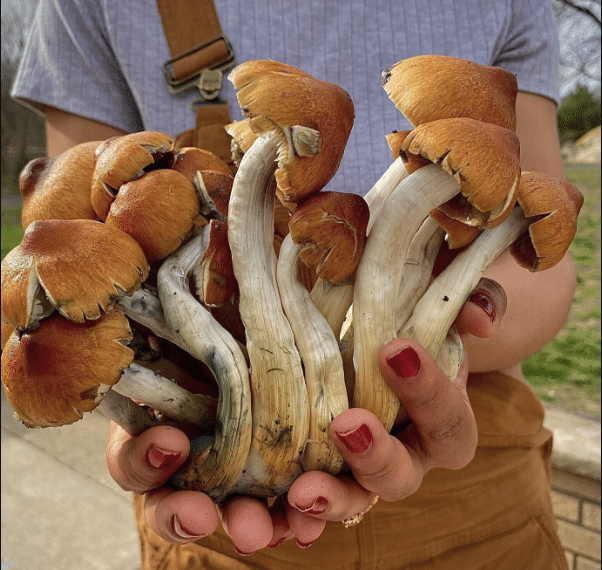 How to Identify Jedi Mind Fuck Mushrooms
Jedi Mind Fucks are relatively normal-looking mushrooms compared to distinct P. cubensis strains like Albino Penis Envy,
Some people report that JMF mushrooms are larger than average with thick stems. But besides that, they tend to coincide with typical P. cubensis mushrooms.
Cap: Hemispherical, becoming more convex and flattening out with age, and yellowish-brown in color. Distinctive cone-shaped bumps at the center.
Gills: Closely spaced, thin, and slightly wavy. Typically whitish to dark brown.
Stem: White or pale yellow and around 5-15 centimeters long. May have a bluish tint near the base.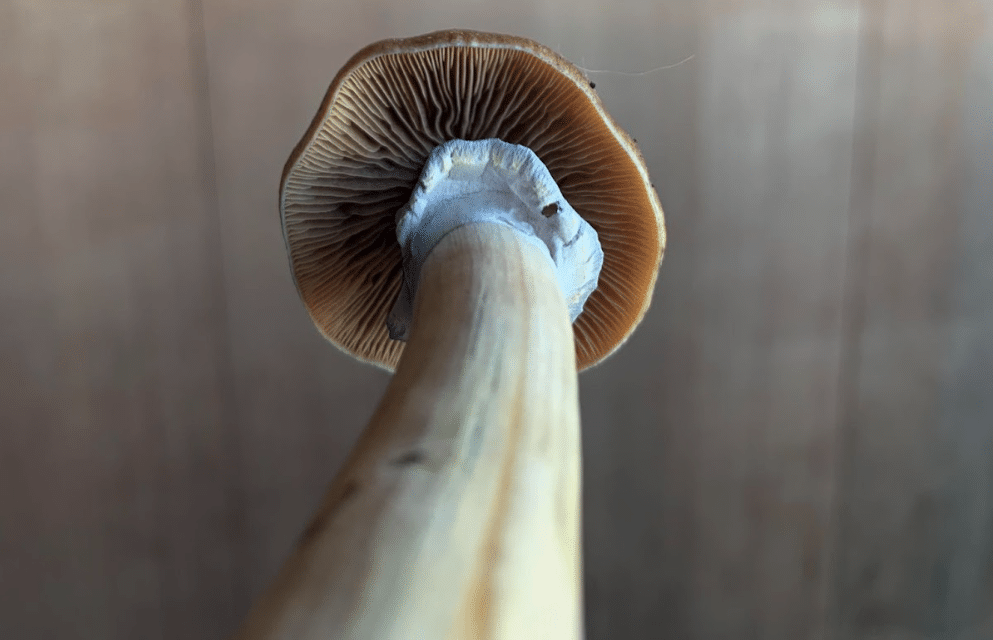 Uncovering the Jedi Mind Fuck Experience
Jedi Mind Fuck, like all magic mushrooms, contains psilocybin as the defining psychedelic compound.
Psilocybin Effects
Psilocybin effects vary from person to person and depend on dosage, individual sensitivity, and set and setting.
However, most psilocybin-containing mushrooms exhibit the following effects:
Altered perception: Visual patterns and distortions may appear.
Sensory enhancement: Colors, smells, and sounds become more intense.
Changed cognition: Enhanced creativity. Thought patterns may become more abstract. Altered sense of time.
Emotions: Heightened sensitivity and empathy.
Mystical experiences: -Feelings of oneness with a consciousness greater than oneself.
Learn more about psilocybin-containing mushrooms from Third Wave's Ultimate Guide to Psilocybin Mushrooms.
JMF Potency
JMF scored 0.09% psilocybin and psilocin content at the Oakland Hyphae Psilocybin Cup in 2021. Psilocybin is magic mushrooms' primary naturally occurring psychedelic compound. Psilocin is the active metabolite. After eating magic mushrooms, the body metabolizes psilocybin into psilocin to produce hallucinogenic effects.
Comparatively, most P. cubensis mushrooms contain around 0.14-0.42% psilocybin and 0.37-1.3% psilocin.
Some psychonauts report that JMF has strong psychedelic effects despite their relatively average psilocybin content. These reports could reflect diverse experiences based on individual sensitivity. JMF mushrooms could also contain unidentified psychoactive compounds contributing to increased felt strength.
JMF Psychedelic Effects
Published literature doesn't include comprehensive details on JMF's experiential effects. However, Reddit users have described the mushroom experience as profound and highly visual. In line with its name, Jedi Mind Fuck might just elicit supernatural qualities:
"JMF seems to speak to me kinda like DMT, not the visuals, just a telepathic type thing," wrote one user.
"This has to be one of the best magical shroom experiences I've ever had… Jedi MFs give you incredible visuals along with the feeling of weightlessness. I want to also empathize that through my experience as I am very spiritual and this shroom vessel is about to take you on an unforgettable but yet healing journey," another user reported.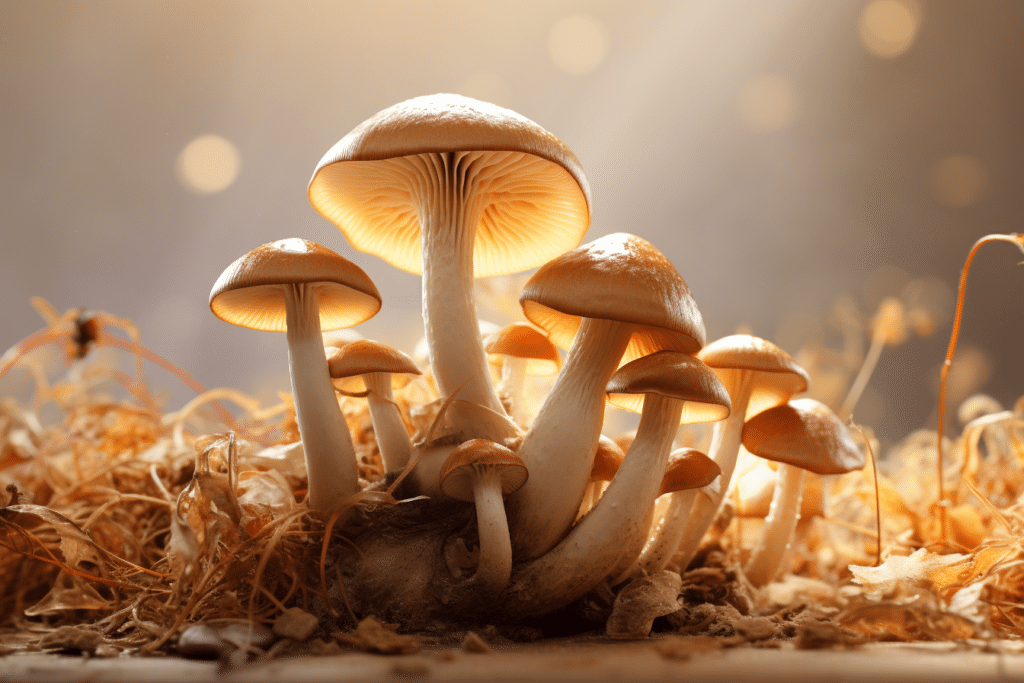 How to Use JMF Mushrooms
Dosages
General dosage recommendations for psilocybin mushrooms, including JMF, are:
Microdose: 0.1-0.3g
Threshold dose: 0.3-0.5g
Low to moderate dose: 1-2g
Moderate to high dose: 2-4g
Heroic dose: 4+g
Interestingly, some Reddit reports say even moderate JMF dosages can have extremely powerful effects.
For instance, one user said that at two grams, "everything went geometric and fractal. Couldn't see 10 feet in front of me outside at night for about 2 hours." Another wrote, "Jedis took me to the MOON" after consuming 3.5g.
These atypical reports indicate that mushroom newbies should begin with a small JMF dose to be safe. Lower doses also reduce potential adverse psychedelic side effects, such as paranoia, anxiety, and delusion.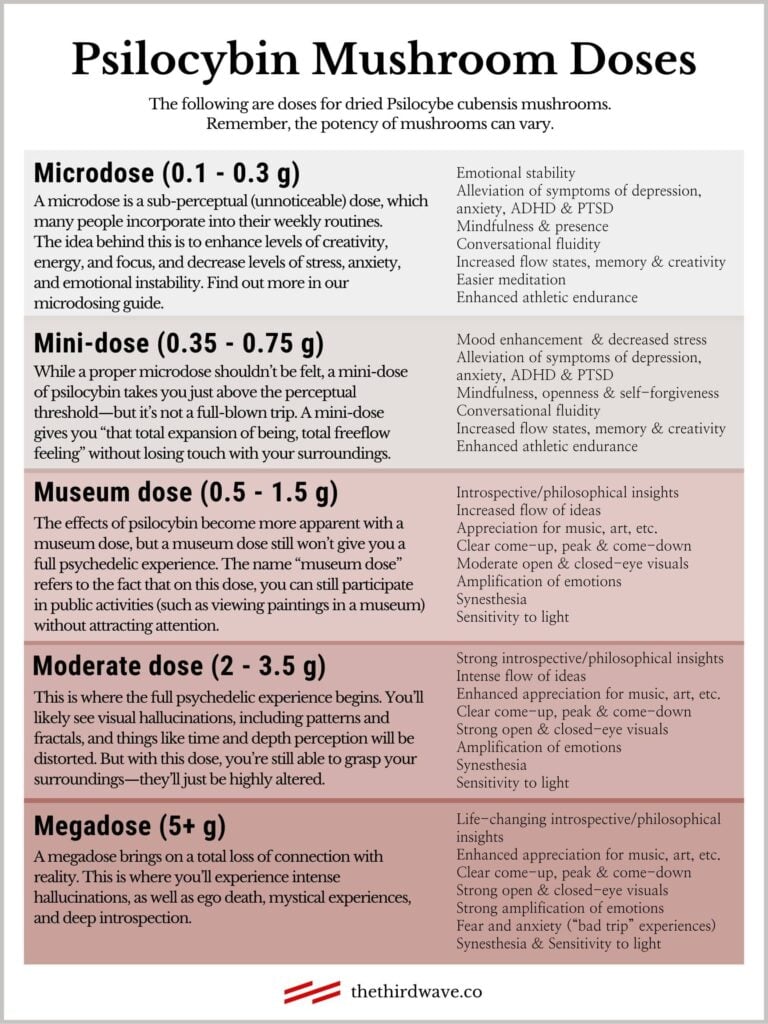 Preparing for a JMF trip: Set and Setting
Set and setting refers to the psychological and environmental factors that can significantly influence the nature of a psychedelic journey.
Some tips to prepare your "set" (short for mindset) before journeying with mushrooms include:
Practicing mindfulness awareness: Mindfulness helps you tune into your emotional state and body during the trip.
Creating a meaningful intention: Articulating a goal for the experience serves as a mental compass, guiding you toward personal insight and breakthroughs.
Practicing meditation: Engaging in meditation and relaxation techniques decreases stress and anxiety.
Nourishing the mind and body: Eating well and exercising helps prepare your body for the experience and improve emotional resilience.
Regarding your physical environment, or "setting," it's essential to journey somewhere safe and comfortable where you're unlikely to be disturbed or interrupted.
It's also best practice to have a trip-sitter, a familiar person you trust, either with you or nearby.
Read more about best practices for set and setting in our guide here.
Psilocybin Mushroom Retreats
Instead of trying Psilocybe mushrooms like JMF at home, you could consider attending a psychedelic retreat.
Mushroom retreats can last anywhere from a day to several weeks. They typically take place in secluded, natural surroundings. Depending on the retreat, you may engage in one or multiple psilocybin ceremonies.
Ceremonies involve consuming the medicine in a group setting with trained and experienced facilitators to support self-growth, safety, and well-being.
Mushroom retreats also provide activities to help support the preparation and integration of psilocybin experiences, such as sharing circles, meditation, yoga, and breathwork practices.
Third Wave's retreat directory offers highly recommended psilocybin retreats happening in legal locations across the globe.
How to Grow Jedi Mindfuck Mushrooms
Growing your own magic mushrooms is a fun and inexpensive way to obtain a renewable supply of your species and strain of choice. However, it's critical to check your local laws first.
Before growing JMF mushrooms, you first need to gather supplies.
Jedi Mind Fuck mushroom spores: Microscopic reproductive JMF fungi units. Must be legally sourced.
Growing substrate: A nutrient mixture critical for eventually producing mushroom fruiting bodies.
Spore syringe: A tool for inoculating the substrate with the spores.
Glass jars: A sterile environment for the initial growth of mycelium from spores.
Fruiting chamber: A controlled environment for mycelium to produce mushroom fruit bodies.
To streamline the process, consider buying a mushroom grow kit. For more detailed guidance on how to grow JMF mushrooms at home, check out the Third Wave's guide to growing mushrooms at home.
Harvesting mushrooms
Some sources say JMFs are trickier to grow than other P. cubensis strains since they're more susceptible to environmental contaminants. However, many successful JMF grows have been documented on sites such as Shroomery. According to the experts, you can easily decrease the risk of contamination by thoroughly sterilizing your equipment and workspace.
Like other P. cubensis strains, you can expect to have around two to three flushes (harvests) of JMF mushrooms once the mycelium has been colonized.
To optimize your mushroom growing process and increase the chance of a high-quality, abundant flush, check out the Third Wave's Mushroom Grow Kit. These kits provide everything you need, besides the spores, for an easy, successful growing journey.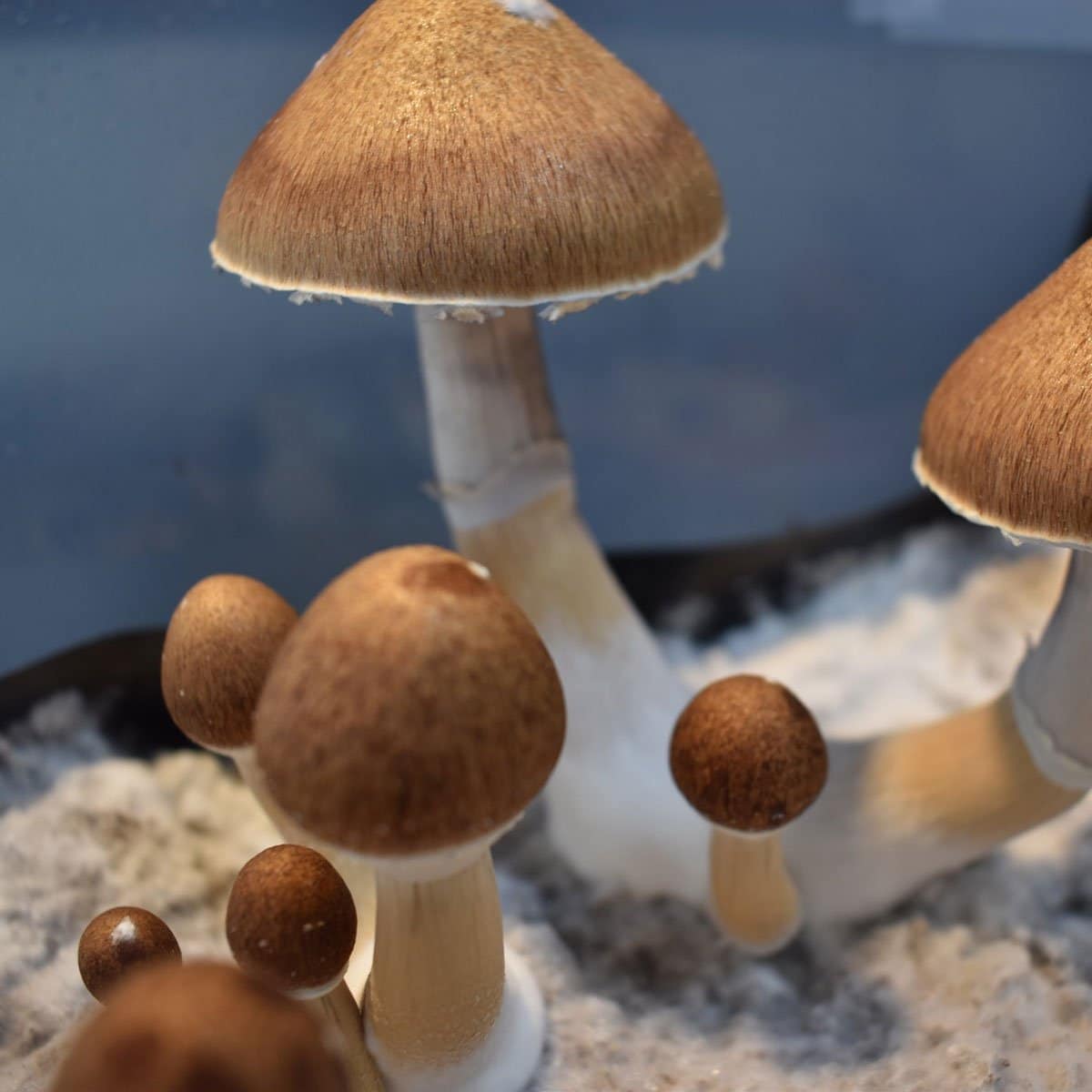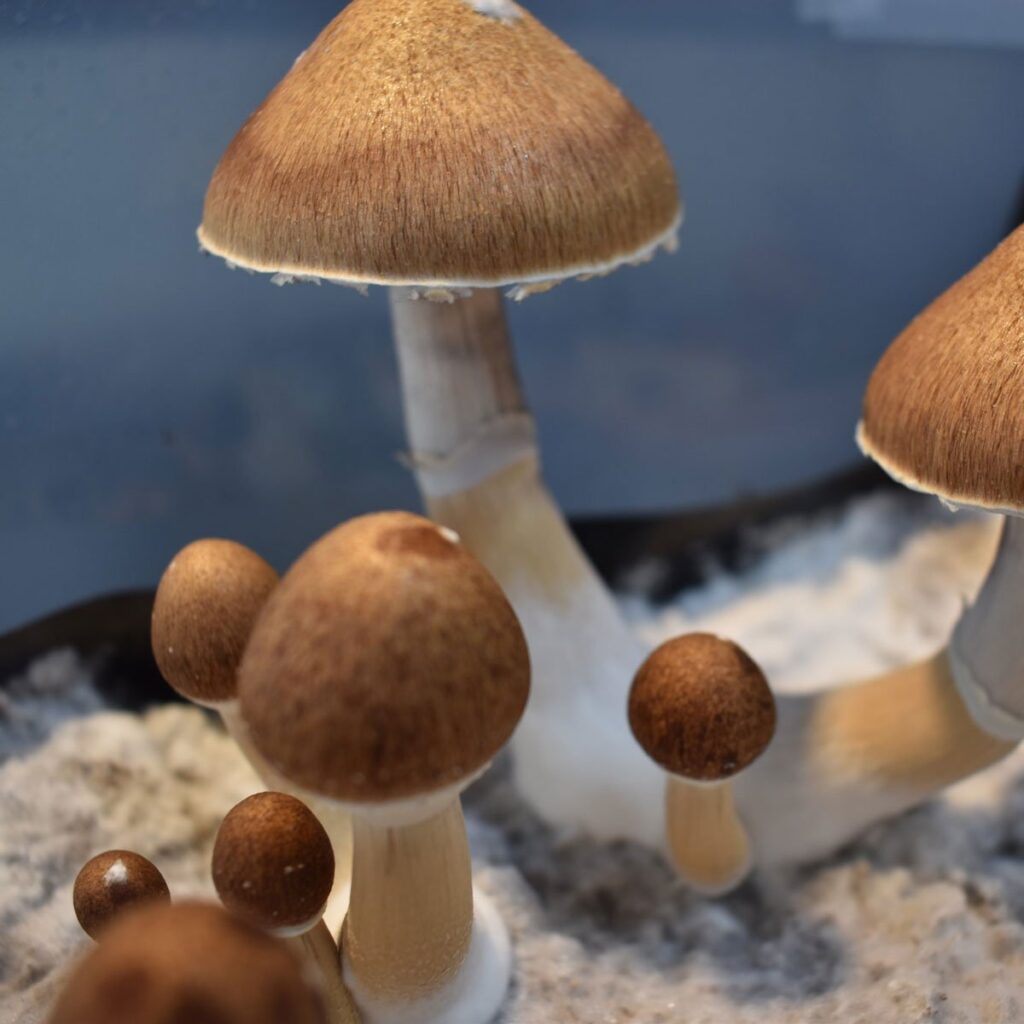 Risks of Using JMF Mushrooms
Legal risk
As psilocybin-containing mushrooms are mainly illegal globally, using, growing, and selling JMFs could put you at legal risk. Purchasing psilocybin spores is entirely legal in the US. But growing or "manufacturing" mushrooms from these spores can be a criminal offense.
Learn whether growing JMF mushrooms are legal in your area by checking out our psilocybin mushroom legality guide.
Psychological risk
JMF can induce a powerful psychedelic experience. Intense and unpredictable hallucinations and distorted perceptions of reality can be frightening and overwhelming, increasing the risk of fear, paranoia, and anxiety.
Using mushrooms in a legal, supported setting, such as a psilocybin retreat, can mitigate these risks. Additionally, discussing and making sense of challenging psychedelic journeys with therapists and coaches can transform "bad trips" into life-changing experiences.
Jedi Mind Fucks: Final Thoughts
With their evocative name, JMF mushrooms have sparked curiosity among psychonauts and enthusiasts alike. While the potency of JMF mushrooms may not be as exceptional as the name implies, reports suggest they can still induce powerful and profound experiences.
Check Third Wave's Mushroom Grow Kit for everything you need to kickstart the growing process. Our kits come with high-quality, fully sterilized equipment and a comprehensive online course for everything you need to know about successful mushroom cultivation. If this appeals to you, check local laws first.