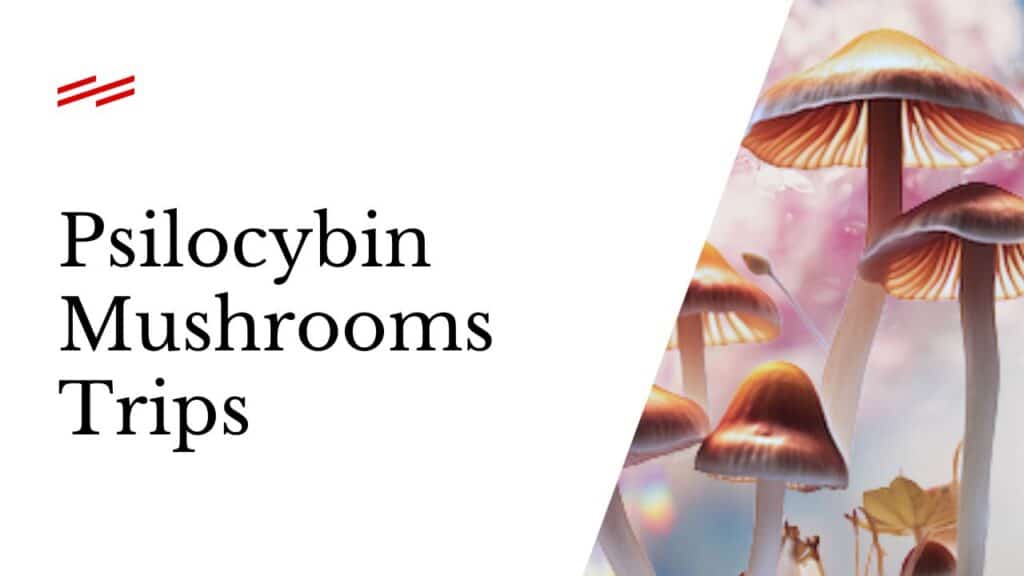 Disclaimer: Psilocybin mushrooms are potentially illegal substances, and we do not encourage or condone the use of this substance where it is against the law. However, we accept that illegal drug use occurs, and believe that offering responsible harm reduction information is imperative to keeping people safe. For that reason, this guide is designed to ensure the safety of those who decide to use the substance. We do not encourage using this drug outside of a legal or traditional context. For this reason, if you're interested in legally consuming psilocybin, you may join our trusted partner Synthesis for legal psilocybin retreats in Amsterdam. 
---
Describing the nature and content of a psilocybin mushroom (or any psychedelic) experience can be notoriously challenging. Not only are they extremely subjective, they're also highly personal. As a result, you're often left with overall feelings and sets of specific observations, more than you are a clear sense of exactly what happened.
Psychedelic researcher and microdosing pioneer James Fadiman refers to a quote by William James, an American psychologist, to qualify this phenomenon: "Our normal waking consciousness, rational consciousness as we call it, is but one special type of consciousness. Whilst all about it, parted from it by the flimsiest of screens, there lie potential forms of consciousness entirely different."
This guide will attempt to familiarize you with this as it pertains to the nature of a psilocybin mushroom trip.
Read our guide to growing your own mushrooms.
Be Ready
There's a reason psychedelic trips are referred to as "journeys" or "trips." They're expansive. And for this reason, it's important to be ready for anything. Give yourself permission to go with the flow — to surrender to an experience that  could include confusion, anxiety, discomfort, hysterical laughing fits, awe, and any number of profound insights.
The truth is, no amount of mental preparation can compare to the actual experience. It's one thing to convince yourself you're ready for anything before tripping, but it's another thing entirely to be in it.
From a deeply peaceful sense of oneness with something much bigger than yourself, to an inexplicable, yet certain feeling that the setting sun will bring sinister spirits into the world, these are all potential components of a psychedelic journey. And, they're all beautiful. Seriously. There is intense profundity in this particular sort of contrast.
Recognizing, and accepting, that anything can happen over the course of a psilocybin mushroom trip will make you feel more comfortable as you begin to feel the effects of the compound. An open, calm mindset will help you remember — if things become uncomfortable — that the whole experience is temporary, typically between four and six hours. Your sense of helplessness will subside.
By acknowledging the transience of your trip, you'll be more prepared to handle the darkness, and the light.
Safely Dosing
Accurately dosing psilocybin mushrooms is key to having an safe and effective mushroom experience.
Watch the video below to explore the different dosage levels for the safe use of psilocybin mushrooms, including a microdose, mini-dose, museum dose, moderate dose, and macrodose.
People and Places
In the words of James Fadiman, "much about our reactions to any stimulus depends on the actual context and the way we perceive it." Another way to put this, set and setting matter.
Psychonautic pioneer and co-founder and arbiter of the Harvard Psilocybin Project, Timothy Leary, defined set as the mental state a person brings to a psychedelic experience. That is, thoughts, feelings, mood, and desires. Setting he described as the physical and social environment in which a psychedelic experience takes place.
People and places can have a large impact on your journey. When preparing for a psychedelic mushroom trip, it's important to treat yourself, and your environment with care. Set yourself up so that if you do wander into a challenging state of consciousness, you'll be surrounded by people and things (trees, blankets, whatever you think you may need) that are comforting.
One way to do this is to go out into nature. Find a quiet, open, natural space that is secluded from strangers and authority or security figures. Then, surround yourself with good people, or a good person. Someone you know and trust. Tripping alone for the first time can be very challenging, and potentially frightening. The safest way to approach this is to be with someone who has had experience tripping before, and who chooses to stay sober to support those who are tripping if need be.
You can learn more about setting up a safe and comfortable environment for your trip here.
Paul Austin, founder of Third Wave recalls the value of this sort of support:
Once, I was tripping in the backseat of a car with my friends. Some trivial thought freaked me out and sent me into a deep existential crisis. I don't remember what, but I was stuck in a spiral of worry, and I couldn't get myself out. I stopped my giggling and babbling and said something about not knowing anymore. Then I grew quiet and withdrawn. My good friend in the front seat turned around to me and casually said, "Hey, it's fine.You're here to have fun." That simple sentence calmed me down, and from there my whole trip turned around. I thought I was facing some impossible struggle, but my friend straightened me out with just a few words. 
Find a comforting place, and be with people you trust and feel comfortable around.
Ingestion
After your preparations, all you have to do is ingest the mushrooms. This can be done by eating them directly, by brewing them in a tea, or by baking them into chocolate or some kind of pastry. Everybody responds to the taste differently; they're very chewy, and quite earthy.
Depending on the amount of food in your stomach and method of consumption, you may start to feel nauseated around 30 minutes to an hour after ingestion. Your hands may get clammy. This is largely due to your body's response to the chemicals in the mushrooms; to ingesting a powerful and novel substance.
Onset
A strange, and common phenomenon as the mushrooms begin to take hold, is an anxiety about whether or not the trip is occurring. People often make comments about not quite feeling it yet, about "kind of" noticing some effects, but still downplaying them.
This can lead you astray. As mentioned earlier, relaxation and surrender are important approaches to any sort of psychedelic experience, and micromanaging your psilocybin trip won't help you get there.
Your best bet is to eat the mushrooms, sit back, and allow them to do their work.
After the queasiness and discomfort subsides, you will begin to notice the onset of effects. Since changes in thought are more subtle and difficult to observe, you'll probably realize you're tripping by just looking around.
Colors will be more vibrant, they may even seem to glow. You'll notice surfaces glittering and an increased richness in texture of (all) things. You may find yourself smiling uncontrollably, or feeling especially giggly.
And then, suddenly… you will be tripping.
The Trip
Away we go!
Sometimes, a mushroom trip will feel like a whirlwind. One in which you'll just have to hold on tight and go along for the ride. Other times, you will have a lot more control. You'll feel like you can navigate through a totally new mindset.
If you have a trip like this, it's a good time to explore yourself or turn inwards. Consider examining your personal problems, relationships, goals, ideas, beliefs, and fears.
Your sense of time and space perception will be warped. The distortion manifests itself in beautiful ways— like staring at a flower for twenty minutes without even noticing how much time has elapsed.
However, if you're experiencing distress, thirty seconds of thought may feel like a deep, anxious struggle that goes on for a half hour. Take a deep breath. Exercise your power of thought here. Give your attention to something else. There's no point in keeping yourself in a state of discomfort.
Remember your reasons for embarking on your trip.
It's nobody's place but your own to say what you should or should not do during a trip. You are about to experience a complete change in your thinking and perception of the world.
Everything else is up to you.
The Comedown
Honestly, calling it a "comedown" is a bit misleading. The tail end of a psilocybin trip is often gentle and comforting, like dipping into a pool of warm water.
Contrary to the deep regret and discomfort that usually follows a long night of hard, substance-fueled partying, the comedown of a psilocybin mushroom trip tends to be mellow, introspective, and life-affirming.
In Paul's words:
To me, going on a psilocybin mushroom trip feels like losing my mind. I forget a lot of things that I usually take for granted— simple things, basic concepts. Once, I forgot the concept of gender during a trip. Another time I forgot the concept of purchasing. I once forgot so much that I figured the only thing I knew how to do was give a smile. So, for the next hour or so, I just smiled at everyone until they returned one.
Coming back from a place so far removed from "normal" thinking can be therapeutic. For one, there's the relief and appreciation of getting all your thoughts back. You start to find the right words for things; you start to recognize more complicated concepts. It's very exciting.
On top of that, you may begin to notice how imaginary our lives are. During the trip, you'll be put on a plane of raw existence. You'll be stripped of that little voice in the back of your head, the one that's endlessly analyzing and ascribing meaning to everything.
Then, when you come back, you're likely to notice that that voice is not real. You'll begin to see how those judgments and fears are artificial and entirely contrived, which can be enormously freeing.
Afterwards
Psilocybin mushrooms will help you feel, think, and perceive new things.
Whatever insights you may have encountered on your trip, keep them in mind over the next few days, write them down.
The mushrooms themselves won't automatically change your life, but if you treat the trip as an educative experience, if you don't disregard it as just silly fun, you will find that your life will be positively affected.
The trip may become a catalyst for a host of positive changes that were simply waiting in the wings.
Note: As with most aspects of pharmacology, how you respond to psilocybin as an individual depends on your genetics, neurobiology, age, weight, and numerous other factors. Halugen's psychedelic pre-screening platform offers a comprehensive solution to identify inter-individual variations to psychedelic drug effects, highlight short- and long-term genetic risk profiles as well as categorize personal and familial risk. See this article on risks for more information.