Sponsorship disclosure: Welcome to the first installment in our series on psilocybin retreats, sponsored by Sayulita Wellness, an official partner of Third Wave.
---
Psilocybin mushrooms have captivated the human imagination for centuries, opening the doorway to transformative realms of consciousness beyond everyday life. In recent years, the advent of psilocybin mushroom retreats has unveiled a legal and accessible pathway into such non-ordinary realms. And countless people travel worldwide to uncover the insights, healing, and self-discoveries these reflective settings ignite.
At the same time, retreats do not guarantee successful outcomes.  In fact, consuming potent psychedelic compounds entails real risks. People considering such an intense, introspective expedition must choose a reputable retreat center and thoughtfully prepare, participate, and integrate the experience into their daily lives. 
This article provides a comprehensive guide to the psilocybin mushroom retreat experience, including benefits, preparation, risks, and what to expect during the retreat. 
---
Benefits of Psilocybin and Psychedelic Retreats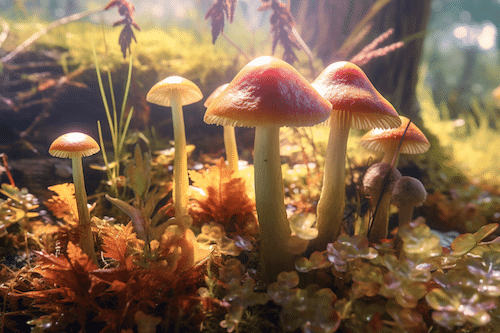 Psychedelic wellness benefits illuminated in Michael Pollan's How to Change Your Mind Netflix docuseries and The Goop Lab with Gwyneth Paltrow have contributed to the growing mushroom retreat trend. 
Years of evidence, led by institutions like Johns Hopkins and Imperial College London, show that psychedelics, including psilocybin mushrooms, MDMA, LSD, and ayahuasca, can increase mindfulness, spur spontaneous creativity, improve mood, and alleviate depression, end-of-life anxiety and addiction. 
Scientists suggest that psychedelics' power lies in their potential to restructure neural networks and rewire the brain, offering liberation from negative patterns and fears. Attending a psychedelic retreat gives people the opportunity to experience such profound mental health benefits, perhaps for the first time.
Some of the benefits of psilocybin and psychedelic retreats include:
1. Expanded Consciousness
The mushroom retreat experience can open the doors to expanded states of consciousness, allowing individuals to explore the depths of their minds beyond surface-level anxieties. This can lead to profound insights, heightened self-awareness, and a deeper connection to the mysteries of existence.
2. Emotional Healing and Personal Growth
By traversing the corridors of their own psyche, retreat participants report confronting and releasing suppressed emotions, traumas, and limiting beliefs, leading to greater self-acceptance and growth. 
3. Spiritual Connection:
Many individuals report a deepened sense of spiritual connection and a heightened appreciation for the interconnectedness of all life during psilocybin experiences. The retreat environment, focusing on contemplation, provides an ideal setting to reflect on "inner impoverishment, fundamental disconnects, and unaddressed trauma."
Unique Offerings of Psilocybin Mushroom Retreats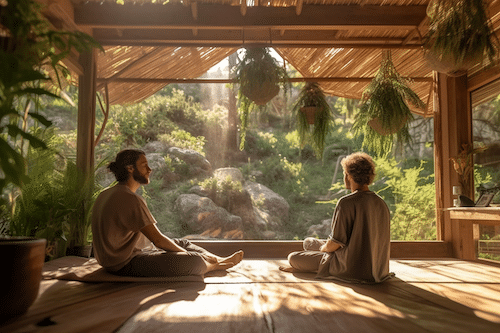 People can take psychedelics at home alone or with friends in various settings and find value in these journeys. But the mushroom retreat experience offers restorative settings, professional support, mind-body care, and communal healing that at-home trips simply can't match. 
1. Setting
The mushroom retreat experience allows people to work with transformative compounds in some of the most beautiful backdrops across the planet. Set in post-card locales like Mexico, the Netherlands, Costa Rica, and Jamaica, facilities pair majestic nature with resort-style amenities. 
Sayulita Wellness retreat center in Mexico is no exception. Co-owner Andrew Tansil believes these remote settings allow unique healing opportunities: He says:
It's essential to step away from the everyday environment that created the problem in the first place and step into a more relaxed realm. At Sayulita, every meal is provided. You're oceanfront. You're in paradise. You don't have a care in the world.
2. Mental Health Support
Mushroom retreat participants also benefit from a highly nurturing space filled with experienced psychedelic guides, shamans, psychotherapists, bodyworkers, and movement instructors. 
In this safe container, guests can feel genuinely held, accepted, and cared for, allowing them to surrender to the healing experience. Such vulnerability is essential to processing difficult emotions and uncovering underlying beliefs that contribute to lifelong mental health struggles. 
Retreats that employ licensed psychotherapists are especially critical for guests with depression, PTSD, addiction, or anxiety. Sayulita Wellness co-owner AndrewTansil says:
Psychotherapists can support people in a way that unlicensed facilitators cannot. They understand communication patterns, they can meet people where they're at on so many levels, and offer strategies to help people get control over their emotions and lives.
3. Integrated Wellness
Psychedelic retreat centers approach healing from a holistic lens.  In other words, they don't merely rely on psychedelic mushrooms' active ingredient, psilocybin, to work its proverbial magic. Instead, retreats supplement psychedelic healing with modalities that address whole-person health. Andrew Tansil continues:
We look at people's health mentally, emotionally, and physically. Some people don't have the opportunity to exercise regularly. They don't do yoga, ice baths, or breathwork. And so having the combination of different types of therapies at Sayulita really alleviates whatever is going on in their mind and body. 
4. Community
Research emphasizes the significance of community in the healing process and highlights the need for interventions to prioritize and enhance positive connections. 
The mushroom retreat experience, which draws on indigenous traditions of shared healing, social support, and collective ritual, provides this critical ingredient.
For example, nearly every retreat organizes sharing circles following the mushroom ceremonies where facilitators invite guests to reflect on their journeys. As each person opens up, they inspire others to do the same, finding strength in mutual vulnerability. Sharing also creates the opportunity for guests to feel inspired by relating to someone else's story or drawing insights from the lessons others have received. 
Retreats also incorporate modern collaborative techniques like peer learning, accountability, and feedback that help participants integrate psychedelic lessons into everyday life. 
---
How to Prepare for a Psilocybin Mushroom Retreat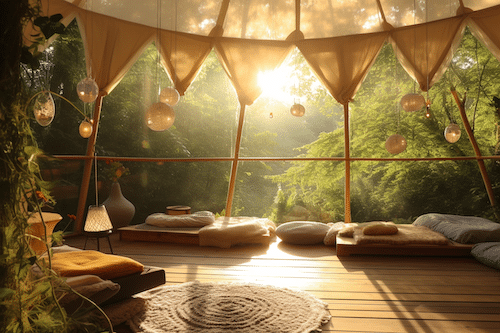 The mushroom retreat experience provides every element and opportunity for personal breakthroughs. But participants must take an active role to reap the benefits. Preparation is key to ensuring a successful and safe experience.
Research and Select a Reputable Retreat Center
People considering a mushroom retreat experience for the first time should thoroughly research and choose a trusted center with experienced facilitators who prioritize safety and community. Reading reviews and testimonials and ensuring that the center aligns with one's values are essential.
Some organizations engage in reciprocity programs with nature and support indigenous communities through donations, service, and outreach. Others offer scholarships to support guests who don't have the full financial means to attend. Sayulita Wellness provides reduced costs for veterans who have PTSD. Retreat centers' websites are a great place to determine if the mission, beliefs, and philanthropic endeavors align. 
Reading reviews from third-party sites, like Third Wave's directory, is another excellent way to investigate potential programs from an unbiased source.
For example, Brandon M. recently attested to Sayulita's unmatched veteran care:
I came to Sayulita Wellness after dealing with PTSD from some things I went through in the Marine Corps and had suffered through some recent traumatic events in my life on top of it. I definitely was not in a good place. From my first phone call with Andrew, it gave me hope that this is where I might find the internal peace I had been looking for. Little did I know I was about to meet some of the best people I have ever met in my life. I learned so much from them and the group I went through it with. I felt reborn again when I left that day. I can't thank them enough. Spread the love, everyone.

Mental and Emotional Preparation: 
Daily life in the "real world" looks nothing like mushroom retreats, combining tropical paradise with multiple high-dose hallucinogenic journeys. Participants must prepare for this reality shift by cultivating an open, receptive mind. 
Practices like meditation, journaling, and self-reflection help people develop a sense of inner clarity and readiness. Another key element is communicating with retreat staff about pre-existing issues before hopping on a plane. For example, people with severe and recent trauma should tell the team so they can prepare to hold space for those challenges or recommend alternative treatment approaches. 
Female sexual trauma survivors might prefer to work with female facilitators and trauma-informed psychotherapists. If so, they should communicate these desires upfront. 
Additionally, some may feel safer at a retreat that offers one-on-one mushroom journeys instead of co-ed experiences. If that's the case, they need to find an organization, like Sayulita Wellness, that offers individual psilocybin therapy sessions. 
Physical and Energetic Preparation:
We recommend participants to engage in activities that promote physical health, such as movement, a healthy, anti-inflammatory diet, and adequate sleep, in the weeks leading up to the retreat. — Andrew Tansil, co-founder of Sayulita Wellness.
Like Andrew, most psychedelic retreat leaders urge participants to engage in a dietary regimen called a dieta before attending. This includes regular exercise, eating a balanced diet, and avoiding substances such as alcohol, recreational drugs, and pharmaceuticals that may interfere with the effects of psilocybin. 
Dieta practices are often rooted in indigenous and ceremonial traditions associated with psychedelics. By following these guidelines, guests also show they respect and honor the cultural context from which these practices originate. 
Dietas may also contribute to energetic purity. Some wisdom keepers believe that certain foods and substances carry vibrations that can interfere with the clarity of the experience. They believe people can align energetically with the psychedelic substance and the intentions of the journey by adhering to a specific dieta.
Physical and energetic preparation also requires disclosing medications or pre-existing conditions. Depending on the medication, facilitators may ask the guest to taper off to reduce contraindication risks. Additionally, cardiovascular issues, seizure disorders, and pregnancy could disqualify guests from safely communing with psychedelic medicine. 
Setting Intentions:
Clarifying personal intentions for the retreat, whether healing, personal growth, or spiritual insights, provides a sense of focus that helps people derive maximum benefit. Some retreat centers support participants in this process in the weeks leading up through coaching calls and goal-setting practices. Andrew explains:
The first thing we discuss on our initial phone call is the guest's intentions. Then we create a file containing all the layers of what they want to accomplish and bring that information to our psychologists, leadership team, chefs, and house management so everyone is aware. And so, for this person's transformation, we're all reaching into ourselves and bringing out certain programming aspects to support them. The more we know about their intentions, the deeper we can go to provide the care they need.
What to Expect During a Psilocybin Mushroom Retreat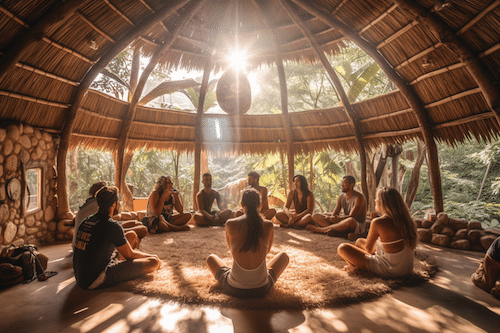 Each mushroom retreat experience has unique structures and offerings. But most share many of the following elements:
1. Unplugged Atmospheres
Retreat centers are often purposely located in serene natural environments, away from distractions and the hustle of daily life. These settings provide a conducive atmosphere for introspection, reflection, and connection with nature.
Retreat centers commonly incorporate the following:
Less technology:

Retreat centers typically offer wifi unless they're significantly off the grid. But most do not provide TVs or in-room phones. Air conditioning is also not guaranteed, although facilities increasingly offer this amenity.

Fewer indulgences:

Guests probably won't find coffee, alcohol, sweets, or processed foods at mushroom retreat centers. They may not see meat for a week, either. But most aren't deprived because they receive chef-cooked meals featuring farm-fresh, local ingredients instead.

Isolation:

Some retreat centers offer excursions outside the property, like Sayulita, which organizes horseback riding trips for guests. However, most psychedelic retreats operate like the world outside doesn't exist. These centers often require guests to stay on-site for various reasons, including safety and to maximize the introspective process.
2. Group Activities and Discussions:
Retreats typically involve group activities such as meditations, yoga sessions, nature walks, and meals. These activities foster a sense of community and provide opportunities for guests to share experiences, insights, and challenges to the extent that they're comfortable doing so. Group activities can also help people prepare for the high-dose mushroom experience. 
Breathwork ceremonies,

such as holotropic breathing, can induce an altered state of consciousness that resembles psychedelic journeys. Through rhythmic breathing patterns, participants can taste expanded states of awareness, heightened sensory perceptions, and deep emotional release.

Movement practices

like yoga and stretching bring the group together to release stuck energy and collectively relax the body to open the mind.

Intention-setting ceremonies,

typically on the first day, include symbolic objects, guided meditations, prayers, and sharing that foster a sense of togetherness and collective intention that can amplify the journey.
3. Medical Intake
Medical intake is not an optional mushroom retreat element. It is a safety must. All reputable facilities should employ licensed medical providers that screen guests for potential health issues prior to the psilocybin sessions.
Intake appointments are fairly straightforward. 
Most are about 15 to 30 minutes and involve taking the guest's blood pressure, inquiring about medications and health history, and examining potential psychological impediments. Well-equipped facilities, like Sayulita, also provide experienced medical staff to monitor guests throughout the retreat. 
4. Psilocybin Mushroom Ceremonies
Guided psilocybin sessions are the core element of the mushroom retreat experience. These sessions are carefully facilitated by experienced indigenous shamans, trained guides, or traditional healers who create a supportive space for participants to surrender to the medicine. 
The sessions' dosage, duration, and structure vary depending on the retreat, type of mushroom, and the day. Most high-dose journeys last five to seven hours and typically occur in the evening. 
Regardless, all credible facilities will carefully design psilocybin ceremonies to minimize the risk of "bad trips" and maximize the potential benefits.
First ceremony
Many retreat centers start with a tiny psilocybin microdose (.15 – .3 grams) or a moderate dose (1-1.5 grams) to ease guests into working with the compound. 
Microdosing typically provides sub-threshold amounts that improve mood and self-awareness without eliciting psychoactive effects. 

Moderate doses alter the mind without dissolving the ego, allowing people to explore their inner worlds while maintaining a comfortable level of control. 
Lighter ceremonies typically occur during the day and last a few hours. 
Second ceremony
The second journey is usually the highest dose and often occurs at night. Most retreat centers organize group ceremonies in a shared space, like a temple, illuminated with candles and filled with music and the sounds of nature.
Guests often lie on mattresses arranged around a sacred altar, fit with eye masks, tissues, and buckets in case of purging. Temples should also include readily accessible bathrooms and ample water for guests who need it. 
Other centers, like Sayulita Wellness, conduct private psilocybin therapy ceremonies between the guest and their psychotherapist for more personalized care. These one-on-one sessions occur in the guest's private room or suite. 
Whatever the setting, guests typically consult with facilitators and medical staff prior to determine the right amount. Throughout the journey, guides may also offer a booster dose for people who want to go deeper. 
Facilitators generally recommend guests stay lying down with their mask on to amplify the inner work. But guests who need to use the facilities or simply want to look around can always do so. 
Third ceremony
Many retreat centers offer a third psilocybin dose to help guests solidify the lessons from the prior sessions. Third-journey dosages vary from micro to macro, depending on the person's needs. 
Beyond psilocybin
Some retreat centers offer other psychoactive compounds beyond psychedelic mushrooms to enhance purification, celebrate cultural traditions, and promote focus and healing. For example, Sayulita's trained psychotherapists offer guests an optional smokeable DMT experience toward the end of their high-dose psychedelic therapy session. As Andrew puts it:
DMT can really help people cultivate the final breakthrough, especially those who might have had an experience that left them with more questions than answers. It provides that final closure or wisdom nugget that can help people get out of their own way. Because it's really common to resist the experience and get stuck, DMT pushes people across the finish line, and in my opinion, makes integration more effective.
Guests may also find medicines like:
5. Integration and Aftercare
After the psilocybin journeys, participants can expect to engage in psychedelic integration sessions and aftercare practices that can extend weeks after the retreat ends.
Integration involves reflecting on the psychedelic insights and incorporating those discoveries into everyday life. Approaches include journaling, therapy or counseling, and adopting new habits supporting personal growth and well-being. Andrew shares,
Our psychotherapists work with guests 1-1 during the retreat to create take-home action plans. Then we schedule 4 weeks of 1-1 calls after guests head back home to ensure the transformation and commitments made at the retreat are cemented. We believe successful integration relies on accountability.
---
Safe and Responsible Use of Psilocybin Mushrooms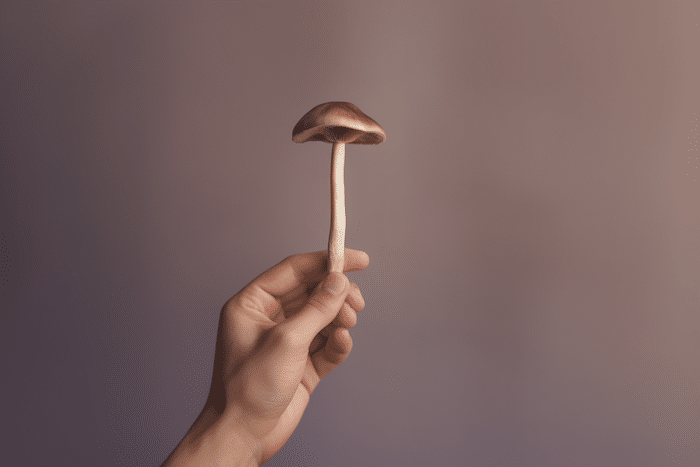 Psilocybin mushroom retreats can be unquestionably life-changing. But high-dose journeys also carry potential risks like "bad trips" and enduring psychological issues. 
Skilled use involves understanding proper dosing, set and setting, and harm reduction practices to ensure physical and mental safety during the experience. Fortunately, reputable organizations help guests harness this skill. 
We provide safe and responsible use guidelines, including dosing consultation and an intention-setting ceremony. We also stress the importance of integration in conjunction with psychotherapy.
Dosage
Psilocybin is a potent psychedelic substance, and the dosage can significantly impact the intensity and duration of the experience. Typically, high-dose journeys start around 3.5 grams, but some people may need more or less to achieve the desired results. Selecting an appropriate dosage alongside a trained professional reduces the risk of overwhelming or potentially harmful effects, such as extreme anxiety, panic, or disorientation. 
Set and Setting
"Set and setting" refers to the mindset and environmental conditions that shape the nature and outcome of psychedelic experiences. Retreats offer tranquil settings where people can feel secure, free from distractions, and supported should difficult memories and emotions arise. Such care is paramount to prevent distressing experiences, which occur more frequently in unregulated settings like concerts and festivals. 
Legal Considerations
One of the main barriers to responsible psychedelic use is that these substances are broadly illegal worldwide. Retreat centers circumvent this issue by offering plant medicines in places that allow shrooms and truffles for various medical, personal, or religious purposes. Psychedelic-friendly regions include Colorado (U.S.), Oregon (U.S.), Mexico, Costa Rica, the Netherlands, Jamaica, Peru, Portugal, Colombia, and Ecuador. 
Integration
Responsible psychedelics use requires that people work with professionals to embody the changes they want to make and safeguard against reverting to previous negative patterns of thinking and behavior. Whether difficult or euphoric, psychedelic journeys bestow critical lessons that help people create positive change. But participants who fail to make meaning from the experience could risk suffering from long-term mental health issues.
---
The Bottom Line
Psilocybin mushroom retreats offer a novel path toward self-discovery and growth. They provide a non-judgmental container to shed the layers of conditioning and dive into the recesses of the minds.
In a world of noise and distractions, psychedelic retreats remind people they hold a wealth of untapped wisdom. The choice to embark on these journeys requires preparation and thoughtful care, but with support and motivation, retreats empower people to embrace the fullness of their authentic selves.
Ready to start your own healing journey with psilocybin mushrooms? 
Use code "THIRDWAVE" at checkout for a $300 discount.