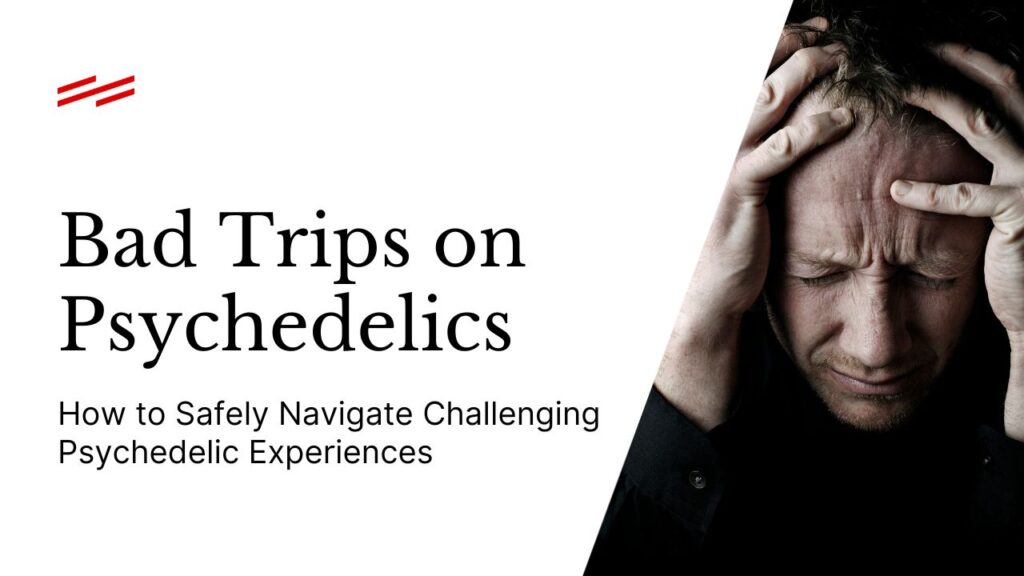 Writing off an uncomfortable psychedelic experience as "a bad trip" isn't always the best idea. Instead of learning from the experience, dismissing a trip transforms it into an ugly memory, which often turns people away from psychedelics and the exploration of their minds. To get the most out of psychedelics, you must be ready to accept whatever happens during the experience.
Still, it's one thing to abstractly discuss the difference between "challenging" and "bad" trips. It's another, much more real thing, to experience the anxiety and paranoia that may come during a psychedelic journey. And though sometimes these uncomfortable emotions have lessons to impart, preventing them and knowing how to deal with won't hurt.
This article will discuss ways to fortify yourself against anxiety and paranoia and reclaim a sense of calm enjoyment while using psychedelics.
First, Prepare
This is probably the most important step. Adequately preparing yourself before a trip is the best thing you can do to ensure an enjoyable experience. Going into it, you will feel confident and calm instead of rushed and nervous. In most cases, objectively bad trips—when people get hurt, arrested, lost, or make dumb mistakes that carry consequences—come from a lack of proper planning
There are a few categories to consider when getting ready for your psychedelic journey.
Substance/Dosing: Whatever psychedelic you are taking, it should come from a trustworthy source. You don't want to get blindsided by a much higher dose or an entirely different substance than what you expected. If you are taking a chemical substance for the first time, purchase a test kit to make sure it's genuine. Once you have your psychedelic, it is your responsibility to set a dose amount and administer it. Research how much a common dose is; if you are unsure about how you will react to a substance, you can always adjust the dose down or try microdosing.
If you'd like to know more about the legal methods of taking psychedelics, sign up to our microdosing course for extensive resources and guidance!
Environment: Your environment is another area that has a huge impact on your psychedelic experience. Apart from the standard advice to go into nature or a comfortable, familiar place, there are further steps you can take to set up a positive environment. Don't let yourself get lost. It may be surprising, but from anecdotes and personal experience, getting lost isn't uncommon when tripping. Whether out in nature or the streets of a city, you don't want to be wandering around, not knowing where you are, while on psychedelics. It's very likely that this will cause you anxiety, and for a good reason. Establish a "center"—maybe it's your campsite, maybe your home or apartment. If fear starts to overwhelm you, it will be comforting to know that you can retreat somewhere safe and secluded.
People: A primary cause of paranoia for people on psychedelics comes from interacting with others. Being exposed to lots of strangers often leads to the they-all-know paranoia, and can bring on a vague sense that everything and everyone is "turning against you." On the other hand, having a calm presence with you is sometimes the only way to stop psychedelic anxiety. It's a bit tricky to balance out your company, but if you know your friends well, it should be no problem. Try to limit your exposure to strangers, and be with people you feel comfortable tripping around. We all have people that we love who would not approve of our psychedelic use. At least for the duration of your trip, it's best to keep them out of the picture.
Baggage: It's easy to overlook how the baggage you carry affects your trip. Lots of people mistake psychedelics for substances that are supposed to make you happy. They misunderstand. Emotional baggage can accompany you during your trip, and may even amplify given your altered perspective and openness. People who are emotionally unstable, who react poorly to stress and change, should take extra caution and consideration.
Remember, preparation is key. Don't overlook this step. You can find more about psychedelic planning by reading our guide to set and setting.
When Preparations Aren't Enough
Sometimes, no matter how well you prepare, things still go wrong. There are always events we can't predict or control, whether they happen outside or within us. These surprises can happen in your everyday life, and they can happen while you are on psychedelics.
For the most part, these simple remedies work just as well during a trip:
Stop and take a deep breath
Talk to someone (a sitter or friend, not a stranger)
Take a walk; changing your environment will change your mood
Stretch or drink some water (this works particularly well if you are physically uncomfortable, but also helps calm you down emotionally)
There are also some things you can try that are pretty effective while tripping, though maybe not the best steps to take in everyday life.
Tell yourself, "I'll deal with this later." Whatever you may be worrying about during your trip, remember that those feelings will pass. In a number of hours, when the psychedelics wear off, you'll either forget what you were worried about or will be able to deal with it soberly. Knowing that your worries are due to a temporary substance makes them less scary.
Distract yourself. Psychedelics get people absorbed in activities or thoughts. Usually, this is an engaging and enjoyable effect. But depending on what you're thinking about or doing, you may want to drop it and do something else. Luckily, it's also incredibly easy to change your attention and focus while on psychedelics—everything is quite interesting. If you find yourself caught up in worries, try a very simple thing: do something else.
Be silly. It may be difficult if you're feeling paranoid or anxious during your trip, but acting silly is probably the easiest, most fun way to shake off discomfort. Acting silly usually works for me if I've been caught up in some dumb worry and it's beginning to become frustrating. I try to use the whole frustrating scenario as a funny lesson about how seriously I take things. It's a gift to be able to laugh at yourself. A simple thing I try, usually with good success, is smiling. Even if it's a painfully fake smile, you might laugh at how ridiculous you feel. Tap into your sense of humor. There's already a chance that whatever you're thinking or saying doesn't mean anything, so it may as well be meaningless fun.
Move! I think the physical effects of psychedelics are often overlooked. They usually increase my body awareness and give me a burst of energy. A few times, I started to feel uncomfortable, physically and mentally, after I stayed too still and got lost in my head. It's a shame, I think, to be locked up in anxiety while tripping. The cure may just be to physically shake it off. Run around, dance, swim, climb, stretch—you'll feel great. Explore your body! Just be careful; I've learned firsthand how psychedelics can give you overconfidence in your physical abilities.
If All Else Fails, Give Up
After a certain point, you may be better off giving up, and waiting things out.
I had a trip where despite all my efforts, the efforts of my friends, and plenty of toys to distract myself with, I couldn't shake off my bad feelings. Eventually, I just lay down, curled up, and waited. After a few hours of mental torture, I must have fallen asleep. It was uncomfortable. But I survived, and after some time to process what happened, I feel better off having gone through that experience.
Sometimes, the effort we put into avoiding discomfort ends up hurting us even more. Sometimes discomfort can teach us important lessons about ourselves and our lives. If you have a bad trip, learning from it and accepting it at least will give you some benefit. Maybe after the trip you realize that psychedelics aren't for you—you'll have a story to tell, and know that you at least tried these powerful, mysterious substances that do profound things to our minds.
To learn more about the dark places that psychedelics can take us, and what we can learn from them, listen to our interview with James Jesso on The Third Wave Podcast or Click here to read the transcript