Disclaimer: Psychedelics are largely illegal substances, and we do not encourage or condone their use where it is against the law. However, we accept that illicit drug use occurs and believe that offering responsible harm reduction information is imperative to keeping people safe. For that reason, this document is designed to enhance the safety of those who decide to use these substances.
This article has been medically reviewed by Katrina Oliveros, MSN-ED, BSN
---
Having been described as "the literal alien mushroom," Psilocybe allenii (P. allenii) is a highly potent psychedelic species of Psilocybe fungi. 
Compared to other species of psychedelic mushrooms, Psilocybe allenii is less known among  psychonauts and often mistaken for the closely-related Psilocybe cyanescens. 
Yet for those who have used them, these little brown mushrooms are revered. Read below to learn all about the unassuming yet powerful Psilocybe allenii and how to find and grow your own.
---
Psilocybe allenii discovery
Psilocybe allenii (P. allenii) was officially recognized as its own species in 2012, though it may have been identified some years prior.
In the famous 1986 guidebook Mushrooms Demystified, some think "Psilocybe cyanescens may actually depict P. allenii. In Mycelium Running, a 2005 book by famous mycologist Paul Stamets, he includes an image of what could be P. allenii, describing it as "probably new, or at least newly imported species." 
For years, mycologists and fungi enthusiasts considered Psilocybe allenii a variant of Psilocybe cyanescens. Unofficially the species was named Psilocybe cyanofriscosa – a word combining "cyanescens" with "friscoa" to reflect its common sightings around the San Francisco Bay Area. 
However, following a DNA sequencing analysis, the mycologists Jan Borovička, Alan Rockefeller, and Peter G. Werner demonstrated samples of Psilocybe allenii to be genetically different from Psilocybe cyanescens. They discerned Psilocybe allenii as a taxonomically separate species and published their findings in the journal Czech Mycology in 2012. 
Borovička, Rockefeller, and Werner named their newly-identified species after John W. Allen, who collected the samples from a University of Washington campus in Seattle. Otherwise known as "Mushroom John," Allen has written 11 books and countless articles about mushrooms and has been credited with discovering several strains of Psilocybe cubensis mushrooms in Southeast Asia, including "the Allen strain."
In additional molecular studies, Borovička and colleagues determined five psilocybin species closely related to Psilocybe allenii:
---
Distribution and habitat
P. allenii is a saprophytic or "wood-loving" fungus, meaning it obtains nutrients by breaking down dead organic matter. As such, you can find P. allenii in woody debris, such as mulch and wood chips used for landscaping. 
Geographically, Psilocybe allenii can be found in northwestern North America extending from British Columbia to Los Angeles, California. The species are most frequently sighted in the San Francisco Bay Area and haven't been spotted outside of urban environments.
P. allenii typically fruits in colder weather between September and January.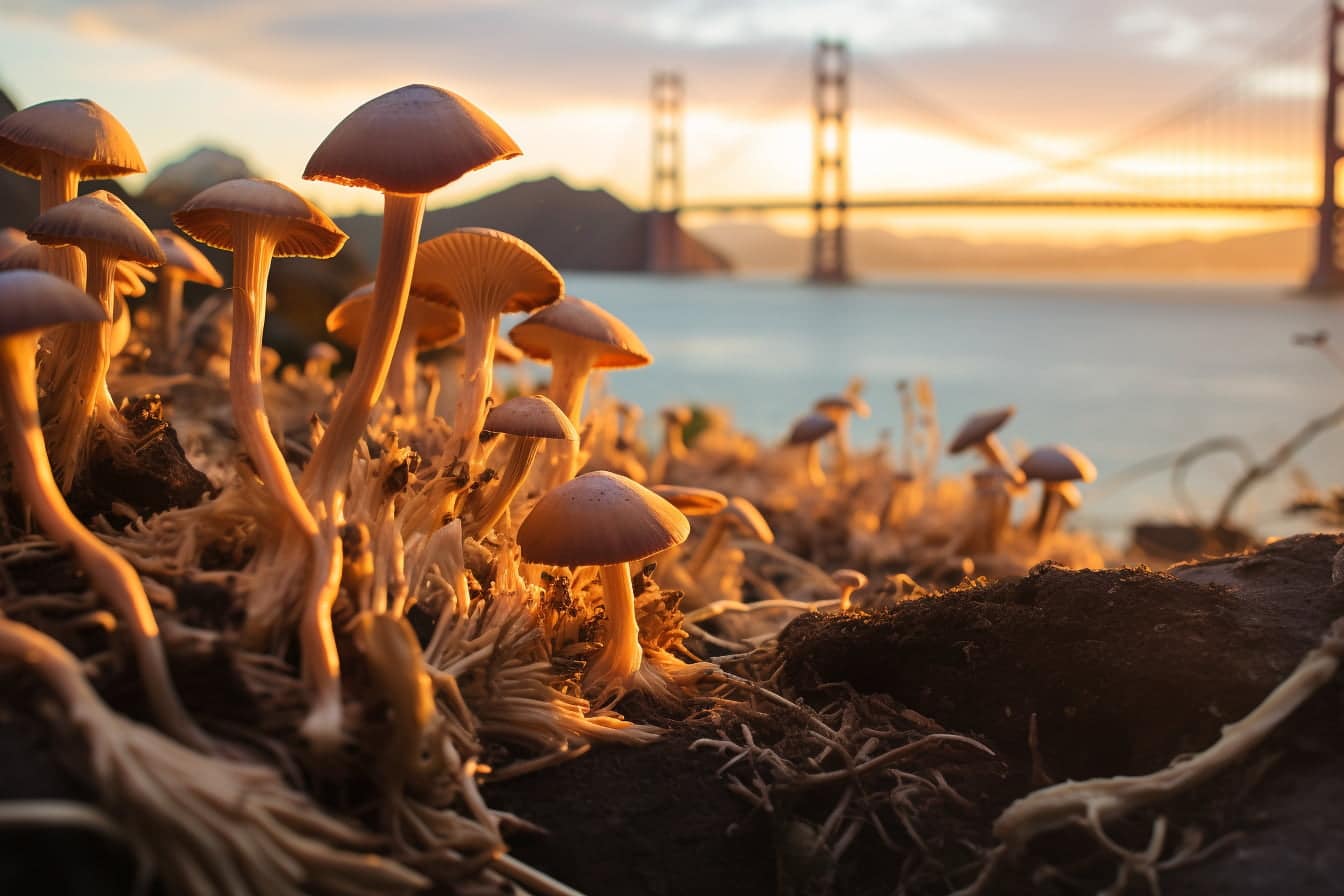 ---
How to identify Psilocybe allenii 
Characteristic features
Cap: 
The caps are bell-shaped and between two to four and a half centimeters wide. When moist, the cap's upper surface is sticky and orangish brown. When dry, the cap is yellowish brown.
Gills: 
The gills are narrowly attached to the stipe (stem). When young, the gills are reddish brown but become dark grey-brown with age. The gills are described as "mottled," meaning they're marked with spots. 
Stipe (stem): 
Stems are thick and hollow. They are around four to seven centimeters long by 0.2 to 0.7 centimeters wide, with the base slightly thickened. The top of the stipe is described as pruinose, meaning it's covered in white powdery granules. The base is connected to thick, white rhizomorphs, thread-like root structures that grow under the mushrooms. When young, the stripes are white but become yellower with age. 
Spores: 
Spore prints are dark brown and thick-walled. Under a microscope, the spores appear as elongated ellipsoids with an apical pore (a small opening at the top). 
Lookalike species
As mentioned, Psilocybe allenii can often be confused with Psilocybe cyanescens, since both mushroom species are similar in size and color and grow in similar habitats. However, you can tell the two species apart  by looking for the wavy mushroom caps characteristic only of Psilocybe cyanescens.
A lookalike species to be wary of concerning P. allenii is the highly toxic Galerina marginata. Otherwise known as the Deadly Galerina, these species are also little brown mushrooms that fruit in wood, similar to P. allenii, but can be fatal when eaten. 
To tell these mushrooms apart, you can look for purple-black spores, characteristic of the Psilocybe species. P allenii will also turn bluish in color when bruised due to the presence of psilocybin, unlike Galerina marginata.
Forum sites such as Inaturalist are excellent tools to help you identify a particular mushroom species, as you can visually compare a sample to uploaded images of these species by expert foragers. 
If you want to avoid the risks associated with foraging  Psilocybe allenii entirely, you could consider growing your own mushrooms. We've provided cultivation guidance below.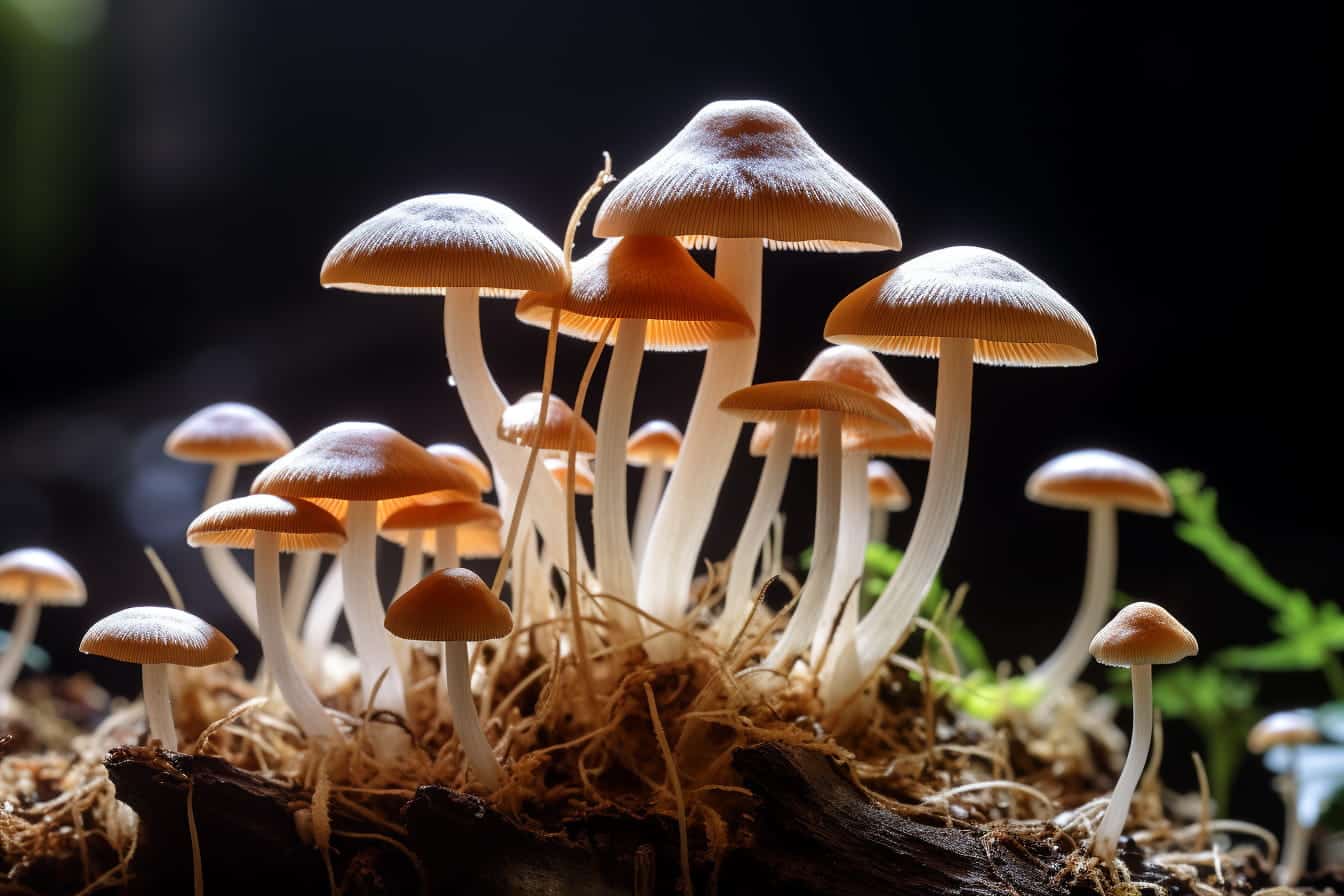 ---
Psilocybe allenii Effects
Psychedelic Effects of P. allenii 
For many years, P. allenii has been well-desired for its psychedelic effects. In a 2012 interview with Rockefeller, he said, "If you go to Golden Gate Park in December you will see hundreds of hippies looking at the wood chip landscaping for Psilocybe cyanescens and Psilocybe allenii."
Like other mushrooms of the Psilocybe genus, some general psychedelic effects you may experience when consuming P. allenii include:
Enhanced vision and sound perception

Visual distortions and hallucinations

Altered experience of time

Strong emotions

Spiritual experiences

Shifts in thought patterns

New insights
When comparing P. allenii effects to other mushrooms, one user on the mushroom forum site Shroomery says, "Every time I've taken them, these Psilocybe allenii have provided me with a trip that seems a bit 'smoother' than Cubensis has, very potent mushrooms, but smoother going, more lucid."
Another user on Reddit also describes P. allenii as highly potent with effects similar to the penis envy strain of Psilocybe cubensis. "This strain [Psilocybe allenii] of psilocybin mushrooms is the most potent visually and introspectively mushroom strain that I know of, it compares to PE's [penis envy] as these feel almost double the strength," they write. 
The potential to shift perspectives, induce mystical experiences, and bring about new perspectives means a journey with P. allenii has the potential for profound benefits. 
However, psilocybin's effects are unpredictable, and it's possible to also experience challenges during these experiences, such as confusion, anxiety, and paranoia. Sometimes these challenges can be significant for self-growth, but they can also have long-lasting negative psychological impacts. 
To decrease the chance of psychedelic harm and increase the chance of therapeutic effects, you may use psilocybin mushrooms in a supported environment under the guidance of a well-trained facilitator. Check out our directory of psilocybin-retreat centers offering healing, guided mushroom experiences to learn more. 
P. allenii Physical Effects and Safety
Physiologically, psilocybin mushrooms are considered relatively safe. However, you may experience uncomfortable physical effects such as:
Increased heart rate and blood pressure

Increased temperature

"Cold sweats"

Nausea
The most significant physical safety risk regarding magic mushrooms is consuming incorrectly identified toxic mushrooms when foraging. Growing your own mushrooms will prevent this danger from occurring.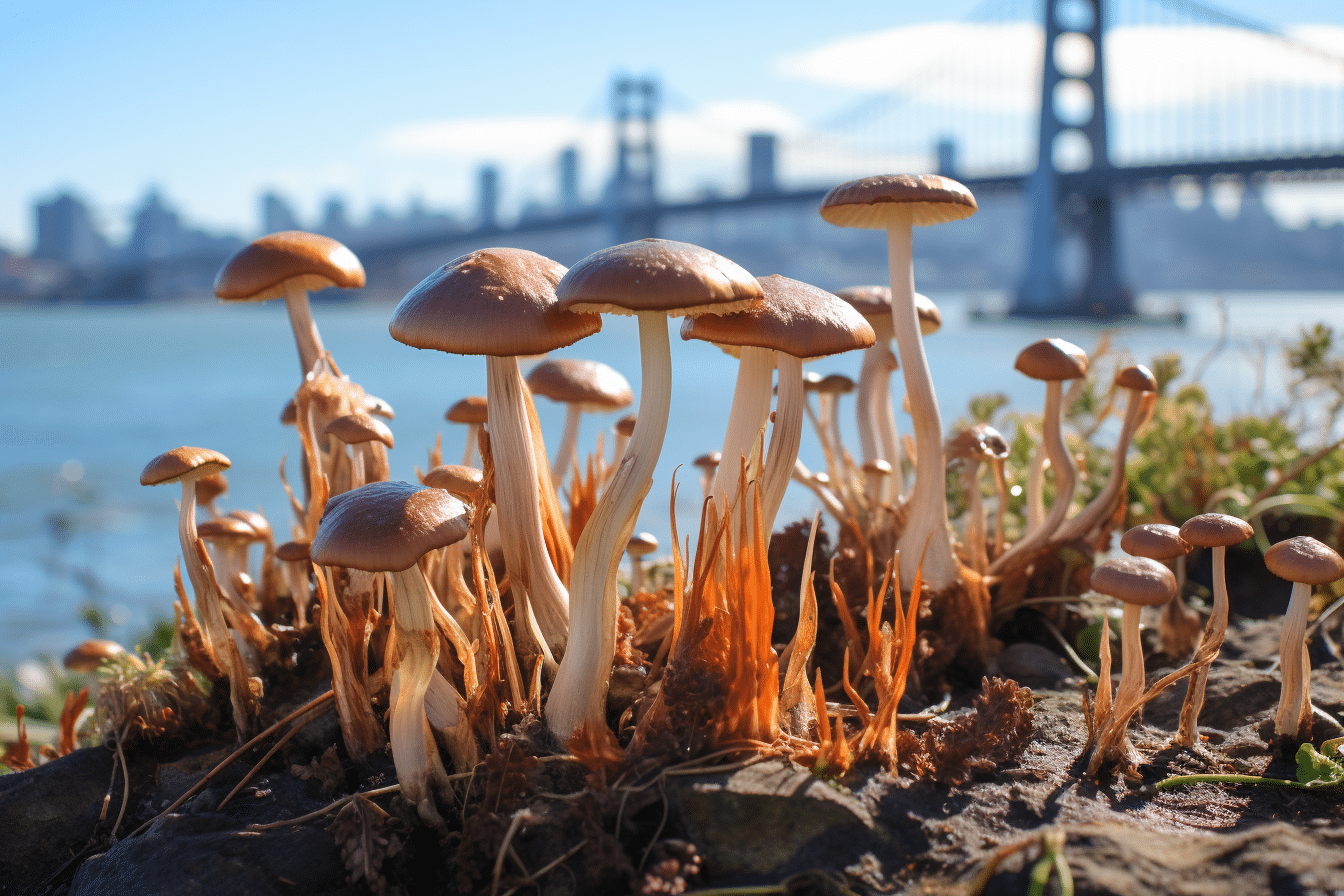 ---
Psilocybe allenii Potency & Dosage
Psilocybe allenii Potency
Though there's no official data on Psilocybe allenii's potency, in the Rockefeller interview mentioned above, he comments, "This species has been eaten by many psilocybin mushroom enthusiasts and they say it's one of the strongest mushrooms known." 
On Shroomery, users describe P. allenii's potency as similar to that of Psilocybe cyanescens. Psilocybe cyanescens are considered a relatively potent strain, with analyses showing around 0.85% psilocybin and 0.36% psilocin. However, as with all psilocybin mushrooms, these values greatly vary depending on the sample's geographical location, environmental growing conditions, and which part of the mushroom is eaten. 
Psilocybe allenii Dosage
There's no official guidelines for dosing Psilocybe allenii, and with an unknown potency it's difficult to advise what doses are appropriate. Dosing requirements also vary on factors, which create further uncertainty. These factors include:
Body metabolism

Tolerance to psychedelics 

personality trait absorption (defined as a

predisposition to get deeply immersed in sensory and imaginative experiences to experience altered states of consciousness

)

Psychological expectations
One Reddit user reported that with 0.3 g of Psilocybe allenii saw faint visuals and could feel a light body load, with a similar feeling to that of one gram of cubensis. The following day they used a microdose of 0.15 g which induced a body load and introspection with a similar feeling to half a gram of cubensis. 
With a reported similar potency as Psilocybe cyanescens, you could assume Psilocybe allenii follows similar dosages: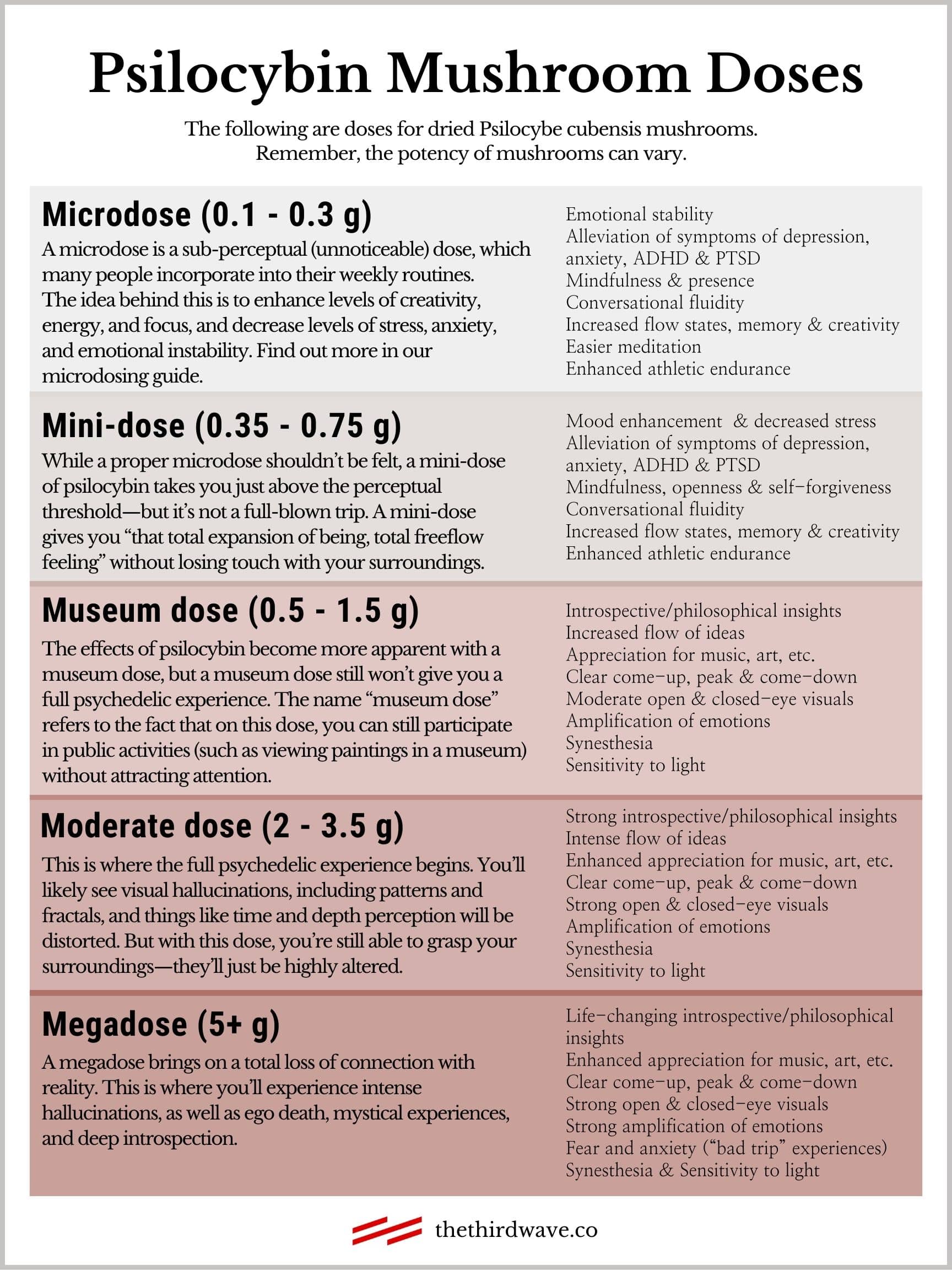 ---
How to Grow Your Own Psilocybe allenii Mushrooms
Check out our ultimate mushroom-growing guide to learn the basic techniques for growing your own Psilocybe allenii mushrooms at home.
The species can be readily cultivated on agar, grain spawn, and cellulosic material (including wood chips and sawdust). Hardwood mulches made of oak, eucalyptus, Douglas fir, and alder are favored substrates.
Compared with other mushrooms, such as Psilocybe cubensis, Psilocybe allenii will grow better in colder temperatures. For this reason, online sources suggest that growing Psilocybe allenii outdoors is much easier than inside. Outdoor growers describe transfering bags of colonized spawn in containers filled with wood chips outside for fruiting. 
We recommend using the Third Wave's Mushroom Grow Kit to optimize your chance for successful cultivation, if you're growing your mushrooms inside. Our kit comes with all the high-quality equipment you need for a successful growth, except the spores, and a comprehensive step-by-step detailed guide to support you in the process.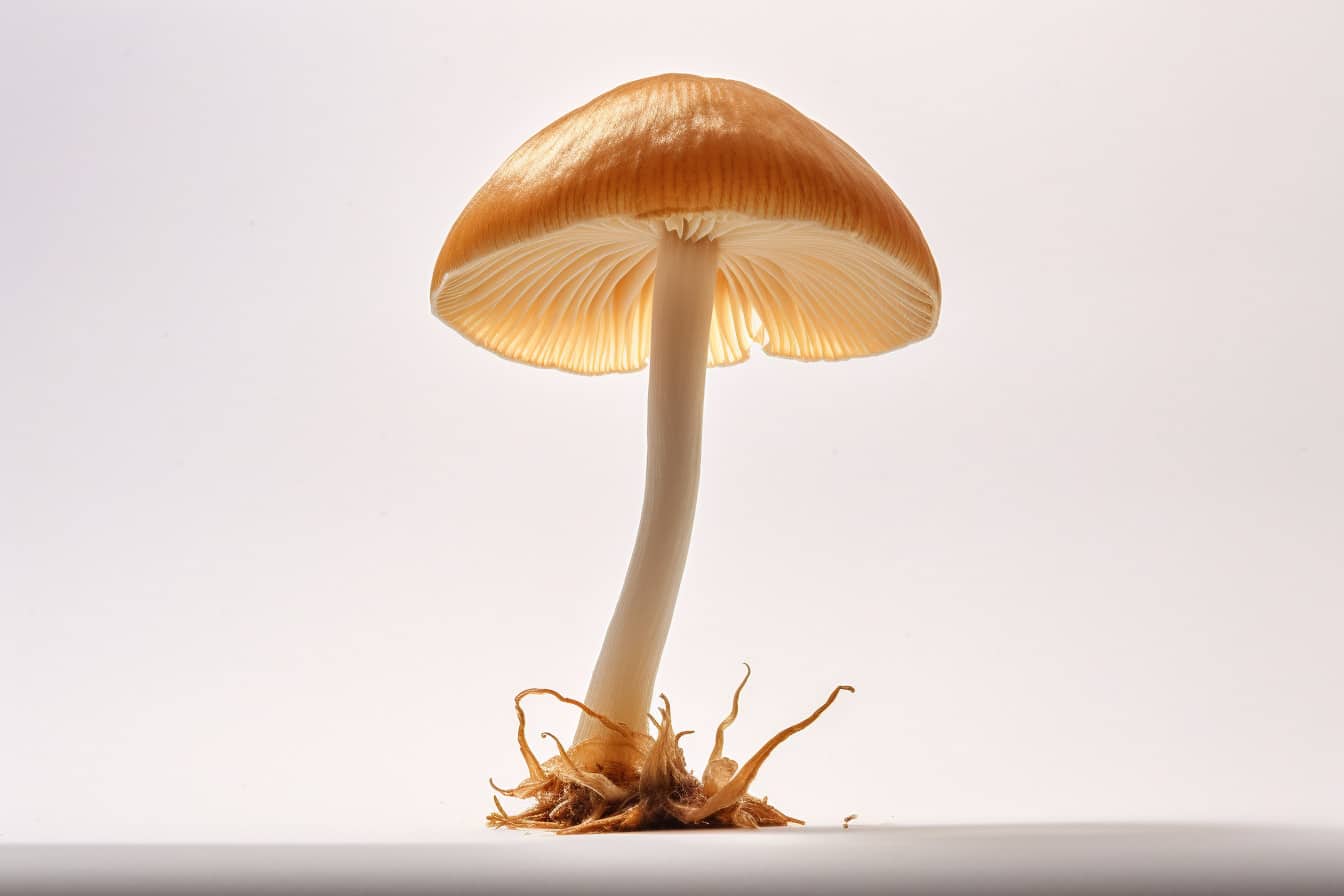 ---
Is Psilocybe allenii Legal?
The legality of psilocybin mushrooms varies depending on the country and jurisdiction.
For most countries across the globe, including the United States and many European countries, governments classify psilocybin mushrooms as a Schedule 1 equivalent, making it highly illegal to own, manufacture, and distribute. 
However, in recent years, many states and cities in the US have decriminalized the use of psilocybin mushrooms. In these places, the use or personal cultivation of psilocybin mushrooms results in either no or only a mild penalty.
These places include:
Washington

Seattle

Michigan

Oregon 

Massachusetts

Colorado

California
Certain countries and locales allow for guided use of psilocybin-containing mushrooms, with exceptions.
For instance, mushrooms are allowed in Mexico as long as they're used for spiritual reasons. 
In The Netherlands, psilocybin can be legally bought, sold, and ingested as long as it's in the form of sclerotia or "magic truffles." 
You can find a list of centers offering guided psilocybin experiences in countries where it's legal by visiting our psilocybin retreat center directory.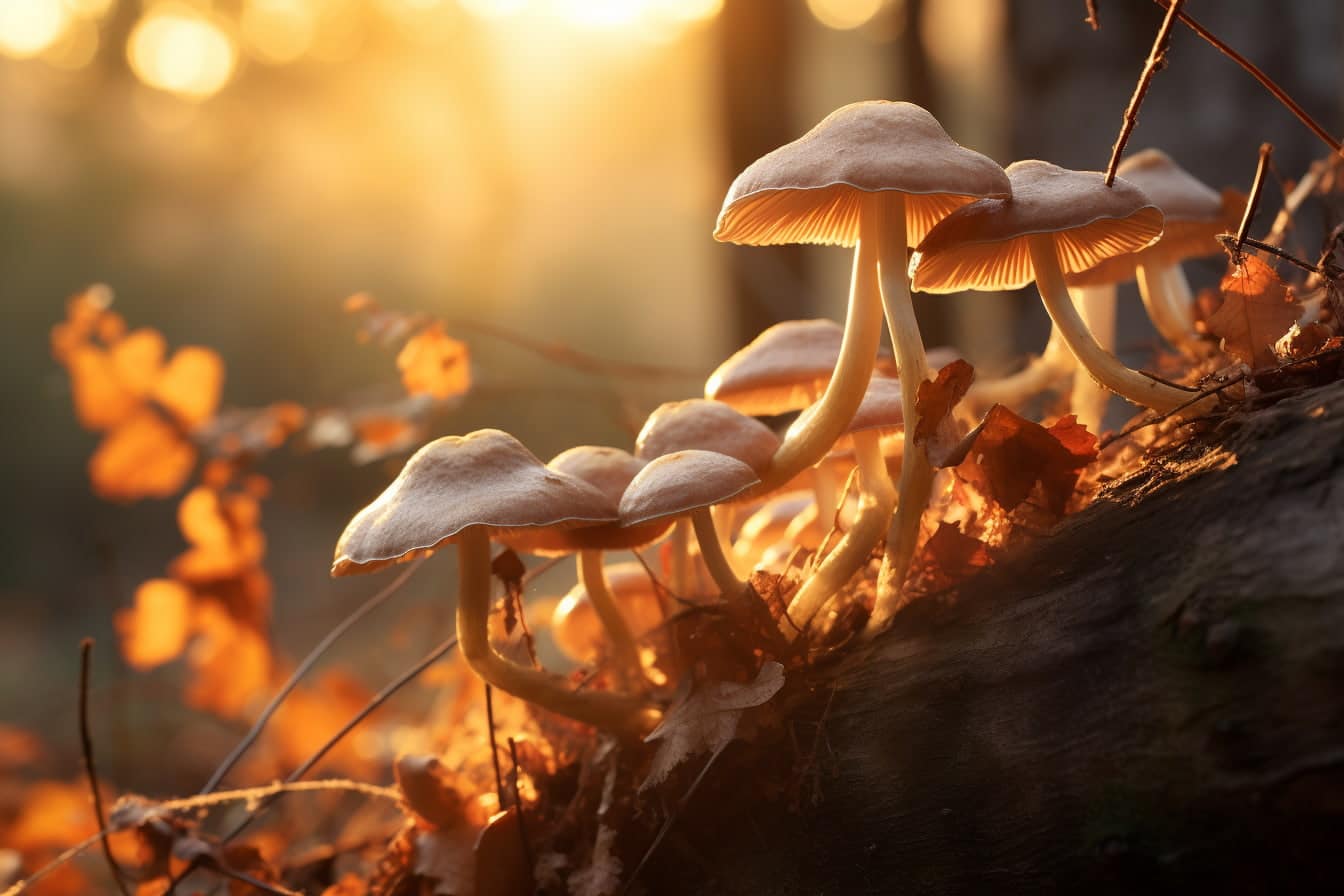 ---
Psilocybe allenii Summary
Psilocybe allenii remains a lesser-known type of magic mushroom for now. Yet, with powerful effects, this species could soon gain global traction as more of the world becomes interested in psychedelic plants and fungi. 
Psilocybe allenii grows naturally in urban environments along the Pacific Coast and can be cultivated indoors as long as temperatures remain cold. If you're interested in finding, growing, or simply experiencing Psilocybe allenii, it's crucial you first check your local laws to make sure you're not incurring criminal activity.
If growing mushrooms are legal in your area, you could have your first abundant flush of Psilocybe allenii ready in less than four weeks using our Third Wave mushroom grow kit.