Because of the therapeutic, non-intoxicating effects of CBD, an impressive range of CBD-infused products have hit shelves– balms, beverages, and pet products included. One of the more popular and straightforward products is a CBD liquid concentrate for vaping. Vaping CBD can deliver many benefits in an experience similar to smoking cannabis, without actually smoking or altering your consciousness.
If you are interested in vaping CBD, it might help to understand the many products available. The number of choices can be overwhelming, and having even a rudimentary grasp of the different options can help you find a setup most suited to your individual needs.
Why Vape CBD?
Whether you are looking for an alternative to smoking or just a more discreet way to consume, using a CBD vaporizer has quite a few advantages. Compared to smoking, there are almost no odors from vaping CBD, and it can be much easier to take a puff from a vaporizer than to stop for a smoke.
Edibles or tinctures are another alternative way to consume CBD, but unlike vaping, they often take a while to go into effect. The dosage and strength of edibles can also be challenging to anticipate, while vaporizers tend to be consistent as long as you are using the same liquid.
CBD, as a substance, is also worth distinguishing from THC. Unlike THC, the active chemical compound associated with being "high," CBD is non-intoxicating and will hardly affect your reasoning or normal functioning. Instead of altering the conscious state, CBD can provide pain and tension relief, and is often used to help treat anxiety and depression. You could vape pure CBD and expect to go to work, school, or a social gathering without any challenge.
Because of CBD's non-intoxicating, therapeutic effects, it is legal in some countries where recreational cannabis and THC are restricted. In some areas within the US or UK, hemp derived CBD can be found in grocery stores and ordered from websites like Amazon or Ebay.
Vaping CBD is the best choice for someone looking to ease pain or relieve anxiety without getting high, and who wants to keep their consumption controlled, discreet, and convenient.
Vaping CBD
There are an impressive amount of choices for CBD vaporizer products on the market. CBD liquids either come in small bottles to add into vaporizers or in pre-filled cartridges that connect to vaporizer batteries.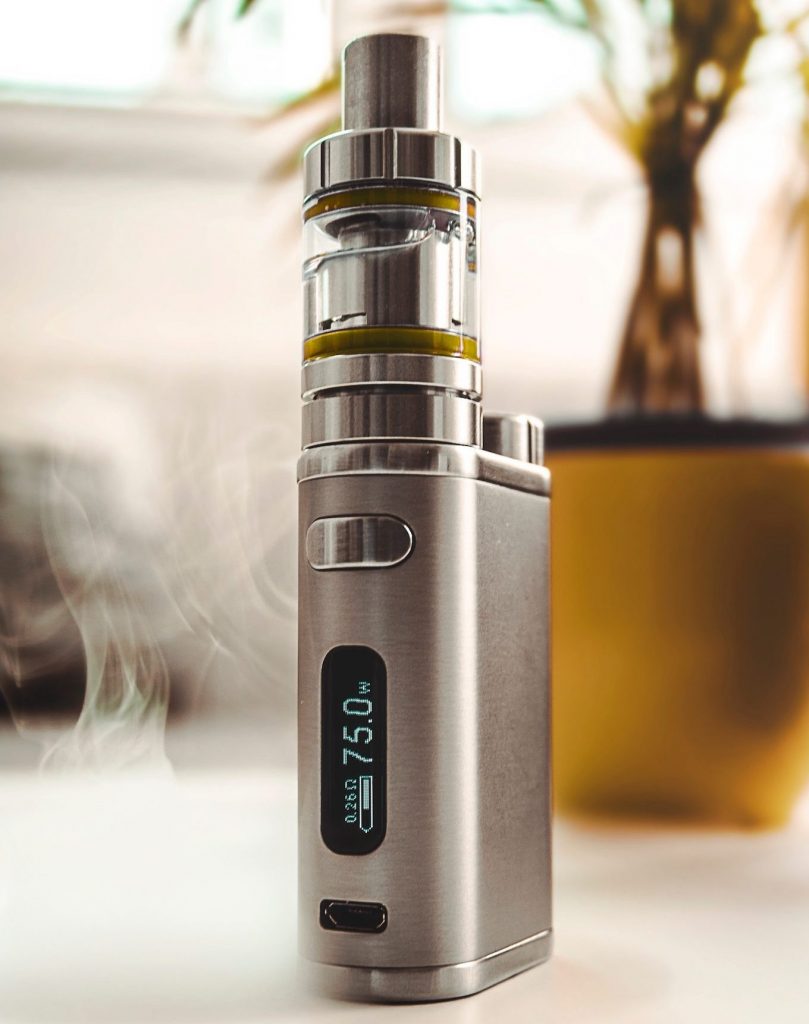 CBD Liquid
CBD "e-liquid" or "e-juice," usually describes the liquid mix of concentrated CBD with propylene glycol and vegetable glycerin, along with any other flavors or additives. CBD e-liquid is essentially the same juice that people use for their cigarette-replacing vaporizers, but with added CBD.
There are plenty of different CBD e-liquids to suit your taste, all varying in flavor and strength. To check for quality, look for a consistent texture. Murky or clouded e- juice can signal shoddy materials or processing methods.
Another way to ensure quality CBD product is to go with a well-known, reputable brand— Canavape in the UK and Koi CBD in the US are popular favorites. They both offer a wide range of CBD vape products. Hemp Bombs is another trusted brand that makes some of the highest potency CBD e-liquids on the market.
CBD Concentrate Cartridges
CBD extract oil is also sold in prefilled vaporizer cartridges. The extract in these CBD cartridges rarely contain any additives, and can be much thicker and more viscous than CBD e-liquids.
CBD oil concentrates are extracted through chemical processes like C02 extraction or distillation. These extraction processes maintain a broad spectrum of the cannabis plant's cannabinoids without isolating the specific CBD compound. As a result, the final product is extremely potent, and often contains at least a trace amount of THC.
Depending on the source of the extract, the CBD oil cartridges have varying CBD: THC ratios. This may be a benefit for those who enjoy the effects of THC, but often find it too overpowering. A comfortable CBD:THC ratio can provide a great balance between the effects of being "high" while grounding the experience and providing relief with CBD. A good, simple ratio to start and experiment with is 1:1.
There are many different options for CBD cartridges. CBD Liquid gold is a popular choice for a pure CBD cartridge oil. If you are looking for a straightforward, all-in-one starter kit, the Select brand offers an accessible range of pre-filled, pure CBD vaporizers. The availability and options for CBD cartridges containing CBD will depend on your location.
CBD Vaporizers
There are many different vaporizers available for CBD. If you are vaping CBD liquid, you can use any vaporizer that vapes other e-juices. One potential benefit of these types of vaporizers is the amount of control they provide. You can adjust your wattage or mix juices and flavors to your liking.
However, this amount of control might also be a hindrance to others. Even the wattage on the vape can depend on the individual. Though people usually vape their CBD liquid at 15-30 watts, this varies based on the particular vaporizer.
For those seeking simplicity, CBD concentrate cartridges present a more accessible option. CBD cartridges not only contain the concentrated CBD but also act as the mouthpiece and atomizer. The CBD cartridge is essentially the vaporizer, and it only needs a power source. You simply attach the cartridge to the battery and are ready to go.
Usually, the power source for CBD cartridges are a 510 thread battery; you can find these vaporizer batteries online. There are also CBD concentrate vapes that use different sized cartridges, or pods, like the PAX Era.
Should I make my own CBD vape liquid?
Despite the many products and equally impressive demand for CBD, there is little regulation regarding product standards. It can be challenging to know where the CBD is coming from and how it is processed. High-quality, reliable CBD products should have lab test results, and ideally be grown organically in Europe or the United States. Testing kits for CBD content and purity are also available if the product does not already offer that information.
Because of the crowded, loosely regulated CBD vape juice market, some people might consider making their own concentrates or juices instead of purchasing. Mixing CBD liquid would allow you to adjust the potency and have more visibility and control into all of the ingredients.
It's relatively simple to make your own CBD vape liquid from a CBD isolate or additive, and only requires mixing the additive with your standard e-liquid concoction of flavoring and a liquefying agent like vegetable glycerin.
Creating CBD concentrate oil or extract for vaporizing is also possible, but is much more involved and requires an amount of knowledge, time, and equipment not easily available to the average person.
Conclusion
Thanks to the thriving new research and business efforts in cannabis, CBD has branched off and become an independent product, without the intoxicating effects and public stigma that THC and marijuana carry.
CBD liquids and concentrates for vaporizing provide an accessible way to take controlled, potent doses, without needing to smoke or digest the substance to feel any effects.
Whether you are interested in vaping CBD juice as a calming replacement for smoking or using a high potency concentrate cartridge for chronic pain, there are plenty of available options on the CBD vaporizer market. Be sure to research CBD laws in your particular area, and look into the standards and processes behind whatever CBD product you are eyeing.