Welcome to the second installment in our 3-part series on measurement-based care in psychedelic therapy, sponsored by Maya Health, an official partner of Third Wave.
Disclaimer
Depending on where you reside, many or all psychedelics are largely illegal. We do not encourage or condone the use of psychedelics in contexts where it is against the law.
Welcome to the Field of Psychedelic Medicine
As the psychedelic renaissance continues, the need for qualified psychedelic practitioners—psychiatrists, therapists, healers, coaches, clinicians, and facilitators—is growing. Given the novelty of this field, there is not yet a standard road map for practitioners to follow, and the future remains more or less unknown.
The psychedelic community faces a number of unforeseen questions and challenges regarding legal conditions, financial complexities, and business operations. If you're interested in becoming a professional in the field of psychedelic medicine, here are some important factors to consider when building your practice.
Legality & Compliance: Ketamine-Assisted Psychotherapy and Other Psychedelic Modalities
Due to the legacy of the War on Drugs, many psychedelic medicines, such as LSD, 5-MeO-DMT, and MDMA, remain legally inaccessible or in a state of legal ambiguity. Within the United States, ketamine—a dissociative anesthetic used to relieve treatment-resistant depression—is the only psychedelic compound that is legal and available for medical use right now. If ketamine is taken outside of a clinically-prescribed context, though, it is not considered to be legal.
Meanwhile, in a movement spearheaded by the non-profit organization MAPS (Multidisciplinary Association for Psychedelic Studies), MDMA is undergoing Phase 3 clinical trials for the treatment of post-traumatic stress disorder. While this new phase of psychedelic science and psychiatry is certainly exciting, the MDMA medicine is still inaccessible and illegal for use outside of a clinical research context. MDMA-assisted therapy is awaiting FDA approval to become a legal and widely available mental health treatment modality.
The rules regarding other psychedelic drugs are even more complex. Within a select few places, some psychoactive medicines have been decriminalized—such as psilocybin in Denver, Colorado; and all entheogenic plants and fungi, including ayahuasca, ibogaine, and magic mushrooms, in Oakland and Santa Cruz, California, as well as in Washington D.C. However, decriminalization does not mean that these psychedelic substances are legally approved for medical or therapeutic uses.
Oregon is the only state in which psilocybin has been not only decriminalized, but also granted legal status for mental health treatment in supervised settings. Following the historic 2020 passing of Measure 109, lawmakers in Oregon approved a two-year development period in which the rules and regulations regarding psilocybin therapy will be determined.
The roll-out of legal psilocybin treatment in Oregon will pave a path for other states to (hopefully) follow suit—but it will take time before the details of this pioneering framework become clear, much less widely accepted and implemented. Until then, the logistics of psychedelic-assisted therapy remain complex, and are subject to ever-shifting local, state, and federal regulations.
Not only do psychedelic practitioners have to navigate legality issues, but they must stay HIPAA-compliant. HIPAA—the Health Insurance Portability and Accountability Act—refers to the set of regulations to which health practitioners must abide in order to protect the privacy and best interest of their patients. Psychedelic-assisted therapists, clinicians, and coaches must ensure that the platforms they use to provide services and store sensitive information are all HIPAA-compliant. This can very quickly lead to important but confusing decisions about which technologies and tools to leverage, and how best to use them without overburdening the practitioner's time and resources.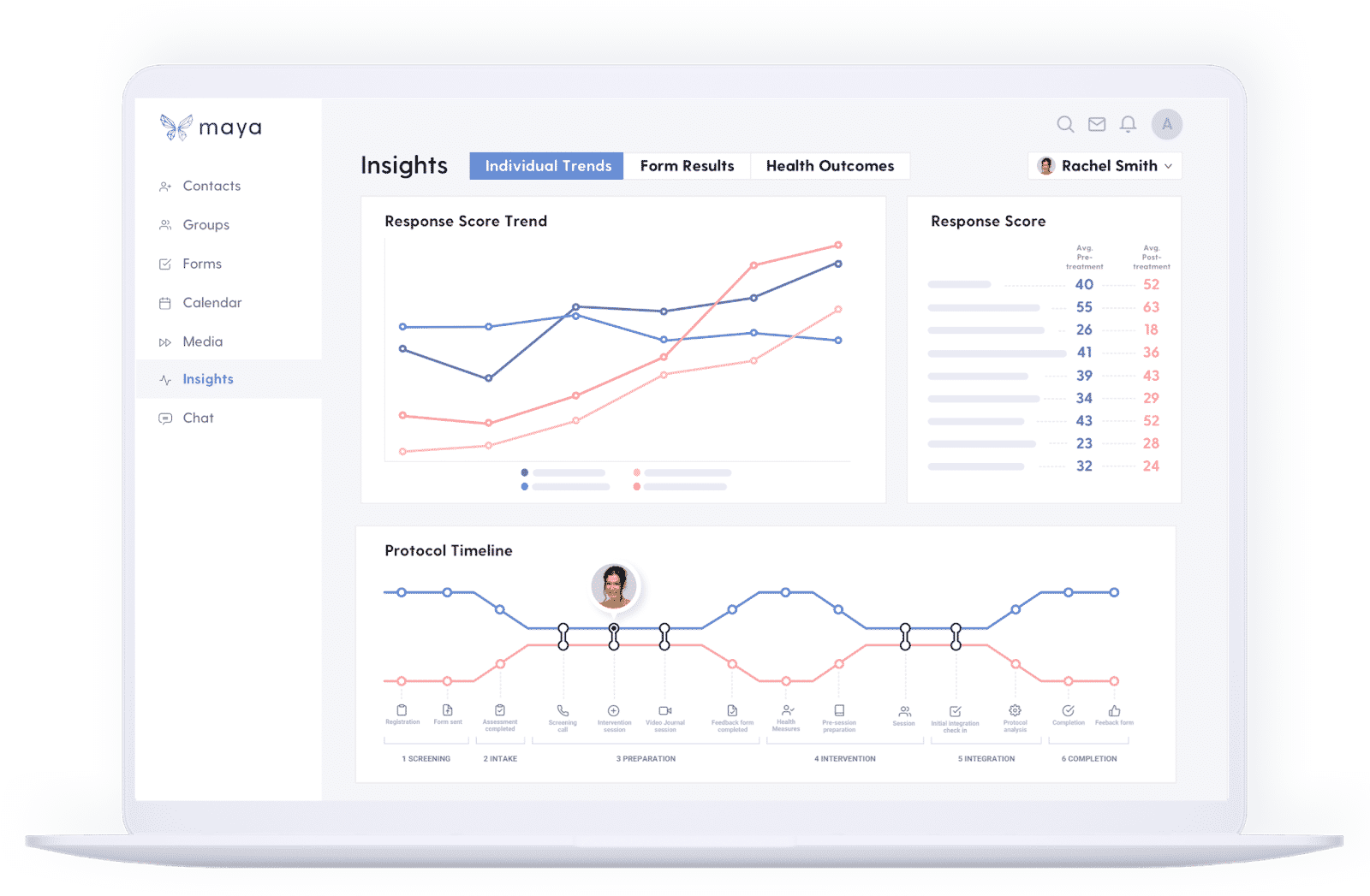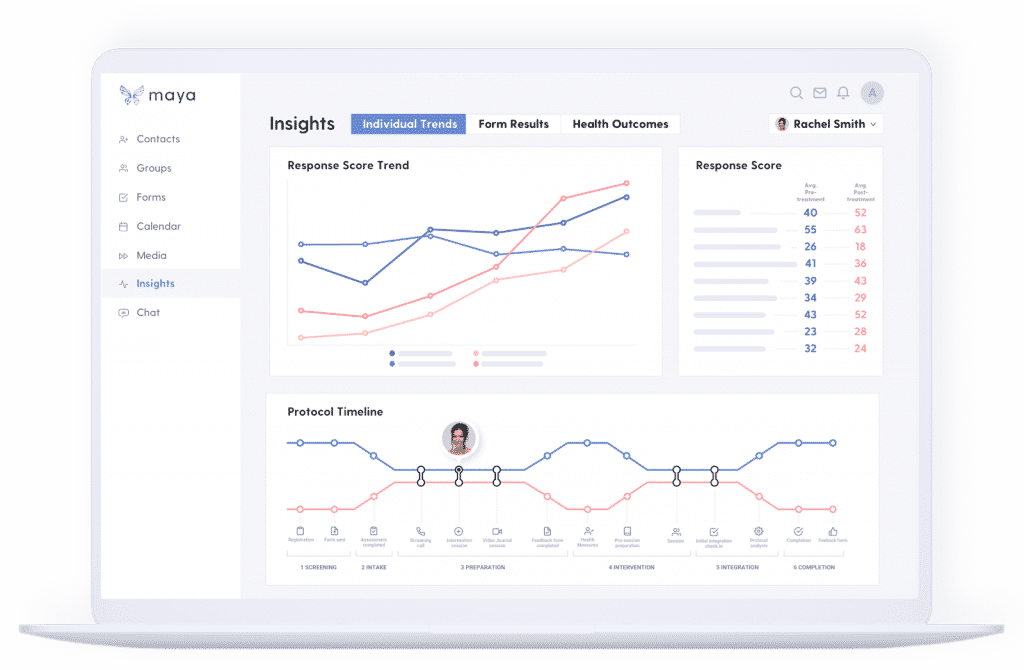 Business Operations & Technology: Building a Private Practice in Psychedelic-Assisted Psychotherapy
Although graduate training programs can teach people how to provide effective therapy, there is not always much emphasis on entrepreneurial or technological skills. For any licensed professional counselor who wishes to work in private practice—which tends to offer more flexibility and autonomy than working for an agency or clinic—these Business 101 skills are essential.
Many people don't receive formal guidance on how to launch their own therapy practice, and may feel overwhelmed by the amount of time and effort required to build up clientele, navigate software systems, troubleshoot IT issues, manage client communications, and remain HIPAA-compliant, among other challenges. Overseeing the many moving pieces of a business operation can feel arduous and confusing—and takes up energy that would otherwise be going toward direct client care.
Efficiencies, Scaling, and Ethics: Making Psychedelic-Assisted Healthcare Affordable & Accessible
The dire need for mental health care—and growing public interest in the use of psychedelics for holistic wellbeing—suggests that there is no shortage of potential clientele. It is essential that mental health treatment becomes widely accessible to a diverse range of people. It is just as important that the financial compensation for such services reflects the amount of time and energy that practitioners put into their work. Psychedelic-assisted therapists, coaches, and clinicians must consider how to make their businesses efficient enough to be both accessible and profitable.
To successfully run a private practice, one must balance numbers while staying attuned to the evolving needs of the community that one serves. Continued professional growth means adapting one's business to serve more people better—identifying areas of improvement, addressing barriers to access, and staying ethically aligned so that the work is implemented with integrity and intention.
Protocols & Best Practices for Psychedelic Therapy and Psychedelic Integration
Psychedelic medicine work is not something to be taken lightly. Without adequate preparation, "bad trips" and other serious adverse effects may occur. In places where psychedelic-assisted treatment is legal and available, it is the responsibility of the psychedelic practitioner to screen patients appropriately and to set them up for a safe and effective experience.
Through a robust intake process and screening, clinicians identify potential contraindications and determine if an individual is a good fit for the medicine. Psychedelic-assisted healers construct treatment plans in accordance with each client's unique psychological and physical profile.
A thorough understanding of harm reduction protocols is crucial. Practitioners oversee important decisions regarding every aspect of the medicine process—such as the sourcing of medicine (i.e., which pharmacies and/or prescribing clinicians to work with); dosing protocols; the method of administration, when applicable (e.g., IV infusions of ketamine vs. sublingual tablets of ketamine); the quantity of sessions (for some medicines, multiple sessions are necessary to achieve positive and lasting results); and the timing of the journey (i.e., ensuring that there is adequate time for the client to return to a baseline waking state of consciousness before the end of the guided session).
Following the journey, there remains the equally important work of supporting the client's psychedelic integration progress. Practitioners must be prepared to hold space for every aspect of a client's experience—from discomfort and distress to joy and euphoria. It is widely agreed upon, amongst professionals and researchers, that this post-intervention integration process is as important to the outcomes as the medicine itself, if not more.
Psychotherapists and coaches employ a wide range of techniques to guide clients through non-ordinary states of consciousness, and must identify and respond appropriately when the client's wellness or safety is at risk. Though psychedelic practitioners may differ in terms of style and philosophy, adherence to common protocols and best practices helps maximize the safety and efficacy of clients' experiences.
Community Support & Education: Networking in Mental Health & Psychedelic Spaces
Psychedelic experiences tend to remind us just how interconnected we all are—and highlight the importance of forging bonds within psychedelic spaces. The global psychedelic community is continuously expanding, as more people learn about the benefits of psychoactive substances and undergo training to become mental health professionals.
The professional psychedelic network consists of more than just practitioners who administer or work directly with psychoactive medicines—it also involves individuals whose services support the preparation and integration processes surrounding the psychedelic experience. Examples include transpersonal counselors, somatic therapy practitioners, mindfulness meditation instructors, and holotropic breathwork facilitators, among other professions within the realm of healing, consciousness, and self-exploration.
In the pioneering space of psychedelic-assisted therapy, it is absolutely beneficial for practitioners to connect and share insights with one another. The psychedelic movement will only continue to grow through meaningful human connections and strong professional networks. It is in everyone's best interest to draw from the wisdom of the collective—to exchange knowledge and new findings across the field, to address common challenges creatively and collaboratively, and to identify best resources for education that are applicable to real-world usage. This represents an evolution from traditional therapeutic fields, in which many providers remain siloed in their learning and practice given a scarcity of platforms catering to their ability to connect and co-elevate.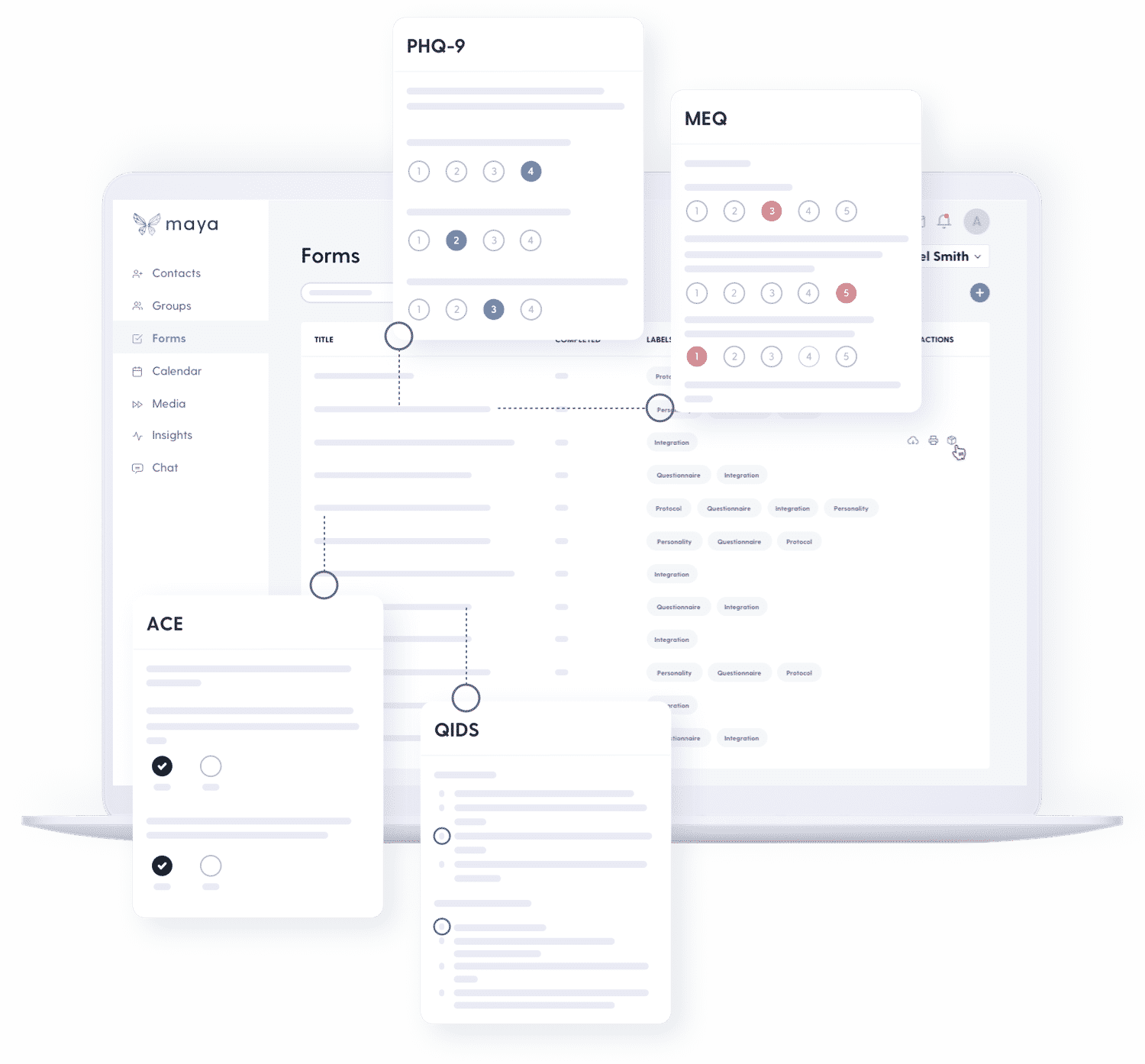 What Resources are Available for Mental Health Practitioners?
While some challenges within the psychedelic medicine field can only be addressed with the passage of time and policy changes, there are also technological solutions that can help. The team at Maya Health has spent the past few years listening to practitioners discuss the challenges they face as pioneers in this space. They designed the Maya platform to streamline business operations and communications, measure client health outcomes, and create a harmonious experience for both patients and practitioners.
In a nutshell, here is what Maya Health can offer to practitioners looking to build their practice:
Stay HIPAA-compliant. Useend-to-end encryption and a zero-trust system for security.
Streamline forms and assessments. Let Maya dispatch the appropriate forms and scales at the right times, delivered over email so clients can complete them on any device.
Automate communications. Save time and improve your clients' care journey by automating emails and follow-ups. Create personalized protocols with ease.
Measure progress. Use standardized health and wellbeing assessments to show your clients the progress they're making and to create trust with new clients. Motivate clients to comply with protocols and continue their healing journey using visual progression charts.
Identify areas of improvement. Use data to become aware of inefficiencies in your protocols. Create personalized protocols based on data.
Communicate securely under end-to-end encryption. Save time and improve your clients' care journey by automating emails and follow-ups. Stay in touch using two-way, HIPAA-compliant chat.
Join a global learning community. Share insights and learn from other practitioners in your field.
Contribute clinical data to the larger psychedelic research collective. Help advance psychedelic medicine policy and legislation.
If you need help addressing these challenges in your practice, we encourage you to explore Maya as a solution. Maya is offering practitioners and clinics 20% off and exclusive access to the platform before it's available to the public. To redeem the limited-time offer, select ThirdWave in "referrals" when you sign up.
For a complete list of trusted ketamine-assisted psychedelic therapists, visit Third Wave's Psychedelic Directory.