Includes a Step-By-Step
Course for Growing
Your Own Mushrooms
At Home
DISCLAIMER:
Third Wave does not encourage or condone the cultivation of illegal mushroom species where it is against the law.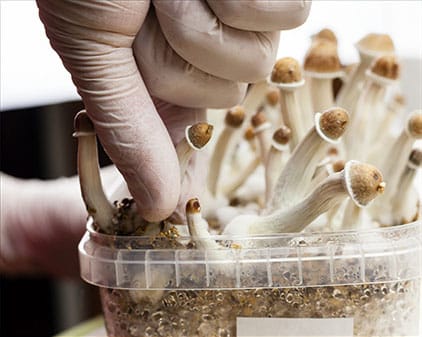 If you want to start exploring the magical world of mushrooms, but aren't sure where to start…
Cultivating your own can be a perfect solution.
You can grow your own inexpensive, renewable supply of high-quality mushrooms right in your own home!
That's why we've created the easiest, simplest grow kit imaginable so you can get started immediately.
A Simple, 3-Phase Process for Easy Cultivation
We worked with experienced mushroom cultivators to create the simplest process possible. No need to become a mycologist or search dozens of internet forums.
No need to go to a dozen shops to find all of the right materials.
We've put everything you need into one, all-in-one kit you can use right out of the box.
Plus, it all comes pre-sterilized and ready to use.
It just takes 3 Simple Steps:

Innoculate

Colonize

Fruiting
Fits Inside Your Closet
One problem with many grow kits is that they require large containers that can take up a lot of space.
This grow kit uses sterilized mycobags that can fit in the back of a closet, in a cabinet, or even in a large drawer.
The Third Wave Grow Kit is designed to work with just about any living situation.
Cultivate Your
First Harvest in as
Little as 4 Weeks!
What You Get In The Third Wave Mushroom Grow Kit:
Get all you need to immediately start cultivating mushrooms in one easy package! Everything comes pre-sterilized and ready to use, right out of the box.

Sterilized grain pre-packaged into two 1lb mycobags with easy injection ports to minimize risk of contamination.

Pre-pasteurized mushroom compost so your mycelium has all the nutrients it needs to grow.

2 micron-filter patch mycobags for ongoing cultivation.

2 8" mushroom bag clamps and vinyl tubing to keep your mushrooms safe from mold and bacteria.

Sterile alcohol swabs to keep your mushroom grow bags clean and safe from contamination.

2 sterile needles for injecting spores.

100W light bulb (6500k color temperature) for accelerated fruiting.

1 Water Spray Bottle to keep your fungal friends happily hydrated.

LCD hygrometer to make sure your mushrooms have the ideal environment for a bountiful harvest.

Powder-free vinyl gloves so you don't accidentally contaminate your mushrooms during the process.
The only thing you need are the spores!
Why Doesn't The Kit Include Spores?
Disclaimer:
Third Wave does not encourage or condone the cultivation of illegal mushroom species where it is against the law.
The choice of mushroom species is 100% up to you! There are dozens of incredible, edible, sacred mushrooms to pick from.
We can recommend trusted vendors who supply high quality spores. This makes the whole process as simple as possible.
You will see recommendations for high quality spore suppliers in the course material.
Instant Access to
Third Wave's Mushroom
Growing Course

As a part of your Mushroom Growing Kit, you also get instant access to our detailed, step-by-step Mushroom Growing Course. It includes a text manual and detailed videos walking you through the whole process.
You get to see exactly what the process looks every step of the way so you always know what to do.
No guessing. No confusion. Just simple, clear instructions for best results.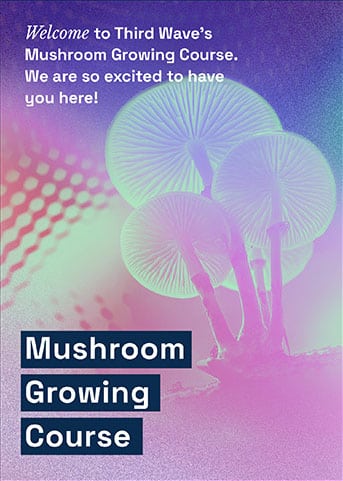 Cultivate a Personal Relationship with Your Plants
One of the hidden benefits of cultivating your own mushrooms is the relationship you develop with the fungus.
For millennia, plant medicines were harvested directly from nature. Growing your own puts you in touch with our common ancestral experience.
This relationship adds a new dimension, a new layer of meaning to your mushroom experience.
An Economical Way to Enjoy Sacred, Medicinal Mushrooms!
Purchasing quality mushrooms can be expensive.
A single gram of many popular mushroom species can cost as much as $10 per gram.
With the Third Wave Grow Kit, the average harvest ranges from 1-4 ounces (28-108 grams). That means a single harvest can yield $280-$1,080 worth of your very own mushrooms.
The Third Wave Grow Kit will more than pay for itself in just one harvest.
Plus, If you follow the course guidelines, you should be able to get 3-4 harvests from one kit. The return on your investment is more than worth the time and energy.
All you need to do is start growing!
Frequently Asked Questions

Do you ship internationally?
Unfortunately, we do not. Our grow kit is only available in the United States. For Canadians, please see our article on How to Cultivate Mushrooms, in collaboration with Spores Lab. If you are based internationally, check out our partners MidWest Grow Kits.
Can I buy spores from another supplier?
Yes, of course you can! Our recommended suppliers are reliable and high quality, but the choice is yours!
Will this work for other multiple varieties of mushrooms?
Yes! You can cultivate many varieties of mushrooms with this same kit, including oysters, button mushrooms, Portobellos, and more.
How many harvests can I make with this kit?
With proper care, you can cultivate three to four harvests of mushrooms with this kit. That is a LOT of mushrooms.
Why is sterilization so important?
The grain base the mushrooms eat for food is also great food for mold. If mold gets into the mycobags, it can kill the mushrooms or make them toxic to consume. That's why everything in our kit comes pre-sterilized and ready to use. It's the simplest, fastest way to get started. We go into more detail in the course included with the kit.
How much space will this grow kit require?
To keep things easy, this kit is set up to let you grow mushrooms directly inside pre-sterilized mycobags. Because there's no need for big tubs to cultivate your mushrooms, you can easily grow these mushrooms in a confined space, like a closet.
I have children/pets in my house, is this safe?
Yes, it's perfectly safe. Nothing in this kit is toxic. However, it is a good idea to keep it in an area any curious young ones or furry friends won't accidentally get into and contaminate.
I heard mushrooms came from outer space. Will this make aliens show up at my house?
Unfortunately, we cannot make guarantees for the behavior of extraterrestrial beings.
Can I get a refund if the mushrooms don't grow?
Unfortunately, we cannot guarantee the success of your cultivation. There are many variables that come into play there. That's why we highly recommend you carefully follow the course instructions and use the highest-quality spores possible. If your kit is broken or incomplete, we will happily issue a refund.